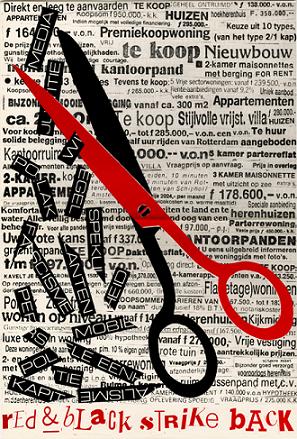 The Rondos were a punk band from the late 1970s from Rotterdam. They have a pretty thorough website documenting not only the band, but the many collective projects that the band members (and their wider circle) were involved in. The first I heard of the Rondos was the song
A Black and White Statement
on a bootleg compilation a number of years ago. The musical was minimal, angry, and incredibly sharp (ouch!). The lyrics were about the bankruptcy of culture and going out on the street and spray-painting… "no oilpaint illusion/ no three colour pollution/no remote controlled artist/ no culture sick and pissed/ a black and white statement/destroy the entertainment/graffiti and aerosol/art in revolution calls". I was smitten.
Years later in Amsterdam I was shown the
Red Rat
comic books, made by the singer, and also
Rood Rotterdam
… a DIY book about Dutch left wing and anti-fascist activism in Rotterdam in the 1930s that was also produced by members of the Rondos.
I keep revisiting this site, finding new gems, listening to their music, and looking at all the great (and highly political) art, graphics, and publications that came out of this collective of people. The website is in dutch (except for their
bio
), so only pretty pictures for all of us non-dutch speakers! (There's been a reissue of their music both on LP and CD in Europe (LP from
Red Wig
) and in the US on
PM press
.)
rondos.nl