The protest movement in Madison, Wisconsin over collective bargaining rights for public employees has reached day 16 and more solidarity is needed. The stakes are high. Defeat Governor Walker and his right-wing corporate agenda and the labor movement will have achieved one of the most significant victories of the past 50 years. Lose and watch the dominoes fall as public employee unions crumble in Wisconsin and beyond. Lost will be the power of public unions – one of the few remaining structures that can compete and organize against the GOP corporate machine.
Imagine if workers win. We can because this is an obtainable victory. A two-week 24-hour occupation of the Capital Building, daily protests – some that have reached 100,000 people, and the courageous actions of the 14 Democratic Senators who fled the state to block quorum have provided a strong foundation for a potential victory.
This is hands-down one of the most significant people's movements against corporate power that has taken place in decades. This reminds one of the 1999 Seattle WTO protests. Tens of thousands of Wisconsin workers have come together and displayed incredible levels of solidarity for weeks on end. Firefighters who were exempted from the cuts have marched in solidarity with the teachers, nurses, sanitation workers, snowplow drivers, and others who stand to have their unions lose collective bargaining rights and have their pension and health care costs double. Police officers who were also exempted from the cuts have held up signs that read, "Cops for Labor." How often does one see this? Private union members in Wisconsin have come out in massive numbers to show support for workers in public unions. This is a moment were unions have demonstrated their strength and have put the labor movement back to where it belongs: at the forefront of a social justice movement.

Wisconsin workers have come together, but Walker has not budged one inch. He has continuously pounded the airwaves with anti-union rhetoric. Imagine this logic: public school teachers and nurses blamed for the financial crisis, instead of Wall Street executives. Only in Orwellian-times would people making between $19,000-$50,000 per year be blamed for the budget short falls instead of corporate tax cuts, deregulation, and military spending that has plunged this country into a depression. Nice tactic: deflect attention away from the corporate robber barons and watch working-class people tear each other apart.
Walker has increased pressure on workers and protesters at the State Capital. He has threatened to lay off 1,500 State workers. He has also employed the State Police to evict all but a small number of protesters from the Capital Building. On Sunday night the majority of those camped inside the Capital had left and by Monday morning the doors were locked.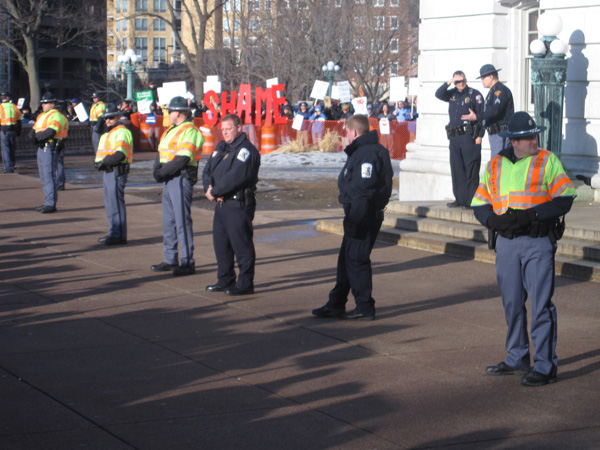 Tuesday was the first demonstration that I have witnessed that was visibly angry. A line of State Police Officers blocked entry to the building as 3,000-plus people chanted "Let Us In!" and "Recall Walker!" The people's house has become a castle.
Walker is adept at every trick in the book. Here are just a few examples from the past two weeks:
-Today (Tuesday, March 1) Walker presented his budget report and announced massive cuts in spending for schools and social programs. Protesters were barred from the building, yet he packed the building with his
supporters
who cheered his every word. Rumor has it that his supporters where escorted by the police into the Capital through tunnels.
Thus, viewers on television saw the Governor receive standing ovations while 3,000 people remained locked outside, their presence invisible to the television audience.
-For weeks Walker has claimed that Wisconsin is broke and needs to pass the "Budget Repair Bill" to solve it's financial crisis. What he does not mention is that he gave huge tax breaks to corporations that caused this budget shortfall. Nor does, he note that the last Governor solved a larger budget deficit and did so without attacking the rights of public unions to collective bargaining.
-The Republican Assembly passed the "Budget Repair Bill" in a vote that lasted 15 seconds at 1:00 in the morning. Democrats in attendance, many of who were still waiting to speak, reacted in outrage, chanting "Shame! Shame!"
-Walker attempted to ram the "Budget Repair Bill" through with little public output (one hearing) and little time for lawmakers to read the many provisions including one allowing him to sell off public power utilities without a competitive bidding process.
-The infamous Buffalo Beast prank phone call revealed Walker's intentions of trying to lure the Democrats back for a vote while ceded nothing.
In two short weeks, Walker has turned the state upside down. He has attempted to turn workers against one another and has made a complete mockery out of democracy. Thankfully,tens of thousands of people are standing up to his bullying tactics.
What is needed:
-Continued solidarity amongst working class people and continued protests.
-Constant public pressure on Walker.
-Boycotts of those who back Walker, especially the Koch Brothers. (Alternet has a good article on how to boycott them. Link below.)
-Boycotts of right-wing media outlets – Fox News, the Milwaukee Journal Sentinel, and others that have attacked public employees and their unions.
-More solidarity from people outside of Wisconsin. Solidarity knows no borders. Come to Madison and join the demonstrations. Make every demonstration 100,000 plus. This is not a local issue. It is a global issue. People in large Midwestern cities should join in the struggle. Chicago and Minneapolis/St. Paul residents need to focus their attention towards Wisconsin.
-Alliances between the public employee workers movement and the immigrant rights movement.
-Alliances between to labor movement and the GI resistance movement.
-Creative resistance.
-Civil disobedience.
-Plans on how to act if the bill is passed: protests, walkouts, and strikes.
Keep informed:
Madison papers:
http://www.thedailypage.com/
http://host.madison.com/ct/
http://www.progressive.org/
Bill Lueders "Scott Walker's War"
http://www.thedailypage.com/isthmus/article.php?article=32445
Alternet article on boycotting the Koch Brothers:
http://www.alternet.org/teaparty/150078/how_you_can_boycott_the_kochs/
Unions/activist organizations
http://www.wisaflcio.org/
http://wisconsinwave.org/events
http://madison.iww.org/