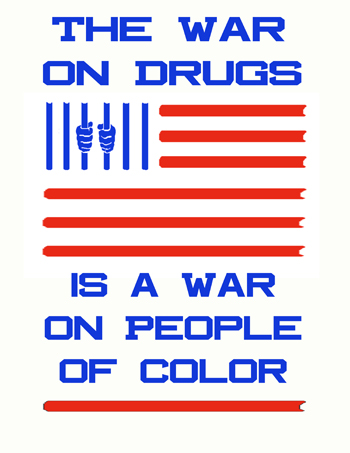 Could the devastating policies of the War on Drugs (i.e. the War on People of Color) and the mass incarceration of those with minor drug offenses that have been in force since Reagan and the early eighties be coming to an end? Attorney General Eric Holder has made some promising statements. According to
The Guardian
:
"Non-violent drug offenders will avoid mandatory minimum sentences under proposals to cut America's soaring prison numbers due to be unveiled on Monday.
Attorney general Eric Holder is expected to issue new guidance to prosecutors that could have a dramatic effect on the lengthy jail terms that judges are required to give anyone convicted of possessing more than a proscribed amount of certain drugs.
In the future, many low-level charges against dealers not judged to be part of a large gang or cartel will no longer detail how much they were caught with – side-stepping the federal minimum sentencing laws.
Holder is also expected to announce other proposals to curb America's vast prison population, including compassionate early release for elderly inmates who are no longer viewed as dangerous and will promote drug-treatment programs as prison alternatives."
If this policy shift truly does happen, that is very welcome news. On a side note, I made the above graphic after reading Michelle Alexander's book "The New Jim Crow: Mass Incarceration in the Age of Colorblindness" that details how African American and Latino communities have been hardest hit by the War on Drugs and the policies that have placed 2.3 million Americans behind bars and millions more trapped in the criminal justice system.