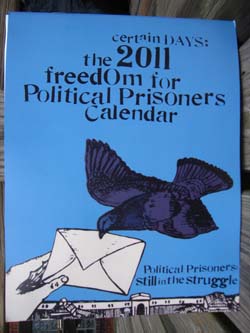 Here's the
2011 calendar
from the Certain Days Collective in Montreal!
This year's calendar includes artwork and writing by
Josh MacPhee
, Alvaro Luna Hernandez, Marilyn Buck,
Favianna Rodriquez
, Daniel McGowan,
Santiago Armengod
, Akili Castlin, Kevin 'Rashid' Johnson, Herman Wallace, Jackie Sumell, Jaan Laaman, and
Molly Fair
. I am very honored that they used my print
"Words Break Down Walls"
for the front cover. Also included is the work of Ray Luc Levasseur, Antonio Guerrero Rodriguez, Sundiata Acoli, Leonard Peltier,
Melanie Cervantes
, Safiya Bukhari, David Gilbert and Dave Ron.
From the Certain Days website:
"The calendar is a joint fundraising and educational project between outside organizers in Montreal and Toronto, and three political prisoners being held in maximum-security prisons in New York State and California: David Gilbert, Robert Seth Hayes and Herman Bell. The initial project was suggested by Herman, and has been shaped throughout the process by all of our ideas, discussions, and analysis. All of the members of the outside collective are involved in day-to-day organizing work other than the calendar, on issues ranging from refugee and immigrant solidarity to community media to prisoner justice. We work from an anti-imperialist, anti-racist, anti-capitalist, feminist, queer and trans positive position."