I've been in touch with the UK Anarchist Federation, and they are putting together a publication about the intersections of art and anarchism. They are looking for art and artists. Here's what they are up to and what they are looking for: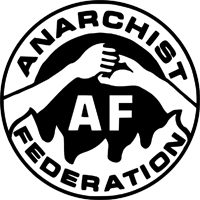 The
UK Anarchist Federation
is in the process of putting together a publication that explores the relationship between anarchism and various art forms. We are currently looking for submissions from artists who are interested in this area. Contributions could range from visual artwork, cartoons and graphic art, poetry, short literary works, architectural studies or critical pieces on theory or the history of anarchism and art.
We would very much like to get a diversity of material and are hoping to tour the project around radical and free spaces across the UK when the project is finished. All funds raised would be put towards developing anarchist projects across the UK and our international solidarity fund. We would very much like YOU to contribute to this project.
* All submissions need to be in to us by the end of February. The publication will then go into production shortly after. The publication will be "launched" so-to-speak and exhibited at our Anarchism 2009 event which will be happening mid-June in Manchester and a tour shall be arranged over the summer.
* Some of the themes we would like to see artists develop: labour struggles, the history of anarchist-communism (key thinkers, events etc.), anti-fascism, anonymity/state surveillance, immigration and the struggle against borders and direct action/black block. We are really keen on artists exploring their vision of what a post-revolutionary society would look like.
* Again, contributions can range in their form but a short abstract explaining the motivations behind the piece would be great. We would also be very keen for each artist to outline their attraction to art as a medium to communicate anarchist ideas. Initially we would only need digital copies of the work, but the actual works would be good to exhibit at the Anarchism 2009 event (this is something we will address nearer the time).
* Images need to be 300dpi and around A4 size just in case the book ends up being that big. They should be sent as .eps, .tif or .jpg files. The images you supply need to be the best quality, we can't do anything with tiny pixelated images.
Send all submissions to: natsec@afed.org.uk