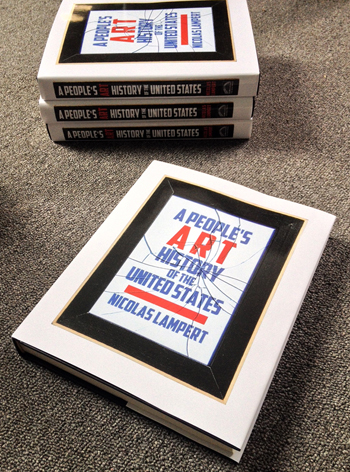 Eight years of research and writing has led to my first book –A People's Art History of the United States: 250 Years of Activist Art and Artists Working in Social Justice Movements – being released today. The book is part of the People's History series that was initiated by Howard Zinn through The New Press – a non-profit press in New York City that has a long-standing reputation of publishing books on contemporary social issues.
My study on a people's history looks at US art history and specifically activist art. Not social practices. Not the "political art" found in galleries and museums. Rather, it focuses on movement culture and the activist art that emerges out of social justice and economic justice movements. My aim was to research the past from the conquest of the Americas to the present, and to look at the role of activist art in various movements, be it the early labor struggles, the women's suffrage movement, the IWW, the artist's unions during the 1930s, the art created inside the Japanese American internment camps, the photography of the Civil Rights movement, the street art employed in anti-nuclear movements, and numerous other examples.

My approach was not to write an all-inclusive survey. Rather it was present a series of twenty-nine critical essays – essays that allowed me the space needed to examine each history in depth and to critique what worked and what fell short.
My goal for the book was to make this history accessible to a general audience (while still being useful to scholars.) Another goal was to write a text that would help challenge the overall culture of amnesia and the lack of awareness about the role of radical art in the decades and centuries that preceded our time. In short, I hope that the book serves as a critical tool kit – one that informs and inspires more artists to become activist-artists and for more activist organizations to prioritize art and artists in their ranks. The movements of today will not succeed without creative resistance and talented artists in their ranks, and studying the radical past is essential for moving forward in the present.
In the future I will post some excerpts from the book on the Justseeds blog. You can follow news about the book via the Peoples Art History of the US website and a facebook site, including information on upcoming book talks around the Midwest in the late Fall, and talks in the Northeast in January and California in March that are just beginning to be scheduled.
The book itself can be purchased from the Justseeds store or your local bookstore.
Below are a few blurbs on the book from some of the authors, artists, and scholars who have inspired my own path:
"This is an important first volley in what I hope is an ongoing fusillade of people's art histories. There are many more stories to retell, here and abroad. Those relayed by Nicolas Lampert offer models for an art that actively engages in and helps change the course of history."
—LUCY R. LIPPARD, AUTHOR OF GET THE MESSAGE? A DECADE OF ART FOR SOCIAL CHANGE
"A much welcome, fresh view of American political art."
—PAUL BUHLE, EDITOR OF A PEOPLE'S HISTORY OF AMERICAN EMPIRE
"This book is an excellent jumping-off point for anyone unfamiliar with the powerful social justice roots of American culture, offering wonderful examples illustrating historical points along the timeline of agitational American art. Lampert's credentials as an activist artist give him an insider's view of this important yet marginalized subject. It's an antidote to the conventional 'Art' model where form dominates content and artistic creativity is reduced to marketable commodities."
—LINCOLN CUSHING, AUTHOR OF ALL OF US OR NONE: SOCIAL JUSTICE POSTERS OF THE SAN FRANCISCO BAY AREA
"By introducing the significant role that artists have played throughout the history of the United States, Nicolas Lampert offers readers the delight of returning to a familiar narrative and discovering a fascinating reinterpretation. This well-wrought interdisciplinary text demonstrates that artists do not merely respond to and record the events transpiring in their lifetimes; they also shape these events by applying the tools of their profession to accomplish clearly articulated political agendas."
—LINDA WEINTRAUB, AUTHOR OF ART ON THE EDGE AND OVER: SEARCHING FOR ART'S MEANING IN CONTEMPORARY SOCIETY
"Inspired by the revisionist social histories of Howard Zinn, Nicolas Lampert's A People's Art History of the United States is an inspiration in itself. Looking beyond an art world framed by museums and markets, Lampert surveys American activist cultures from the colonial era to the present. His passion for social change and his optimism about creative and constructive resistance come on strong in this well-written and wonderfully illustrated book. Highly recommended."
—ERIKA DOSS, PROFESSOR OF AMERICAN STUDIES, UNIVERSITY OF NOTRE DAME
"Historical amnesia is rampant in U.S. politics today, no less so in the visual arts, where the current wave of social practice art often suffers from a lack of awareness of what came before. This is an original piece of research, pointing us toward a vast territory of reconnection."
—SUZANNE LACY, ARTIST AND WRITER, OTIS COLLEGE OF ART AND DESIGN