It's taken me a long time to get this together, but I wanted to throw my ideas into the discussion around the artwork/plagiarism of Shepard Fairey that has been spinning around the web. For those that might not know, Shepard Fairey is the creator of the "Andre the Giant has a Posse" sticker campaign, which became a long running series of "Obey Giant" posters. Mark Vallen, a Los Angeles-based artist (who created some of my favorite street posters from the early LA punk scene), recently published a long critique of Fairey on his blog, Art For A Change. What I'm writing here directly relates to Mark's piece, so if you haven't read it, give it a look here.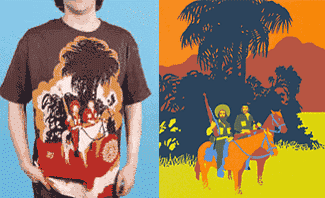 Mark's write-up came out of a long discussion that has been going on between a number of politically-motivated artists and archivists about Fairey's work. Throughout the whole process of discussion it has seemed clear that we have been coming from parallel but divergent positions, with different parts of the larger issues at hand being more or less important to each of us. Mark is clearly concerned with social and political potentials of ART, and believes Fairey's wholesale "theft" of historical images cheapens the potential for art to make change in the world. Lincoln Cushing, an artist, archivist and author who has been involved in the discussions, is very concerned with how plagiarism hurts efforts to empower our communities with their own revolutionary art history. However, he also supports strategic use of existing copyright law, and recently got Fairey to pay retroactive royalties on a t-shirt with Cuban artwork appropriated without credit. Favianna Rodriguez, also involved, has been particularly frustrated with Fairey's use of and profiting off of the art of people of color, and the images of the struggles of people of color, while he has had to pay none of the costs for having to live as a person of color in this society or world.

People are already rallying to Fairey's defense, claiming his appropriations are legitimate ways to create art, or simply attacking his critics, namely Mark Vallen. I'm not really interested in attacking Fairey, I simply want to make transparent the politics and economics his work uses and depends on. I don't know Fairey, and he might be the nicest guy in the world. But what is important to me is not his personality, the quality of his artwork, or if he saves the whales, but how his artwork actually functions in the world. It is definitely tempting to use Fairey as a punching bag for the theft of the visual history of social movements, but I'd rather use his mode of operation as a really great point of discussion that raises a whole series of extremely interesting and important issues. I thank Mark and everyone else that has taken part in this conversation for doing just that. As Fairey himself always says, "question everything."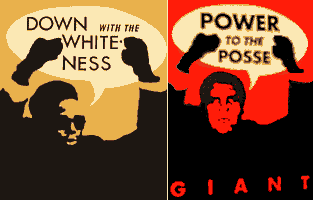 As I said, I am not very interested in whether Fairey's work is "good art" or not, and I'm definitely not very focused on making sure the artists he took from get paid, or sue Fairey. To me that is a personal issue and if artists that feel their work has been stolen want to go down that road, it's their business. To me it's a political dead end. The legal system is never going to hold Fairey accountable, and trying to use extremely flawed copyright laws (that primarily protect huge corporations like Disney, who actually stole from other artists and writers the ideas and images of their early cartoons) seems like a lousy recourse to me. Maybe an individual artist like Rupert Garcia (see Mark's article for the specifics) will be able get some money out of Fairey, which is fine and good, but to me it sidelines the real issues.

I believe Fairey exemplifies in many ways the operational model of capitalism. He extracts resources, largely from political struggles of Third World and working class people, and then slightly processes those resources (images), commodifies them (strips them of any history or relationship to where they came from), and sells them on the market. Like capitalism he simultaneously sells high-art versions to wealthy elites and then cheaper mass-commodity versions to the very same communities he is taking images from. This is how the making of all corporate products works. What is great about Fairey is that he makes it so easy to see the process at work, and develop ways to critique it, challenge it, and hopefully change it.
For those that don't know, here's the 101 on how Fairey (and many others) create their art:

1) He looks through old books of political posters, photos, etc. and finds something he likes aesthetically, usually images that appear iconic of certain political motifs and therefore seem "authentic," i.e. fists in the air, rifles, representations of ideology like red stars, people of color, etc. (I suspect that for years he was using the book Prop Art by Gary Yanker as his primary source, as every other page contains an image he has taken, but he's clearly moved on to other sources.)

2) He scans the image and runs it through a set of Photoshop or Illustrator filters that usually slightly soften the edges, change the colors, flatten the image if it has any depth.

3) He might remove sections of the background and introduce a new border or pattern (usually lifted from somewhere else).

4) Finally he adds the word "OBEY" and some graphic representation of Andre the Giant.
Fairey's work simultaneously depends on both knowledge and ignorance in his audience. What I mean by this is that for the art to be successful, the viewer needs to be networked into a global culture with massive access to information, but a culture that is both entirely overwhelming in sheer volume of "data" and also one that privileges only certain narratives to string that data together. For a Fairey piece to be successful the audience needs to know that the work comes from the world of the "real" or "authentic", i.e. political social movements like the Cuban, Russian, or Chinese revolutions (or more recently the Zapatistas), and/or cultural social movements like the Haight-Ashbury psychedelic music scene. At the same time Fairey depends on his audience to be ignorant of the SPECIFIC location of the source material, they should NOT know what poster he stole, or exactly from where.

This is EXACTLY how advertising works. Unfortunately Fairey publicly claims to be critiquing advertising in his work, calling it Phenomonology. The front page of his website states, "Because people are not used to seeing advertisements or propaganda for which the motive is not obvious, frequent and novel encounters with Obey propaganda provoke thought and possible frustration." As I wrote in Stencil Pirates, "Although he once said 'Giant has a Posse has no meaning,' Shepard Fairey himself couldn't resist the temptation to give capitalist meaning to his work, and now he has an entire cottage industry selling posters, shirts, hats, and his own design skills with the images and words he once stenciled across the globe. Sure, the words 'Andre the Gaint' have no fixed meaning, but neither do the words The Gap, Old Navy, or Tommygear. Their meaning is given to them in the branding efforts of the company owners." There's no doubt what OBEY means these days, simply SHOP.

What Fairey has done is used all the modern advertising tools at his disposal to create an ad for himself. He understands (consciously or not) that in the current incarnation of capitalism not only are the products we create immediately absorbed into the world of commodities ("things" that seem outside and separate from ourselves, as if they have a life outside of us), but we ourselves have become commodities, we look at ourselves from the outside, and buy and sell not just our physical labor, but our entire identities, existences, subjectivities, etc. While individuals buy Fairey artworks, corporations with larger budgets can buy Fairey's branding ideas, street cred, or even the man himself. Sometimes I wonder if the high end collectors of Fairey's silkscreened works also go out and buy every variation of the Mountain Dew logos he designs?

There are a couple things that kill me about all this. First, because Fairey presents himself as challenging to corporate advertising and control, he's regularly placed on panels and interviewed in books, TV and films in the role of critic. There must be nothing more comforting to advertising execs than to have their main public critic be someone they can go have a beer with afterwards and discuss ideas for the "street" campaign for the new Led Zepplin box set! This contradiction is one of my only beefs with Fairey himself, not the system he's part of.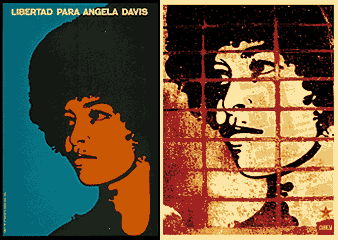 Second, Fairey's digging up of the visual elements of political history does more to hide that history than illuminate it. Fairey depends on the source of his work being perceived of as "authentic" or "real." At the same time, he does nothing to let people know the images are taken from actual historical moments and struggles. I'm much less concerned with this tendency being labeled "theft," than with the lack of attribution of the source material, or even acknowledgment that there is source material. Our society is pretty seriously fucked up, hundreds of millions are hungry, homeless or in prison, and those are just the most base of factors to judge the health of a community. The history of people struggling to change these things is important, and is largely removed from popular culture and public education. In order to create a better world, we need to have an understanding of the successes and failures of those that came before us. Unfortunately Fairey's work simply skims the "cool" parts of these struggles off the top, and buries the rest back into the books he took the images from. For anyone that thinks I'm overstating my point, and believe people really do know where Fairey's images are from, I'm sorry to say you are very wrong. I was recently in a room of University of California students (college students in one of the best university systems in the US), and not a single one of them recognized an image of Angela Davis, who teaches in the University of California system! Fairey's work is not bringing attention to Davis, the Black Panthers, or any of the struggles in the Black community, but instead uses the image of a self-confident and militant Black woman to sell sweatshop-made OBEY winter caps at department stores.
This erasure of history cuts both ways. On the one hand Fairey's decontextualization of the posters of the Cuban revolution does nothing to educate people about the history there. On the other, swiping images of heroic Cuban guerillas hides the actual Cuban revolution behind the surface level he presents. Fidel Castro and Che Guevara essentially become cool, with no room left to discuss with any complexity the role they played in Cuba or the rest of the world. At best they become cardboard cutouts (I guess wheatepasted cut-outs is more appropriate) to idolize. Both Fidel and Che are extremely complicated and problematic figures, and we need to be able to grapple with their actual history and beliefs, not the two-dimensial version.
One thing Mark, Lincoln, Favianna and others are deeply concerned about with Fairey's work is the using of social movement imagery, as I understand it because he has no "right" to it. But this confuses me. I want to know who DOES have the right to it? Are some people more authentic leftists, so they have more of a right to authentic leftist graphics? For example, the Russian Revolution was real, it happened, it changed peoples lives, there is no question about that, but the public construction of the revolution, i.e. how all the posters, photos, books, etc. build up to a coherent whole in the social imagination, is that "real"? Authentic? Does any one group have the right to claim it? To claim authenticity? Does Fairey have less right to the social imaginary of revolution than the rest of us? Have we made a revolution and he hasn't?
What I find most troubling about this is that it seems that we (for which I include those on the Left that would critique Fairey) have reached the terrible point that what is most important to us is trying to rip our identity from the jaws of Fairey (capitalism), rather than fighting capitalism itself. Fairey is simply an obvious visual example of the process that goes on around us each and every day. Is there any image we can create that isn't going to be immediately absorbed by advertising, and thus capitalism? Capitalism is an economic system we have no choice but to exist in until we fight our way out of it. No one is exempt from it, there is no "outside" the system. Unfortunately we all need to buy and sell things to survive. What are the benefits of pretending our culture is precious and only accessible to the "holy few" that somehow have proven they are worthy of it? Can the past be opened up for use in a way that isn't simply commercial, but also helps us try to change economic and political systems that stunt and destroy the lives of billions of people.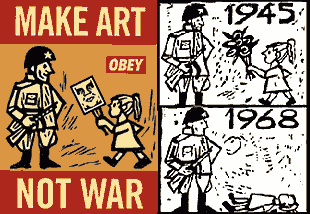 Left: Fairey's poster. Right: Artist unknown, 1968 (original street poster from Czechoslovakia's Prague Spring. The poster depicts a Soviet Red Army soldier in 1945 as a liberator of Czechoslovakia from the Nazi's, then as an oppressor in 1968, when the Soviet's brought tanks into Prague to suppress the social movements.
I understand that Fairey is not simply using social movement history and other artists work, but immensely profiting off it. One important thing to acknowledge is that Fairey is not just appropriating, but also copyrighting images that exist in our common history. Posters and graphics made in the heat of political struggles are often made by anonymous individuals or groups that want to keep the images in the public domain for use in further struggle. It is unfortunate that Fairey is attempting to personally capitalize on the generosity of others and privatize and enclose the visual commons (as seen by the prominent copyright symbols on his website and products). But once again, this is the machinations of capitalism, not simply Fairey as an individual. Can Nike profit from social movements but not Fairey? How about a supposedly "good" corporation, like one that makes windmills or solar panels? The building of new culture out of the pieces of the old is standard practice, and in the age of google image search, it's only going to get more and more pronounced, with the distinctions between original work and "new" work getting blurrier and blurrier. What are the criteria for a "new" work versus a copy or theft?
To tie this all up, I believe artists can and should play a role in changing our world for the better. I think one way of doing this is trying to really understand the political, social and economic structures we find ourselves in, and using our art to illustrate them. Only when we understand the gears at work that are oppressing us will we all be able to throw a wrench in them. Unfortunately the work of Shepard Fairey, although exemplary of oppressive economic systems, hides these very systems rather than making them transparent. His work will only be successful (at more than making money) when he cites his source materials and tries to cut through the amnesiac haze of our society instead of adding to it. When a Fairey wheatpaste on the street becomes not an advertisement for his clothing line but a site for arguing over how we fight and struggle in this world today, I'll be the first one to send people out to look at it and argue about it.
***All of the images here are taken from
Vallen's critique page
, so you can go there to find the full citations on where the original images are from. I haven't quite figured out how to put image captions into the blog yet!***