This is an essay written by Eric Triantafillou that is included in Paper Politics: Socially Engaged Printmaking Today. Eric wrote the piece as a provocation to political printmakers, asking all of us to think deeper about what we do, and question whether it is accomplishing the things we think it should or we want it to. I find it challenging and valuable, and want to post it here in hopes of starting a broader discussion. Please give it a read and chime in. I know a number of artists that have read it and have questions and conflicts, so here's the place to raise them!:
All The Instruments Agree
Eric Triantafillou
The façade of a now-defunct police station in San Francisco's Mission District is plastered with street art. It is a visual cacophony of posters, flyers, stencils, paintings, drawings, and the hand-scrawled responses of passers-by. A remnant of the housing struggles that began in 2000, today this wall is a public commons that transmits information about everything from legal rights workshops to communist party meetings and yoga classes; also occupying its surface are corporate ads cloaked in DIY lino-chic. It is also a screen onto which people project thoughts and feelings about the world they fear and visions of the one they want.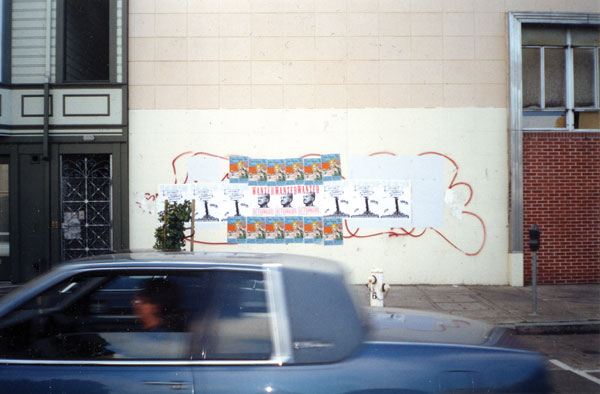 From a distance, all these competing images and ideas side by side create an uneasy harmony, like a Jackson Pollock painting—a kind of abstract social expressionism. Up close, reading the messages, you see a lot of contradiction and tension, evidence of the wall's messy and contentious evolution. The tactile beauty of the wall is immediate, and yet you realize that this wall is not just a space; it also reveals a history—it is a process in time. But what kind of process? Is the wall a representation of a public and participatory experiment, or its actualization? Is the wall a truly democratic space in a society that only claims to be democratic? Do these disparate images and contradictory ideas illustrate the diversity of our social, cultural, and political perspectives?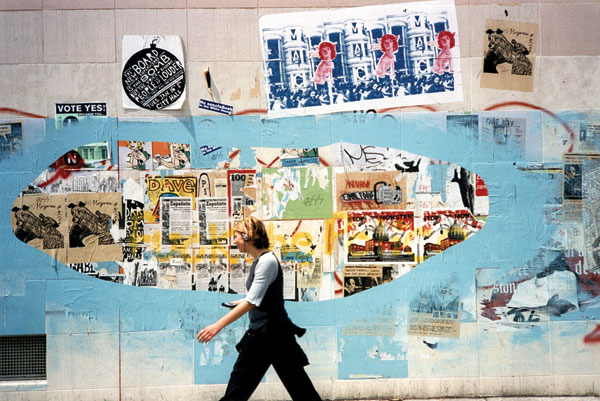 We could view this form of public communication not as constituting a consensus, but as proof that we can have
dissensus
and yet still coexist. After all, no one has to listen to or agree with anyone's opinions; they simply need to tolerate them being expressed. Any idea, any image, can simply be covered over by another, ad infinitum. We could celebrate the wall as a bastion of diversity and dissent, a toehold in a society whose public space is increasingly privatized and controlled. But we also have to recognize that the wall can represent a norm for controversy in a society that has not found a way to resolve its conflicts, a society that easily recuperates the meaning of experiments like these and then sells them back to us as aesthetic commodities.
The book you hold in your hands is also a kind of wall. At one time or another, many of the images in this book have appeared in public spaces across the U.S. and other countries. Like layers of time, these images have been peeled off the palimpsest and placed next to each other on the page. These juxtapositions are both powerful and problematic. Like the wall in the Mission, this book represents a diverse cross-section of ideas and practices that together form a loose aggregate that we could call "left political art." However, viewing all these images next to each other can give the appearance of political unity when there may actually be none.
As printmakers, most of us produce our work with an understanding that we are contributing to and continuing the tradition of politicized printmaking that Deborah Caplow discusses in her essay—a tradition that began with Goya in the early nineteenth century. I often think that we are more preoccupied with continuing this tradition than with asking why the promise it holds out—the promise of universal emancipation—remains so elusive. Our need to be constantly busy, to always be making more, is endemic to the activist compulsion to keep a movement alive, with little sense of what we are moving toward or why. I would go so far as to say that we, the producers of images that are meant to represent social conflict and its antidotes, may actually be complicit in prolonging, as opposed to fulfilling, this broken promise. How could this be?
The graphic art of dissent over the past century and a half is an endlessly twisting, impossibly varied, and fantastically inspired and inspiring maze of imagery. Yet within this multiplicity of signs, symbols, and slogans there are clearly many that are used again and again. The images of past struggles comprise a kind of inventory of left visual tropes that are continuously recycled. New generations of makers adapt the images of previous generations to the social conditions and aesthetic sensibilities of the present. This is in part what it means to operate within a tradition. Images of the past are re-used in order to commemorate them, to create symbolic continuity, to inspire new social movements with the knowledge that they are rooted in the past, to prevent historical amnesia.
Left graphics regularly portray the relationship of social forces as a conflict between two sides:
Us
­—children crying, clenched fists, crowds amassing, plants growing, doves alighting—versus
Them
—bombs falling, smoke stacks spewing, barbed wire, prison bars, skeletons. In nineteenth-century France, left political cartoons frequently characterized the bourgeoisie as a parasite that sucks the blood of the workers. Many early anarchists and socialists believed that if the workers—whom they believed produced all the wealth—could rid society of the bourgeoisie, they would finally be free. In the history of left political art, this opposition is played out again and again in expressions like "Capitalists need workers, but workers don't need capitalists." It is probable that in a society in which workers controlled production there would be a more equitable distribution of material wealth. But I don't think it helps to think of capitalism as something that some people
do
and others
don't
. We are all subjects of the same socioeconomic system. The captains of industry and finance are no less dominated by this system, regardless of the fact that they benefit more, than the billions of people with far less. We are all bound to a system characterized by a blind march toward profit, one that must constantly revolutionize or perish.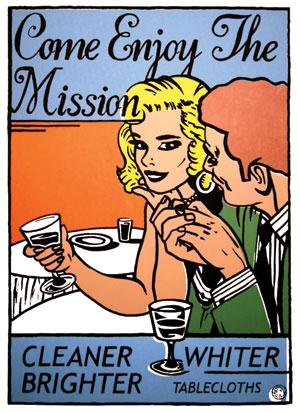 In early 2000, during the housing crisis in San Francisco that was caused by the new Internet economy, I produced the image
Cleaner, Brighter, Whiter Tablecloths
. An ironic jab at the hipsters who were moving into the neighborhood, it refers to the ethnic bleaching of the city's predominately lower-income Mission District. The image portrays the immediate reality that was visible in the streets, representing gentrification as an opposition between those perpetrating it and those fighting against it. Representing the "gentrifiers" makes it unnecessary to represent those fighting against gentrification; the latter are implied. If as a viewer I don't identify with what the symbols in the image signify, I am against them; I am one of us. And since we tend to affirm symbols of resistance as authentic expressions of suffering, joy, and indignation, we rarely question the thinking or the politics that are bound up with these symbols.
Cleaner, Brighter, Whiter Tablecloths
only mirrored the way things appeared on the surface: young, white, urban professionals move into a "Latino" neighborhood, driving up real estate values and disrupting the sense of community. This conception reinforces the idea that capitalist society operates and can be understood through binaries like gentrifiers versus indigenous residents. What gets lost is the understanding of gentrification as a consequence of a socio-historical dynamic that shapes the actions of everyone involved: the venture capitalist who invests; the politician who frames the change as the natural course of economic development; the planning commission that rezones the neighborhood to pave the way; the banker who lends; the property owner who borrows to flip a condo or the first-time home-buyer who takes out a mortgage she can barely afford; the developer who controls the building trades or the independent contractor who hires cheap immigrant labor; and the community coalition attempting to get a temporary moratorium on the construction of market-rate housing so a few lower-income families can stay in their homes a little longer. The image of colonizing yuppies in search of authentic cultural interaction flattens this complex set of actors and interests into an easy-to-digest call to action. The more complex challenge of addressing gentrification and anti-gentrification struggles as systemic, as part of a process in which capital moves in and out of the built environment—the spatial component of capitalism's necessity to continuously accumulate and expand—is something these symbols cannot communicate, and, in fact, obfuscate.
What is driving capitalism's imperative to continuously accumulate value and increase that value? Is it old-fashioned human greed or something else? Why does gentrification specifically, and capitalism more generally, appear as a struggle between two opposing sides? Exploitation and social conflict are real and ever-present. But the socio-historical dynamic that structures all relationships, a dynamic that has become increasingly abstract over time, is concealed when it is understood through simple oppositions. This dynamic is rooted in the contingency and symbiosis of all social forces, classes, and interests. To reduce it to a conflict between good and evil does not help explain how this dynamic mediates social life, its origins, or how it has changed over time.
If we continue to express our politics as either choosing to do good or choosing to do bad, we will continue to think of the problem as one of
being
, as something
in
us, and not as a relationship
between
us. Good decisions by good people do not alter this dynamic in any fundamental way. Our focus on the ethical or unethical character of capitalist development, expressed in symbols of altruism versus greed, implies a politics of technocracy (an increase in social services here, a tighter regulation there), but also has the effect of closing off possibilities for more radical politics. Reform that ameliorates immediate material conditions strengthens the dominant thinking that our socioeconomic system is fundamentally sound, that it just needs some tinkering around the edges.
What if our images could do more? What if they had the potential to be radical, to go to the root, to try to represent the relationship that is hidden behind the binary idioms of our tradition? What if we were able to know what determines, and to clearly express, that which is truly wrong with capitalist society? As negative as our thinking and our images might become, they would point toward what is right and better.
At the same time artists are working through problems of representation, we must also think about how we produce images. What are the contexts in which our images are made? Who are the images for? Are they just preaching to the converted? If
Cleaner, Brighter, Whiter Tablecloths
was problematic as an image, the context in which it was made—as part of a larger effort to mount a visual response to what was happening in San Francisco's Mission District—had far more potential. In 2000, some fellow printmakers and I began making posters about displacement and evictions. One of the places where we put them was on the old police station wall. Our group, the San Francisco Print Collective, became the propaganda wing of a neighborhood coalition that had come together to fight gentrification. SFPC members were united by the idea that art is an incredibly powerful tool when rooted in a social movement. We didn't always agree with the political positions or tactics the coalition adopted, but we shared a common goal. The SFPC's images and messages were composed by multiple voices within our collective, but when they hit the streets they spoke with one voice. Our work's constant visual presence in public space helped communicate to others what was happening in the neighborhood. It also inspired and motivated people in the movement, inextricably linking our effectiveness and longevity to the wider community's struggle.
Artists of the past organized large-scale unions and popular fronts in response to the social conditions of their time. Although these forms of organizing shouldn't be ruled out, they haven't materialized in the present. Many artists already work in small collectives, organizing themselves around shared affinities, social values, mutual support, and resource sharing. This doesn't mean that as artists we automatically share a common political vision because of our backgrounds, a certain temperament, the media with which we work, or our relationship to other social actors and institutions. But what if we did? What if, instead of letting this book or the Mission District wall represent our differences—our pluralism—we began to work towards articulating a shared commonality?
I advocate that we, left printmakers, develop a set of shared goals, and use our powerful ability to intervene in public space, to create new ways of thinking and new meanings that refuse the dominant ones, and to develop tactics that can help us achieve those goals. The voices in this book and on that wall give the appearance of unity, of a unified opposition to capitalist society. But on closer examination, you can see fissures, fractures, and contradictions. If we began to organize ourselves, to create spaces for collective reflection and political education, I think we would find that ideologically we are very atomized, and that many of us would rather remain this way because the concept of unity (and all the past failed attempts at it) means a loss of individual freedom.
The collective articulation of a set of goals (which in and of itself would be an incredible undertaking) would necessitate an in-depth analysis of all the practices we're engaged in. It would mean that we would have to confront the fact that some ways of thinking and some practices are probably better than others, as instruments for achieving our goals. This doesn't mean it is wrong to make images that advocate that we "Support the troops, send the politicians to war" or "Knit for the revolution." But it does mean that if these are the kinds of stories we tell ourselves and we attempt to fashion a politics out of them, we may not be getting any closer to our goals. In their broadest sense, these goals would have to involve creating the social conditions in which someone's desire to make whatever she wants, to think and act as she sees fit—without being dominated by time, space or someone else—will have been gained for all.
The wall insists on an encounter. It wants to be used. But it is a space that gestures toward something beyond itself. It is not an end. It is a process of
becoming
. At the same time we create spaces of dialogue and public commons, at the same time we continue our tradition as the archaeologists of dreams and the farmers of inspiration, we can realize the force of unity that lies dormant in our fractured and individualistic practices. Let's investigate our own thinking. Let's look at our practices. Let's collectively reflect on the images we make, and how and for whom we make them. Let's ask if they could do more—if they could reveal the abstract barbarity of our social reality, and still incite and inspire us. As long as our goals are based on an intransigent desire for total social freedom, we have nothing to fear.

Eric Triantafillou lives in Chicago where he teaches and writes. He cofounded the San Francisco Print Collective and Mindbomb, a collaborative political activist art group in Romania.
If you are interested in the book this essay came from, which includes two other full length essays, 200 color reproductions of political prints, and a dozen short pieces of writing by printmakers, please check it out
HERE
.