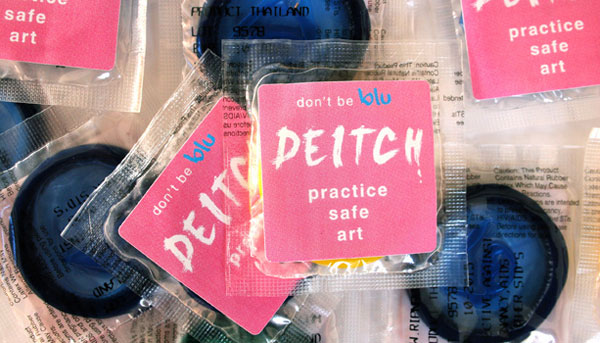 Regular viewers of the Justseeds blog will remember
Nicolas' essay on the censorship of street artist Blu
's mural, a short while back. Recently a group calling itself LA RAW have executed a few actions against the LAMoCA, and director Jeffrey Deitch. They recently handed out the above condoms, and had this to say, on
ArtInfo.com
:
The action at the Fowler Museum consisted of passing out labeled "Deitch" condoms which said "Don't be Blu, Practice Safe Art" to people prior to them entering a panel discussion titled "How Does Street Art Humanize Cities?" The use of the condom as a product that speaks of how the artwork of an artist that challenges the current state of affairs is handled, and how the message of an artwork can be watered down in order to be deemed appropriate for the public by various institutions and/or individuals. The purpose of this action was to provoke a dialogue for those attending the panel, keeping the issue from being safely tucked away without addressing the dangers of impeding freedom of expression.

The group also did some guerilla projections on the side of the museum, which can be seen below, and viewed on the LA Times blog

ArtInfo.com also reports that the group is planning another action
"Funeral Procession for Freedom of Expression" that will take place on January 20th at the Biltmore Hotel, where Smithsonian secretary G. Wayne Clough will be making an appearance. The artistic protest will take on "the escalation of art censorship," opposing both the suppression of Blu's anti-war mural and the Smithsonian's removal of a David Wojnarowicz video from the National Portrait Gallery's "Hide/Seek" show under right-wing pressure.