Occupy Portland has been uprooted from its two downtown parks, and begins a new phase – whether that means a new location or a new course of action.
Since I returned from Slovenia, I've been working on art projects related to the Occupy phenomenon, designing posters and flyers and graphics.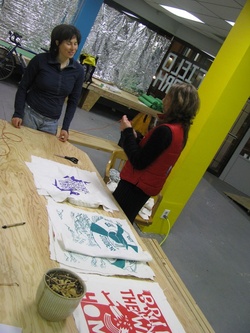 I met with two colleagues, Katherine Ball and Chelsea Peil, to hatch a plan to create a more powerful graphic presence at the camps, something to complement the piles of damp cardboard covered in sharpie hatching.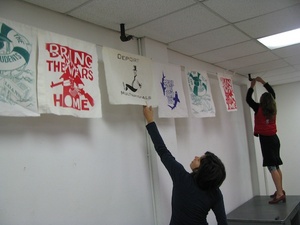 We came up with four slogans that we figured could serve simultaneously as rallying cries and simple graphic depictions of the perennial bugbear: what do the occupiers want? While what we really want is a new society, a new world, new social and economic and environmental relations, we thought it might not hurt to have a few bright snappy slogans on display that people could simply point to when the trolls came harrumphing out from under their bridges.

Our plan was to hang them from the trees lining the park, but developments took a turn for the worse. The Mayor announced plans for eviction on Thursday, with a final deadline of 12:02 Sunday morning. As Saturday night rolled around, many of the tents in Chapman and Lownsdale squares had come down, and preparations were being made for a police onslaught. Katherine brought out a string of the banners and hung them in the floodlights at the center of Chapman square.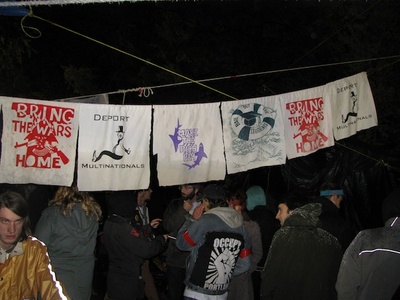 What apparently surprised the police department was the massive turnout from the people of Portland, who turned up to show their solidarity with the occupiers. At the height of Saturday night's action, while I was getting punched around by the rump of a police horse, there were at least 5000 people in the park, if not several thousand more. We held the street and the parks until dawn, when I left, sick and weary, to ride the long ride home. I woke at noon and flipped through the twitter feed on my phone to see that the police had returned and swept the park, shoving and batoning the occupiers into a slow retreat down Main street across from the square. The line halted at the mouth of the street, and protestors and police stood off with each other there for the next five hours.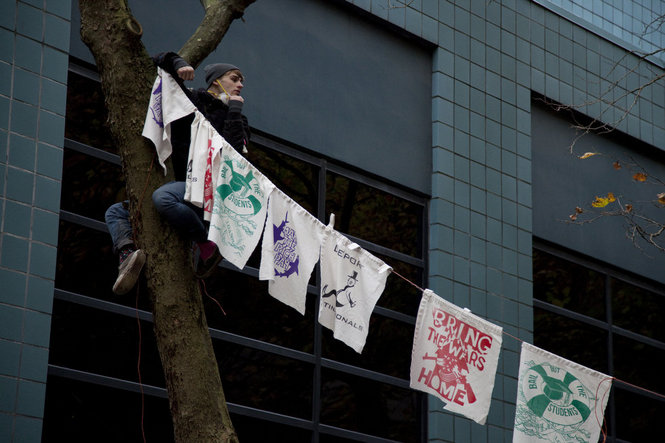 As the line stabilized, Katherine handed out a string of the banners and the other two were joined together and hung across Main street from trees. They fluttered while the standoff lasted, while people held their General Assembly there in the street before deciding to move on to Pioneer Square nearby. Now the occupation changes. What direction will it take? It's undetermined as of yet. One thing is sure- it will need more art.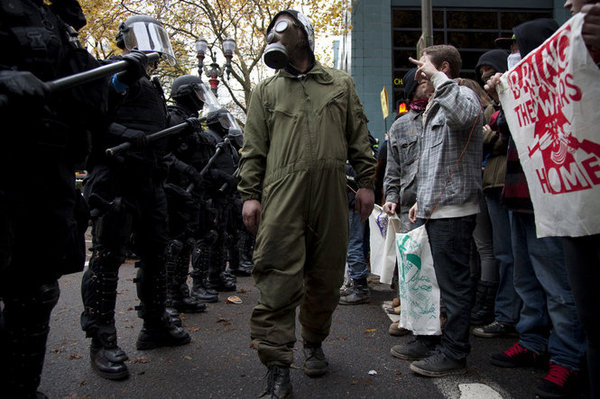 The last two images are by photographers from
the Oregonian newsapaper