This just in: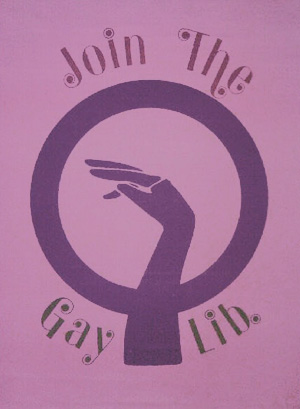 Call for Posters!
Out of the Closet & Into the Street: Posters of LGBT Struggles & Celebration
July 3 – September 26, 2010
ONE Archives Gallery & Museum, West Hollywood, CA
The Center for the Study of Political Graphics is creating a new dynamic political poster exhibition documenting the ongoing struggles, and celebrating the victories of the local, national and international Lesbian, Gay, Bisexual and Transgender communities.
We are asking artists, organizations, and activists for donations of LGBT related posters, new and old, to assist CSPG staff in curating the most comprehensive contemporary exhibition possible.
Donated posters will be considered for the upcoming exhibition and become part of CSPG's unique archive that we are making accessible to students, activists, and artists around the world.
If you have posters in the closet, under the bed, or in the attic, please donate them to CSPG so their history will not be lost to future generations.
Criteria for posters CSPG collects:
1. It must be produced in multiples such as silkscreen, offset, stencil, litho, digital output etc.
2. The poster must have overt political content. To be considered for Out of the Closet & Into the Street, please submit posters by June 1, 2010.
Contact: Center for the Study of Political Graphics
8124 West Third Street, Suite 211
Los Angeles, CA 90048-4039
323.653.4662 or cspg@politicalgraphics.org