Over the past two years, I've worked on a series of projects with Canadian curator Jon Lockyer. Each of these projects commenced from an initial event in 1906 when my grandfather's grandfather was arrested for poaching a deer on traditional Georgian Bay Métis harvesting lands. Over an eighteen month period, I hung two exhibitions, tried to harvest a deer on the same piece of land near the Shebeshekong River, and published a small risograph book.
This project – like much all of my work – was about reclaiming knowledge and Indigenous relationships to place, as well as about reaffirming my own relationships with the aanikoobijiganag, an Anishinaabemowin word that simultaneously names one's ancestors and one's descendants. As an artist, writer, and activist, not to mention as a human being, I have been thinking about the ways to understand our lives in the present moment as ones that link to those of our ancestors and descendants. I have been trying to "write" history from a non-linear perspective. What is significant about the term aanikoobijiganag is that embedded within the word usually translated as ancestors/descendants is the word aanikoobidoon, which means to 'string it together' or 'extend it by tying.' One could say that, in some ways, it also means to link or to knot things together. From this perspective, our ancestors and our descendants and, moreover, our present existence serves to link, tie, or extend all of us together into an unbreakable zhinoodaagan or cord.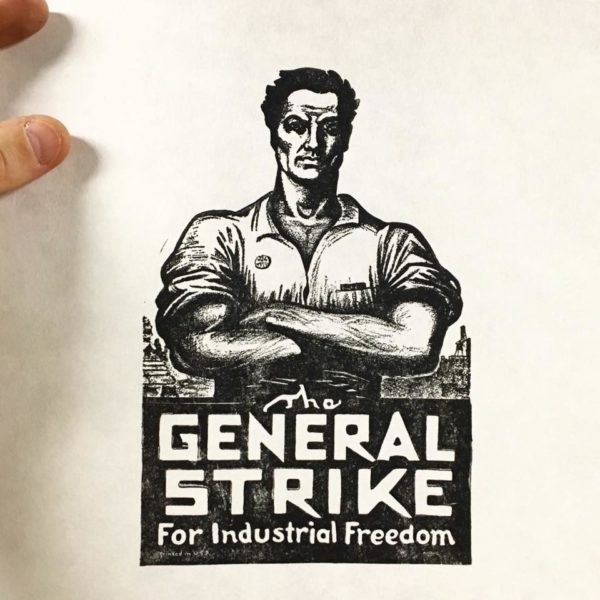 So, it wasn't altogether surprising, that while working on this project trying to collaborate with my biological aanikoobijiganag, I came into a project collaborating with my political aanikoobijiganag, the Industrial Workers of the World. Even if I have years of unpaid dues, I am a Wobbly (x355025) and have always seen the IWW as my political ancestors. During the early 2000s, I was especially active and created a number of prints for IWW campaign and issues, as well as about Wobbly history. During the IWW centenary, the 100th birthday celebration of the 1905 founding of the Industrial Workers of the World, historian Paul Buhle asked me to create a touring exhibition with the print work of Wobbly Carlos Cortéz and me. You can still download a PDF of the catalogue from that small traveling exhibition. For that exhibition, I created a series of prints based on songs written by Wobbly martyr ad folk hero Joe Hill. I also created a series of prints for Nicole Schulman and Paul Buhle's Wobblies!: A Graphic History of the Industrial Workers of the World, as will as created the cover for Jared Davidson's Remains to be seen: Tracing Joe Hill's Ashes in New Zealand. For a gallery exhibition in Chicago, I recreated a series of lost radio broadcasts from 1930s Detroit Wobblies, based on archival transcripts I previously found. Most recently, this summer's project at the Museum of Contemporary Art Detroit was based on IWW history in the city.
Curator Jon Lockyer knew of my work with the Wobbblies (and as one), he put me in contact with his colleague at Trent University and his former professor, labour historian Bryan Palmer who had in the last few years acquired 500-600 original printing blocks from the Industrial Workers of the World. Since their acquisition, the blocks have been sitting in storage and so when I met with Jon and Bryan this past summer, I proposed a collaboration – with one another, but also with the original Wobbly aanikoobijiganag. Accordingly, I will spend the next year or so printing approximately 150 samples from the archive that Bryan has acquired. Once a few of these are printed, we will try to secure funding to upscale the project, as it definitely deserves my full time and attention.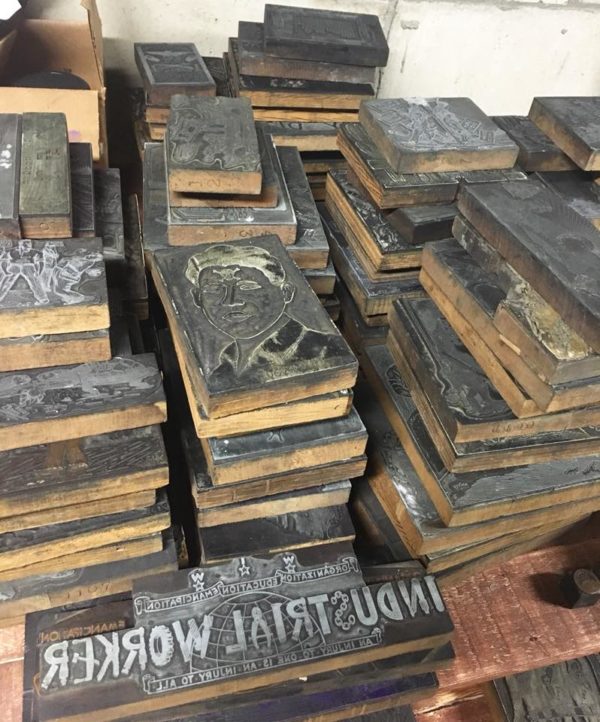 As I understand it, these IWW blocks were purchased by Bryan from a Chicago rare book dealer. Bryan is a professor of labour and working-class histories at Trent University, and since Bryan has a large book collection, the blocks are currently being stored with Bryan's books and personal archives. While I am uncertain how the blocks ended up with a book seller in Chicago, I am especially grateful that an historian like Bryan was able to purchase these a few years ago and subsequently keep them together as a single collection. I am uncertain of the full provenance of the blocks, but they appear to range in age from the 1910s through the time when Carlos Cortez was active with the union. The collection has many of the most well-known images, as well as some I have never before seen. The number of works by CE Setzer (CES or X13) is impressive. I was told that these blocks, which appear to not have been printed or used in decades, may have been in the basement of Chicago surrealists Franklin and Penelope Rosemont, or someone else connected with the Charles H. Kerr Publishing Company, the oldest labour and socialist printing house in North America. Because I believe in the animacy of certain objects, I am certain that the full life story of these blocks will reveal itself as the project develops. In Anishinaabemowin, words are divided into two categories, animate and inanimate – living and non-living. Because these blocks are living, they cannot simply be kept in an archive, but must be brought to life. The images and the blocks and the aanikoobijiganag who created them must be kept alive. It is our collective responsibility to do so, whether literally or by keeping alive these images and the histories // futures they tell.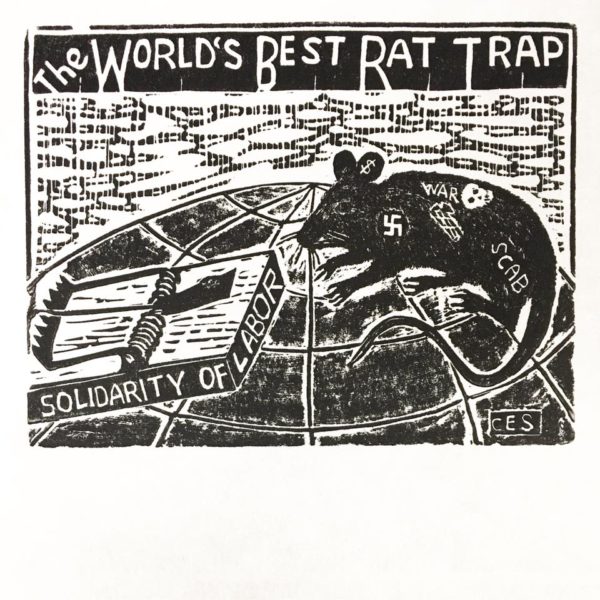 Currently, I have around 150 blocks in my studio, where just this weekend I started to print one or two impressions from each of the blocks. Life is busy and, as such, this will be a slow process. However, once I have printed a significant number of them, I will begin to digitize the prints. The step after this, however, is a bit up in the air. While this project could happen on a shoestring budget, with me printing in my basement studio, we nonetheless hope to secure some funding to allow us to print and digitize the entire collection. Once printed, we hope to create publication and then a touring exhibition with a selection of the works – to museums, libraries, galleries, and more 'mainstream' institutions, as well as union halls, community centers, anarchist bookstores, and the like. Ideally, we could create two versions of a traveling show, one for larger institutions, and one for community spaces. I will be turning o you all for help in locating and securing locations.
We also hope make these digital images accessible via some web platform, especially for the IWW and other activists. I am quite familiar with IWW history and its visual legacy, having spent countless hours in the IWW archives at the Reuther Library in Detroit and I am nonetheless surprised to see how many of these images I have never seen before. This makes my work at that much more exciting and challenging. This Wobbly collection houses many of the IWW classic images, as well as hundreds of blocks I have never seen before. It is for this reason that I want to make sure that all of them get printed and properly available.
Solidarity Forever and, as Joe Hill used to write, Yours for the OBU,
– Dylan Miner