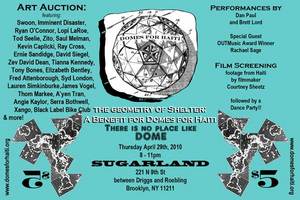 GEOMETRY OF SHELTER: A Benefit for Domes for Haiti
Thursday, April 29, 8-10pm
Sugarland
221 N 9th St (btn Driggs & Roebling)
Brooklyn, NY

This art auction / film screening / musical performance is only $5 to attend, and all proceeds go toward this groundbreaking project.
Domes for Haiti is a grassroots project based out of Brooklyn building ten 17′ diameter portable pre-fabricated geodesic domes to send to Haiti to provide transitional hurricane resistant shelters to people left homeless by the earthquake. They will be delivering the domes personally and teaching the recipients how to assemble the domes on sites that are in need of safe and solid shelter. Each dome is large enough to comfortably house at least 10 kids and shelter many more in emergencies. DFH is also sending a tool kit with each dome to help with the rebuilding efforts there. They hope to also bring enough money to hire Haitians at a living wage to do the prep work on the dome sites. Please come out for a fun evening of art, music and film to support this project.
Screening of recent footage from Haiti by filmmaker Courtney Sheetz
A silent art auction featuring many fine artist's work including:
Swoon, Imminent Disaster, Lopi LaRoe, Tod Seelie, James Vogel, Ryan O'Connor, Saul Melman, Tianna Kennedy, Tony Bones, Zito, Kevin Capliki, Ray Cross, Black Label Bike Club, Ernie Sandidge,Fred Attenborough, Syd London, Lauren Simkinburke, Thom Markee, Dan Paul Roberts, Brett Hurley Lord, David Seigel, Serra Bothwell, Katelan Foisy, Elizabeth Bentley, Angie Kaylor, A'yen Tran and many more to be announced!
Performances by piano-wielding singer/songwriters: Dan Paul and Brett Lord
Special Guest- OUTMusic Award Winner: Rachael Sage