I finally finished up a large print this week, and thought I would share some pictures of the process and the printing of the piece. I also took the opportunity to print a large piece I finished a few months back and never got around to printing. Along with these pictures you will get a little tour of my basement studio, which seems to be getting more and more cramped every time I turn around, and shares a wall with the Justseeds world wide shipping headquarters!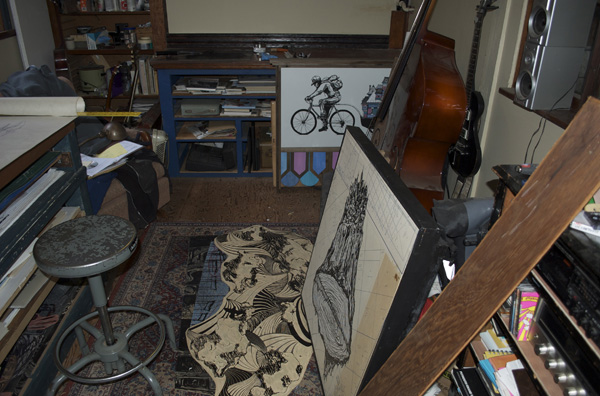 Here is the block still in the cutting stage. I typically use scrap linoleum I find at a used building materials store. My cutting tools are the standard, and cheap, Speedball cutters. This print fills my table top which is roughly 3 feet by 5 feet. The iron is used to warm up the linoleum to make the cutting easier.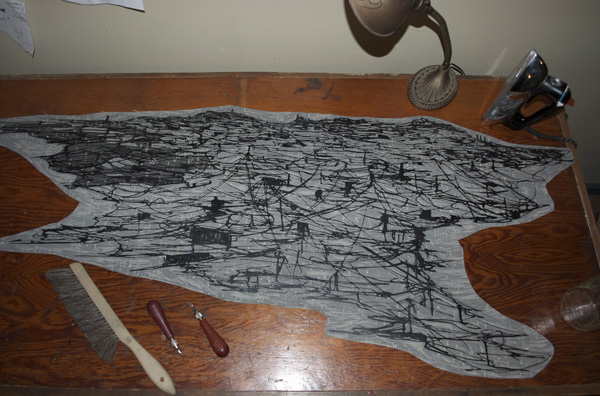 Here is a closer up shot of the block in progress: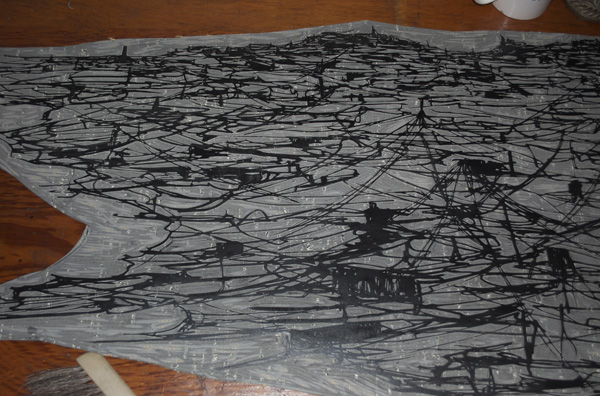 After I finally finish the cutting it is time to ink it up. I use a piece of glass for the inking palette, soy based offset litho ink, and some Speedball brayers.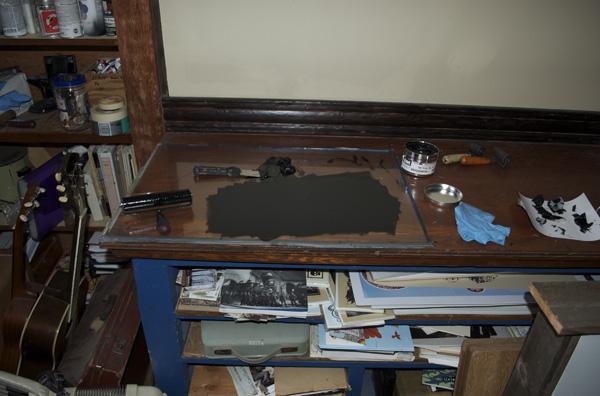 I have been using Mulberry paper that I purchase in 40 foot rolls for printing my large blocks lately. This paper is fairly easy to print with by hand. So after inking the block I roll the paper out over the block and start the hard work. Printing by hand requires a serious amount of pressure, especially if you are picky like I am about getting solid blacks. To accomplish the printing I use knife handles I made years ago to rub the back of the paper with. The handles are made of maple that I raised the grain on multiple times and sanded until extremely smooth, then they were oiled with linseed oil. Antonio Frasconi used knife handles for printing which made me think to try mine, and these work better than anything else I have tried. Printing by hand affords you great control but takes forever with these big pieces; this one took almost an hour to print. (soundtrack: Vic Chesnutt R.I.P., Larry Yes, The Smiths, and Jesse Sykes) Here it is, the darker parts you see are the parts I already rubbed, the ink slightly comes through this paper.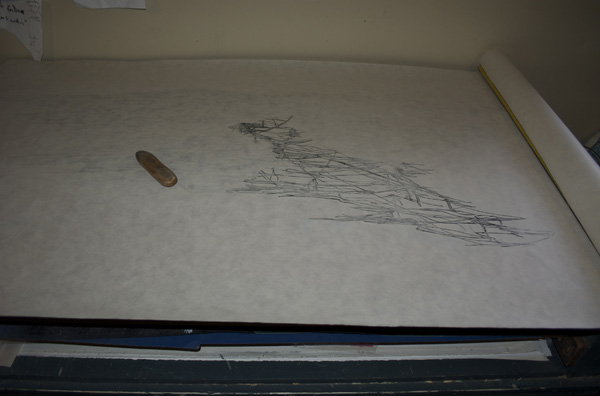 Left-handed action shot: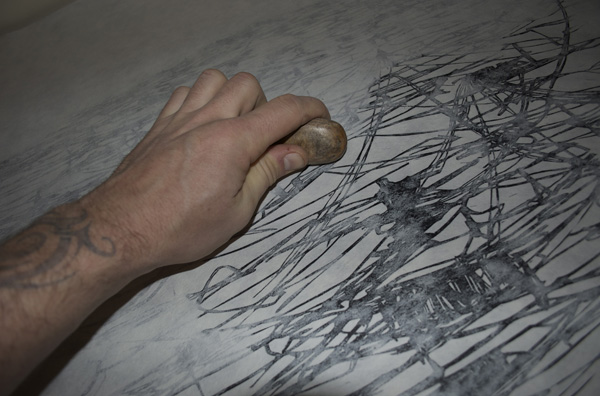 This is the best part…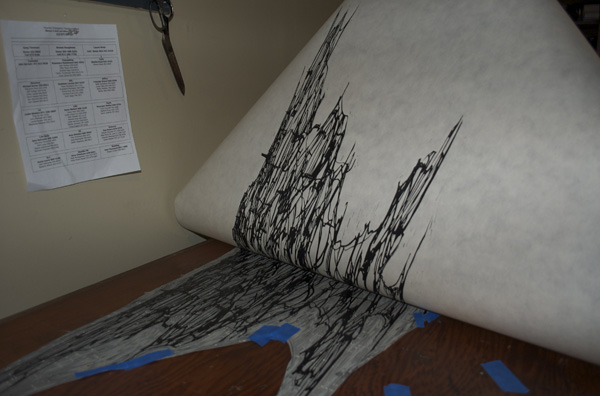 and this is what it looks like in the end, another giant city scape: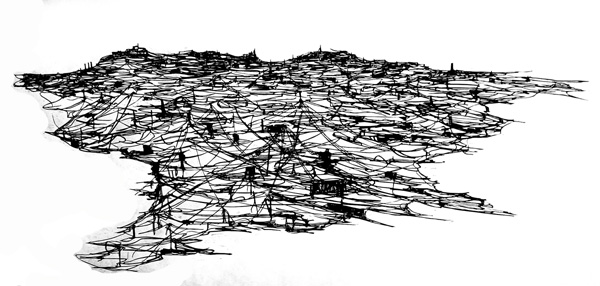 View larger image
Here's an in progress photo of the the second print I did today, this one is about 6 feet long. (Soundtrack: The Mob, and Jesu)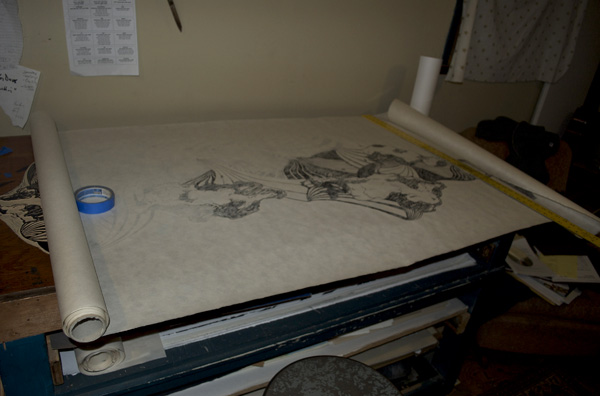 again partially printed…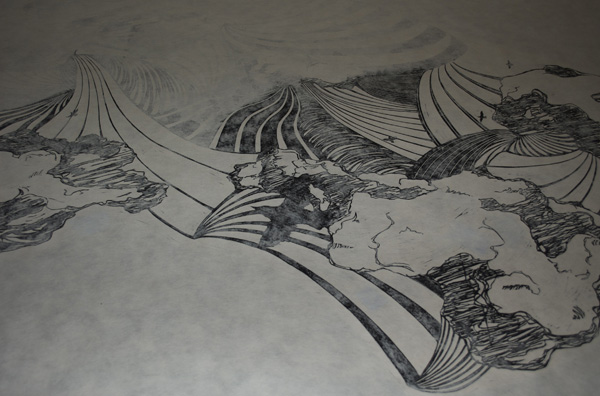 and this is the finished piece, a giant cloudburst, which will be coming from some place to be determined and cut out of linoleum soon (I hope)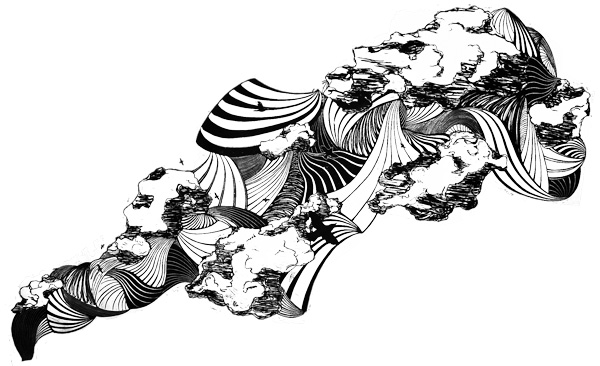 This is a print ("Stump City") that I am finishing up the framing on for a show opening next week. It is printed on old oil field maps of California I found a few years ago. Quite fitting I thought as this piece is addressing resource issues like the proposed Liquefied Natural Gas Pipeline oil companies are trying to put across Oregon, to deliver LNG to California, cutting a path crossing hundreds of miles of old growth forest and farm land.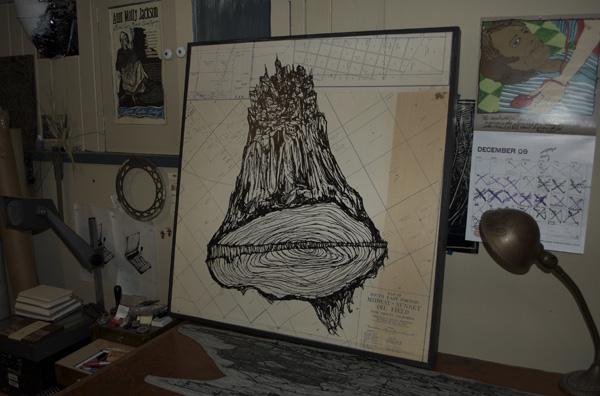 This version of "Home Is Where The Cart Is" will be making its appearance at that same show.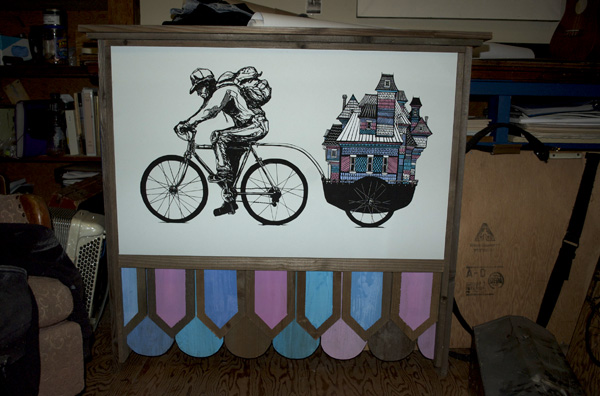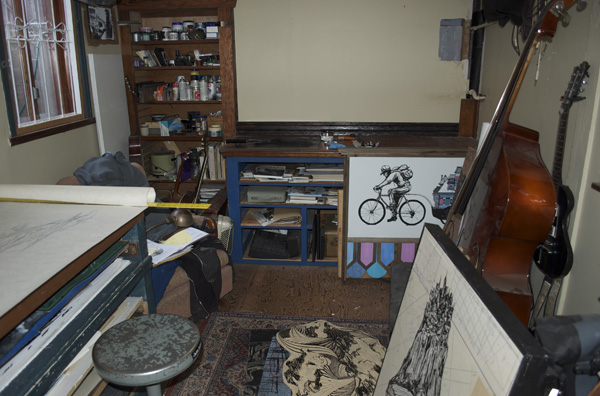 That's all for now, time to go clean up (soundtrack: Trouble's 1984 album "The Skull") Happy New Year from Justseeds Portland!