The debut exhibit of Fauna is happening at the Carnegie Museum of Natural History in Pittsburgh this spring!
Fauna is an all-ages interactive mechanical sculpture that engages the public about extinction and wildlife adaptation in the Anthropocene through an elaborate, kinesthetic hand-operated "penny smasher." By inserting a US penny and turning a large wheel, participants can easily press their penny with great force, and when it comes back out the machine, it's been embossed with unique illustrations on both sides. One side depicts animals that are critically endangered or extinct, and on the other side are the tracks and silhouettes of animals currently adapting to urban environments.
Exhibited as part of We Are Nature: A New Natural History, curated by Nicole Heller, Fauna incorporates a penny smashing machine entirely built by artists into the museum's existing exhibition environment, and includes two new exhibition cases with objects curated by Slifer in collaboration with museum collections managers. Inside the cases are cultural objects and biological specimens which build on the stories of the animals represented on the pennies: the shell + skull of a critically endangered Kemp's Ridley Seat Turtle, for example, alongside the disposable plastic bags that often liter their environment with lethal consequences.  
You can take a virtual tour of the exhibit here.
Fauna is a long term collaboration between Stuart O. Anderson and Justseeds member Shaun Slifer.
Artists who have participated by providing illustrations:
Individual pennies from early, small editions pressed on the second Fauna machine can be purchased from Justseeds here.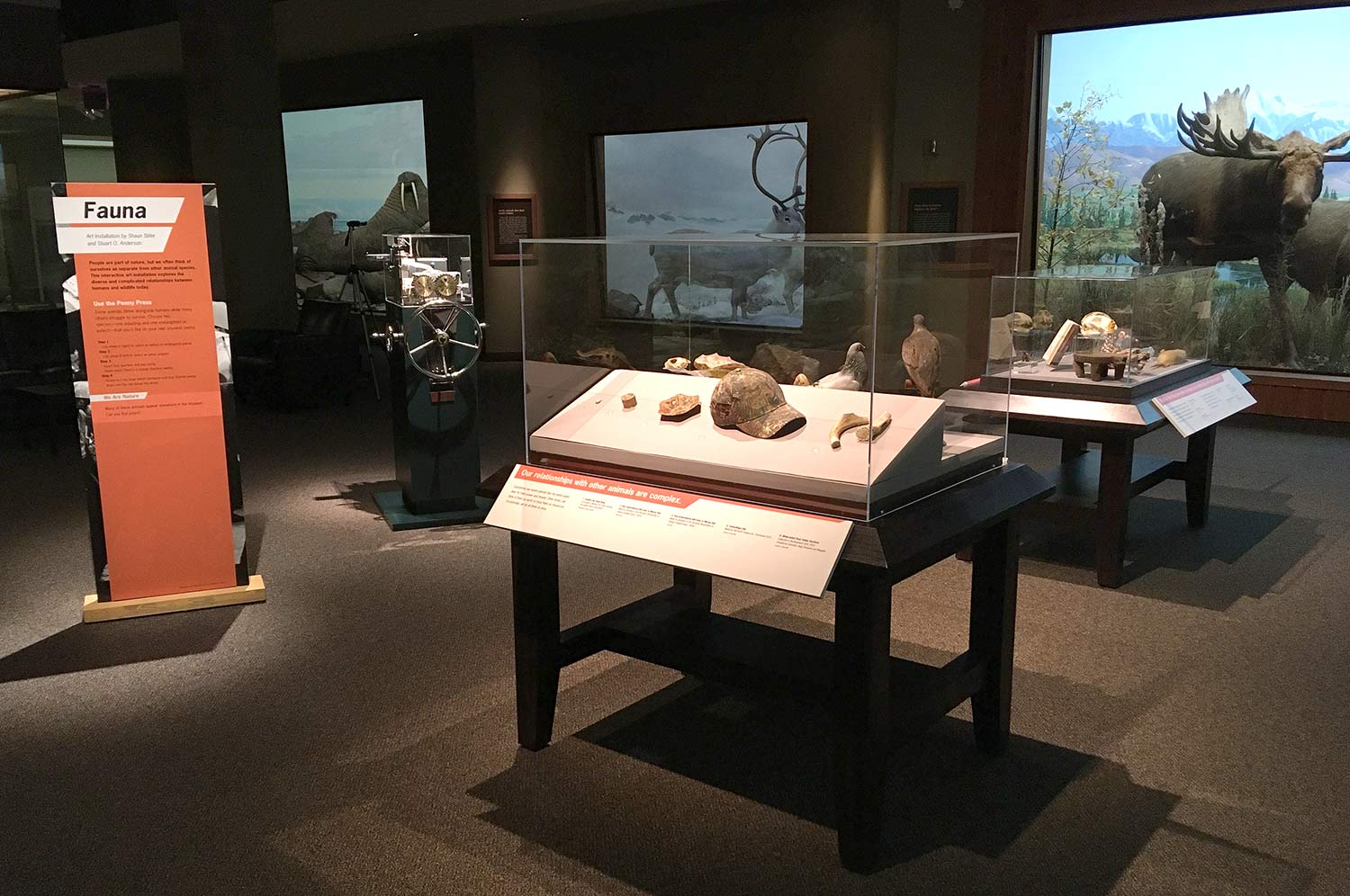 The Fauna machine takes one US dollar in four quarters + one US penny (you'll get the penny back, but smashed). There is a change machine in the exhibit hall, with a penny bowl on top, but it's a good idea to bring your own pennies just in case!
You gotta pay to get into the museum in order to go find Fauna in the Hall of Wildlife, but it's a big place and worth spending a day wandering:
Adults: $19.95,  Children 3-18: $11.95,  Children Under 2: Free,  Seniors: $14.95,  Students with ID: $11.95
---
Special thanks to museum staff, whose generosity, patience, and work helped make this exhibit possible, including Nicole Heller, Asia Ward, Sarah Crawford, Ciara Cryst, Gretchen Anderson, Calder Dudgeon, John VanDeGrift, and Seth Davidson.
Many thanks also to the museum collections staff, including Amy Covell, Sue McLaren, John Wible, Deborah Harding, Stephen Rogers, Chase Mendenhall, and Stevie Kennedy-Gold. 
---
View this post on Instagram