Over the past six weeks my Graphic Liberation! exhibition has been housed at the Opalka Gallery at Russell Sage College in Albany, NY. A set of interchangeable and interactive projects focused on the visual language of social movements, Graphic Liberation! invites gallery goers to not simply learn about this language, but use it and begin to speak in it. For this iteration, the project was tucked behind the 2022 Screenprint Biennial, both a fitting spot and a great location. For this version the footprint is a little smaller, so the focus is on the core, participatory aspects of the exhibition: the "Icons of Resistance" rubber stamp station, the "Lexicon of International Political Graphics" and attendant risograph, and with the help of Nathan Meltz—the organizer of the Biennial—we were also able to better integrate screnprinting into the show with a set of screenprinting tables and a number of interchangeable screens, each featuring an image about reproductive justice. In addition a couple large scale graphic banners from Cleveland's We Want Everything exhibition were installed, as well as the entire Celebrate People's History poster series.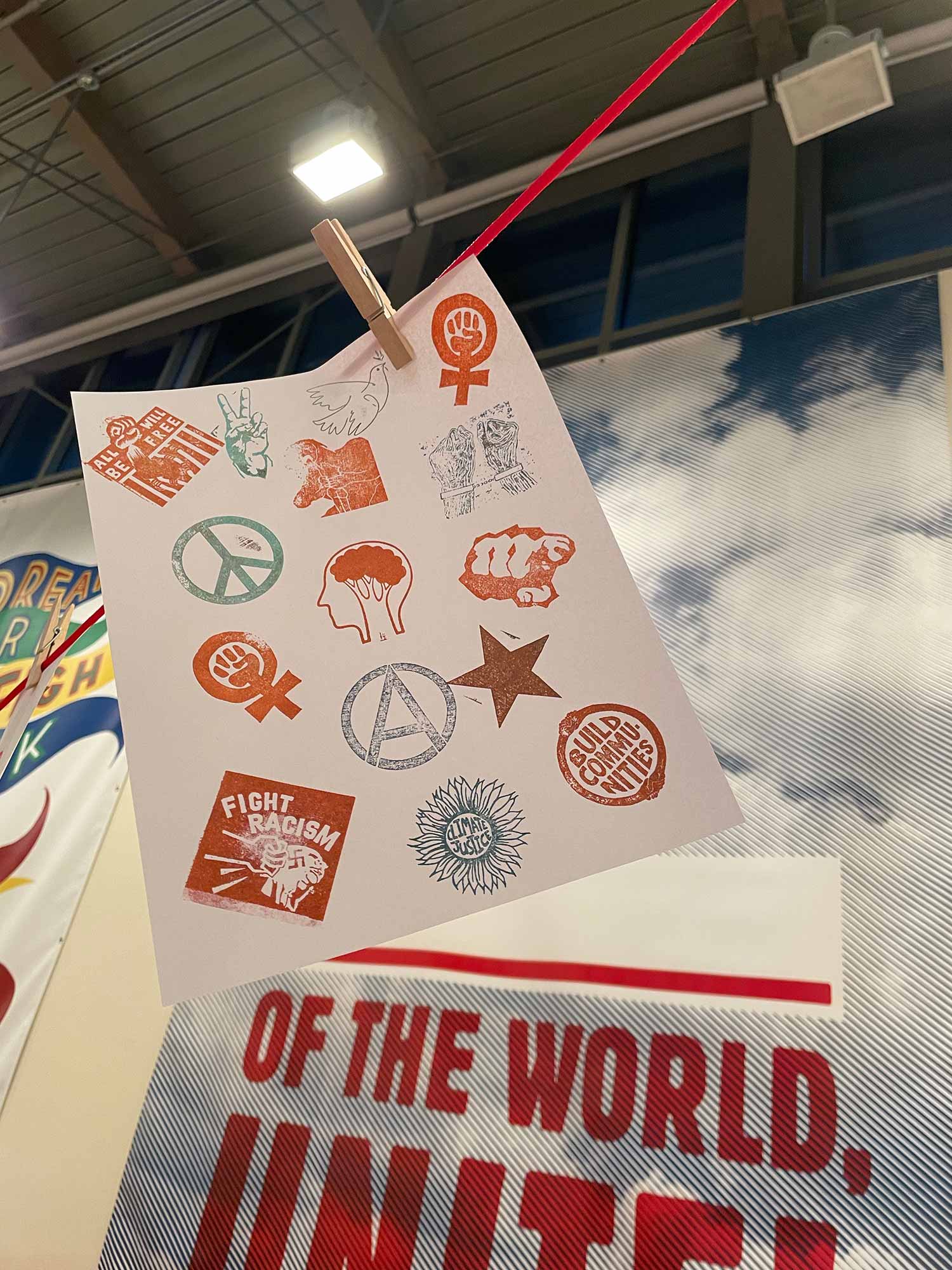 Judie Gilmore and Amy Griffin from Opalka did a great job keeping the space active, with a team of student leaders that ran workshops for both university class and community visits. Hundreds of people have come through, most making buttons, bandanas, riso posters, and screenprints.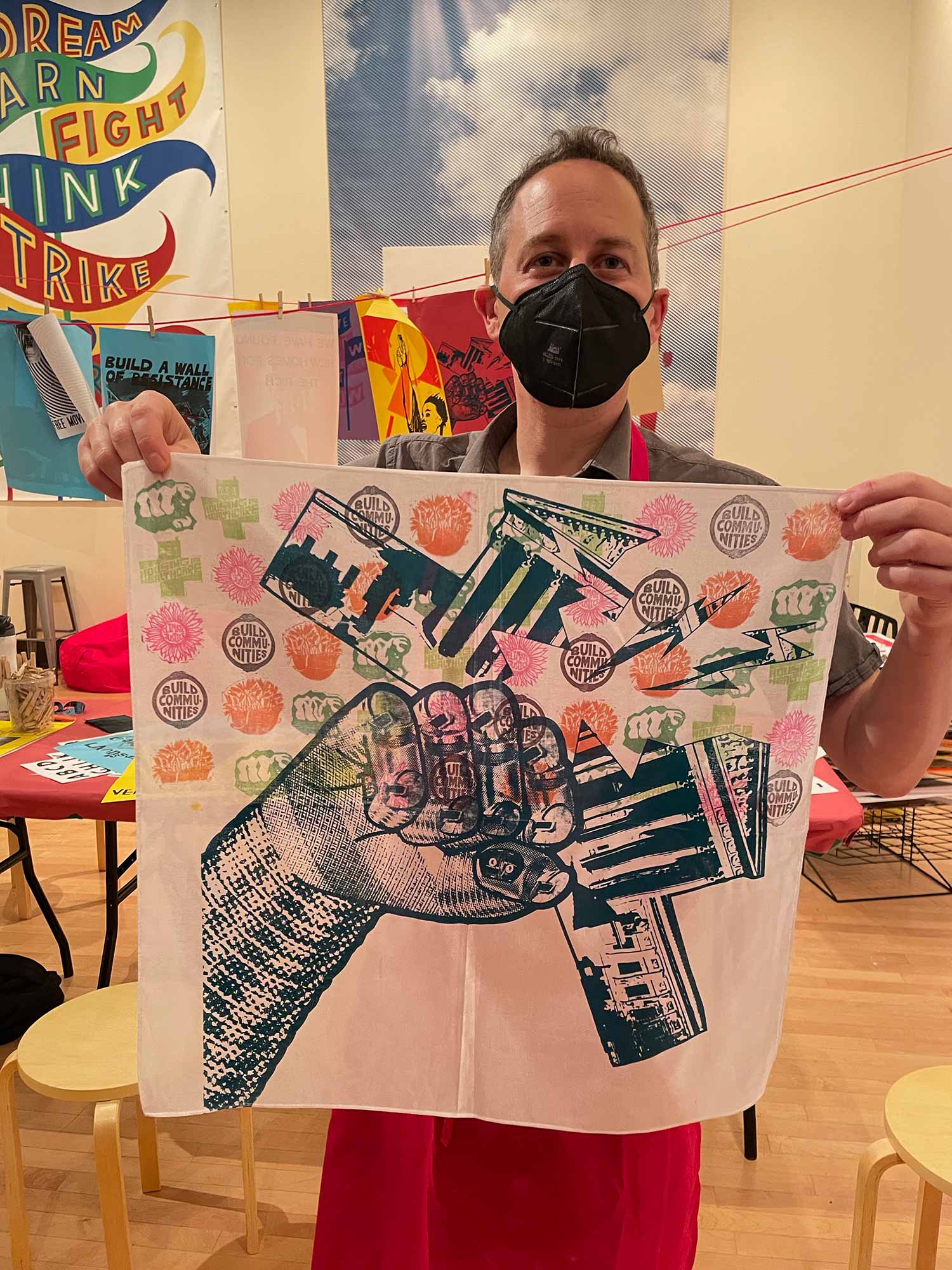 In addition to a button maker, the "Icons of Resistance" tables also featured blank bandanas that visitors could stamp on to create patterned, wearable works. The images of the right are of a densely patterned bandana I made, mostly with stamps relating to incarceration, antifascism, and liberation: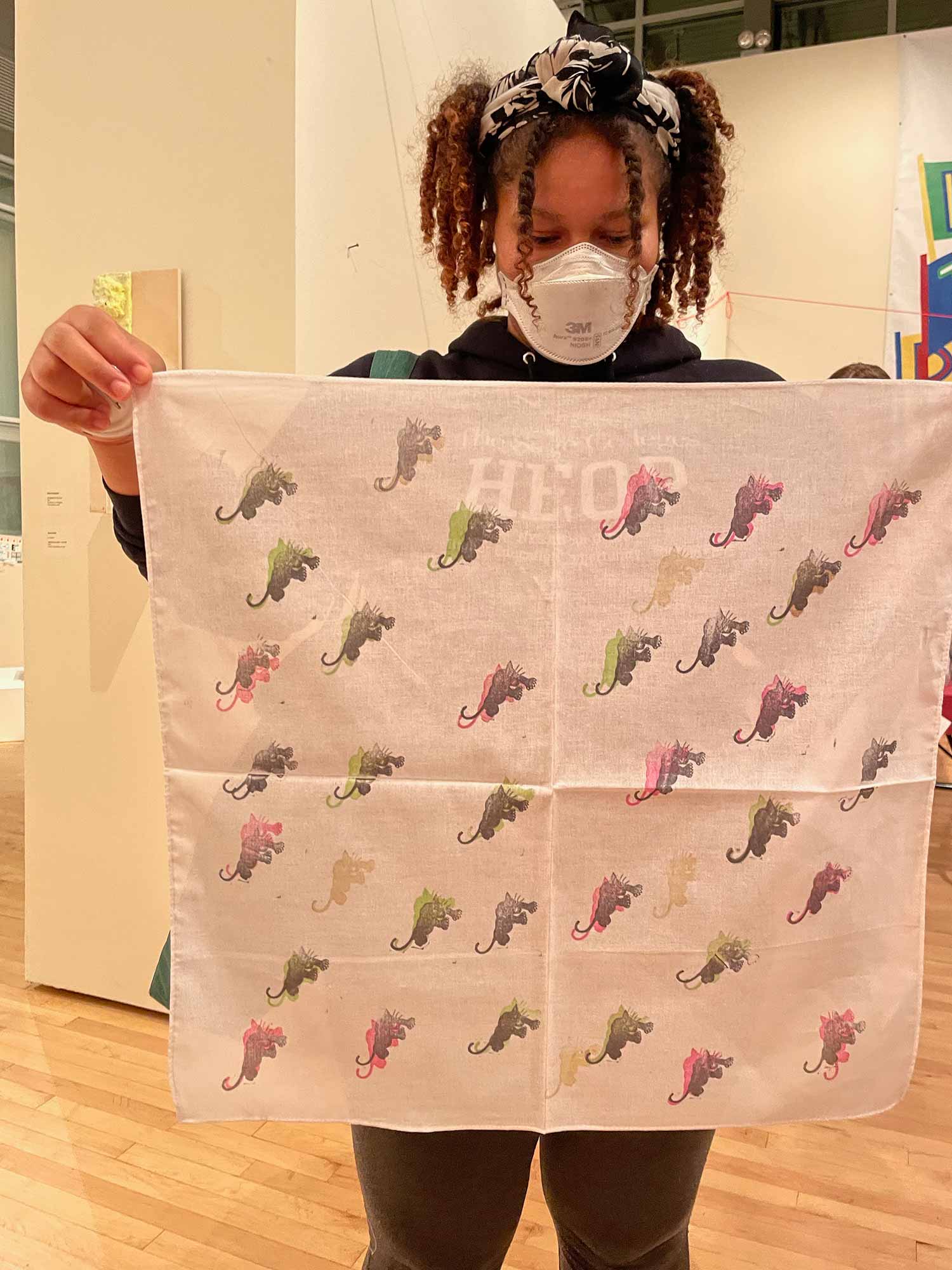 A number of Sage College classes worked on projects rooted in the Graphic Liberation! space. Leah Rico had her typography students create type-faces inspired by the content of the exhibition, and then use that type in political posters rooted in the imagery from "A Lexicon of International Political Graphics." I was lucky enough to do some crits with these students and see all their projects in process: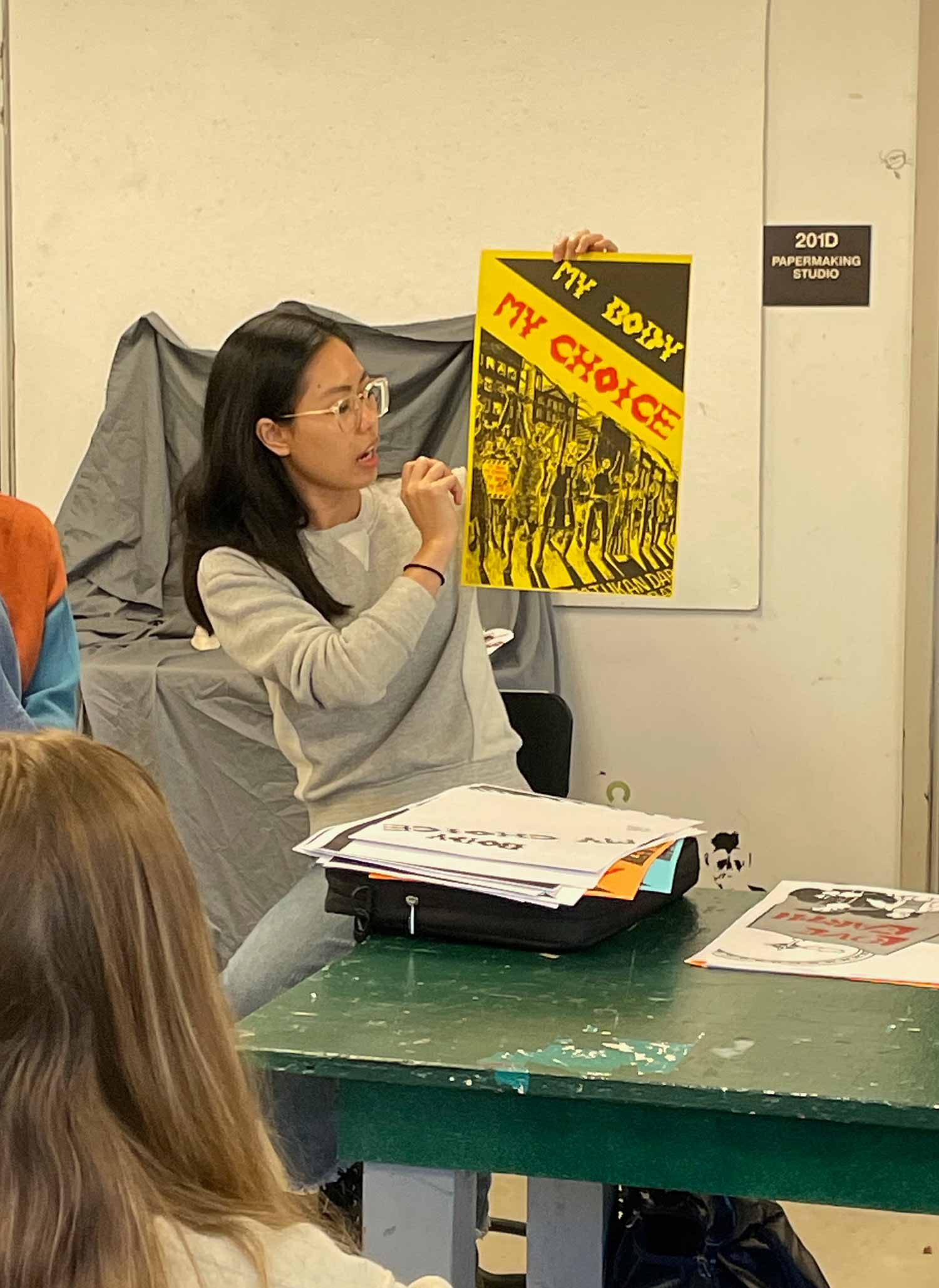 An unexpected bonus was being contacted by the Albany Symphony, and setting up a panel discussion with composer Joel Thompson and poet D. Colin the evening before the Symphony's opening night! We had a great conversation about Thompson's musical compositions in memory of Black men killed by the police, the need to restructure cultural institutions from the ground up, and the struggle to connect the communities political art is so often coming out and about to the work once it is inside institutionalized gallery, museum, and symphony spaces.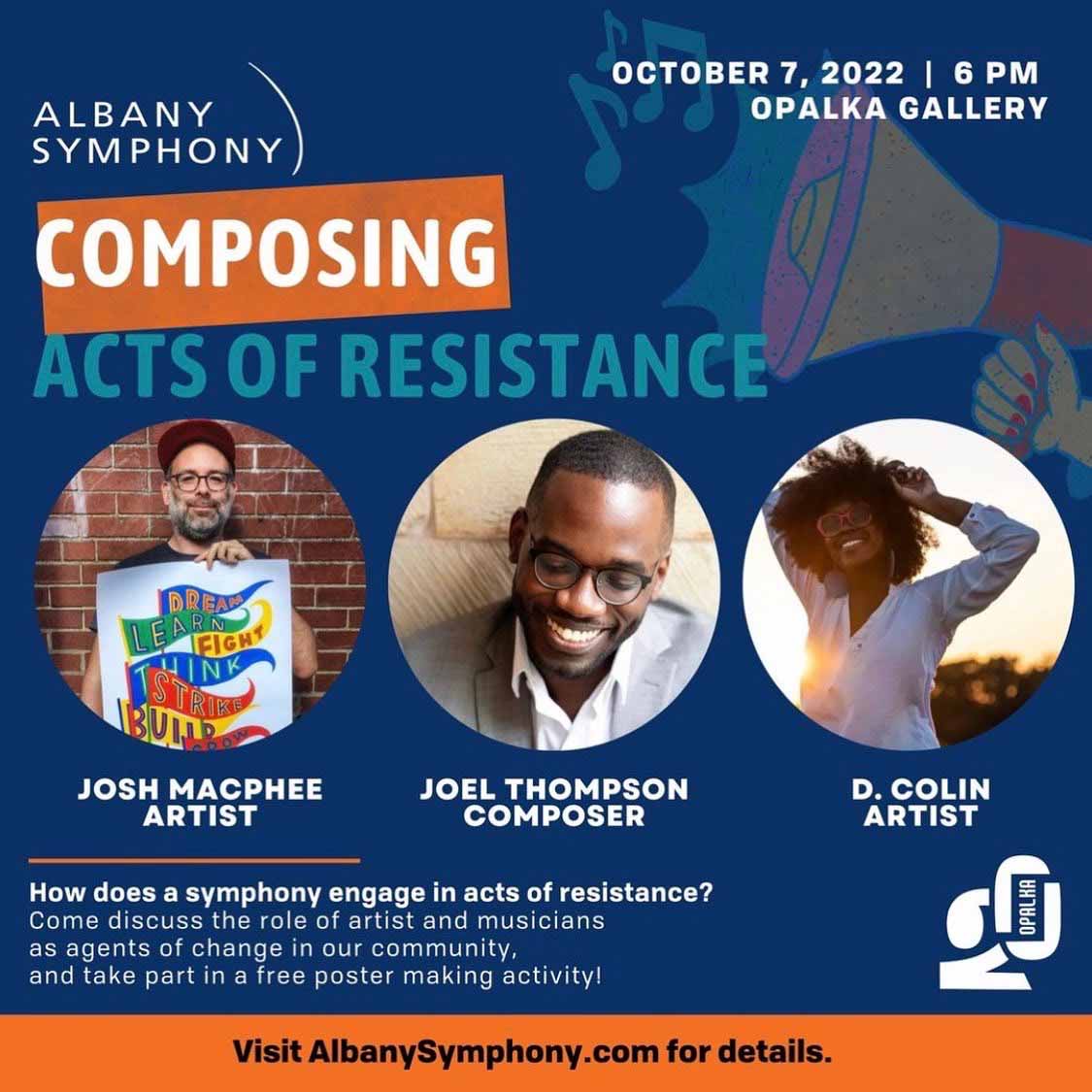 Another powerfully rewarding aspect of this exhibition was having the privilege of running a workshop with a group of Albany-area women, all in the 60s and 70s, working on a campaign to demand New York State pass a "Death with Dignity" act—in effect decriminalizing those with debilitating and extremely painful health conditions in later life that wish to end their lives when they choose, outside of hospitals and with their friends and family. Over the course of a couple hours, we brainstormed slogans and graphics, test printed and evolved their designs, and settled on a text-based poster which they will be using at upcoming demonstrations at the capital.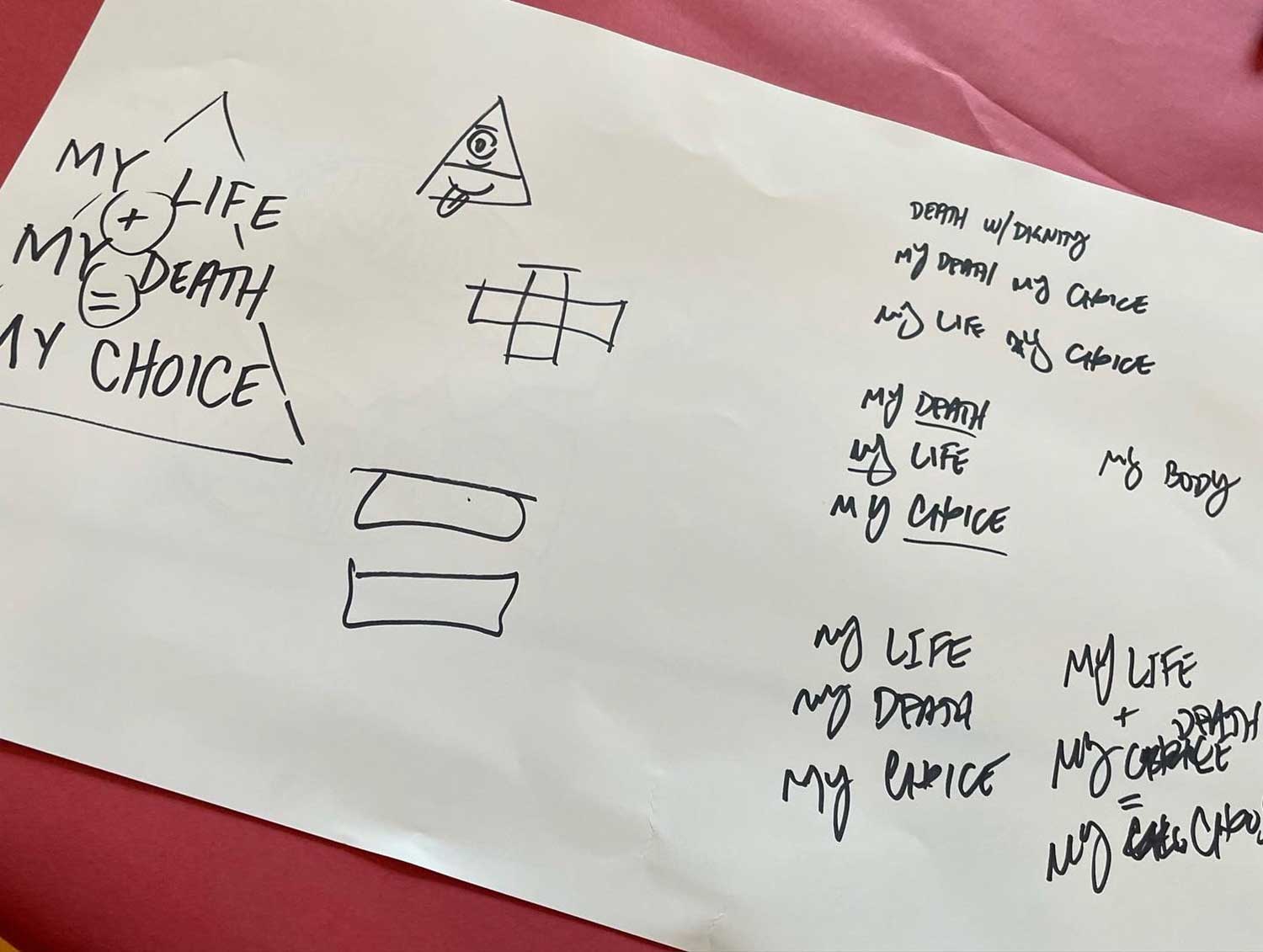 Each iteration of Graphic Liberation! has been profoundly different, and with each one I learn more about how to improve the scope of the exhibition to engage new audiences and more people. If anyone reading this is connected to a university or community art space and would like to consider hosting a version of Graphic Liberation!, please get in touch.