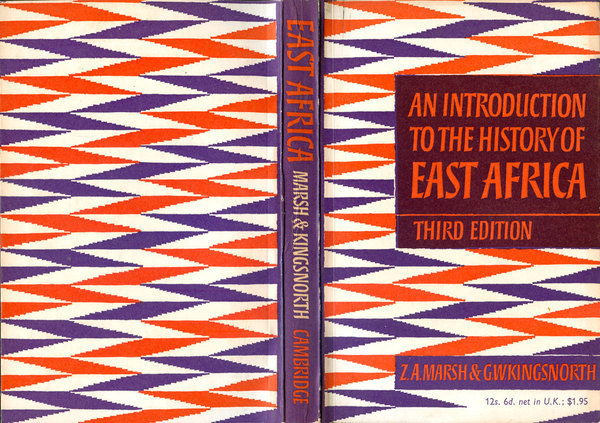 Just a quick look today at a couple of 1960s academic history books about Africa. I found these on the cheap at the great West Philly bookstore A House of Our Own—one of the last shops in the country which is both deeply literary and completely non-sectarian Leftist. G. W. Kingsnorth is the author (or co-author) of both, and they have been published by Cambridge University Press. The attraction to me is clear: these are books about Africa with non-pictorial covers that carry very little of the stink of primitivism which clings to so many such attempts.
An Introduction to the History of East Africa is fabulous reworking of the cover design styles seen on French and Italian books. An abstract pattern completely covers the book, with the title placed in a neat little box sitting on top of the ornamentation. The basic idea holds here, but the pattern is not flowers or abstract squiggles, instead a bold stacking of orange and purple diamonds construct a field which resonates as a fabric pattern, or a decorated piece of stoneware. The pattern sets the cover in motion, the eye running back and forth across the cover. The titling box is not daintily set in the center of the cover plane, but fused to the right side, and it's big. The overprint of purple and orange also make it stand out in a reddish brown.
I find the simplicity here so compelling. After looking at hundreds of covers of books about Africa with piles of images of masks and sculptures, guerrillas with AK-47s, or brightly-colored foliage and jungle pictures, the stripped-down pattern is a visual relief.
Africa: South of the Sahara has a cover with similar title font, patterning, and duotone-printing. The pattern is less abstract, and articulates a more architectural feel, but is still bold and serious. Although not clearly attributed, there is a small signature of "Dinkel" written within the pattern on the back cover. The back also contains a book description, but it is printed in a semi-translucent light blue on orange, making it shimmer like silver. This is a great aesthetic effect, but doesn't make for the easiest reading. Because the cover pattern is more representative—of a hut? a series of masks? It doesn't really matter since it provokes images of "African" tropes—and the font has a bit of a tribal stylization, this design feels less successful than the previous.
After some hunting, I'm pretty sure these are the only two like-styled covers in this Cambridge series. A couple others books from the same time period and publisher carry photographs of African sculpture and completely different font sets.
In comparison to the above, below are two books that remind me of the Kingsnorth titles, but take very different tacks. Both are designed by important "modernist" book cover creators. Roy Kuhlman's cover for Amos Tutoula's The Brave African Huntress makes the patterning even more pictoral. A similar set of shapes to the cover above is redrawn and reworked into a sculptural drawing, a representation of something strange yet sturdy and formidable. Because it is hand-drawn, the design reads as more primitive. This gives it a raw power that is absent in the design above, but also taints it, and smacks of a bit more "exotic" and typically African.
Lawrence Ratzkin's cover for C. Daryll Forde's Habitat, Economy & Society takes the patterning and constructs a representational landscape out of it, down to the clearly human figures in the foreground. While in many ways I like this cover, I'm unsure what the representation actually accomplishes, other than articulating a sense that the people and the landscape are one, are somehow primitive or simple. I might be way off, but it feels like there is much more dignity in the patterning as an abstraction, and once wrapped around actual people, it feels simplistic and more other-ing.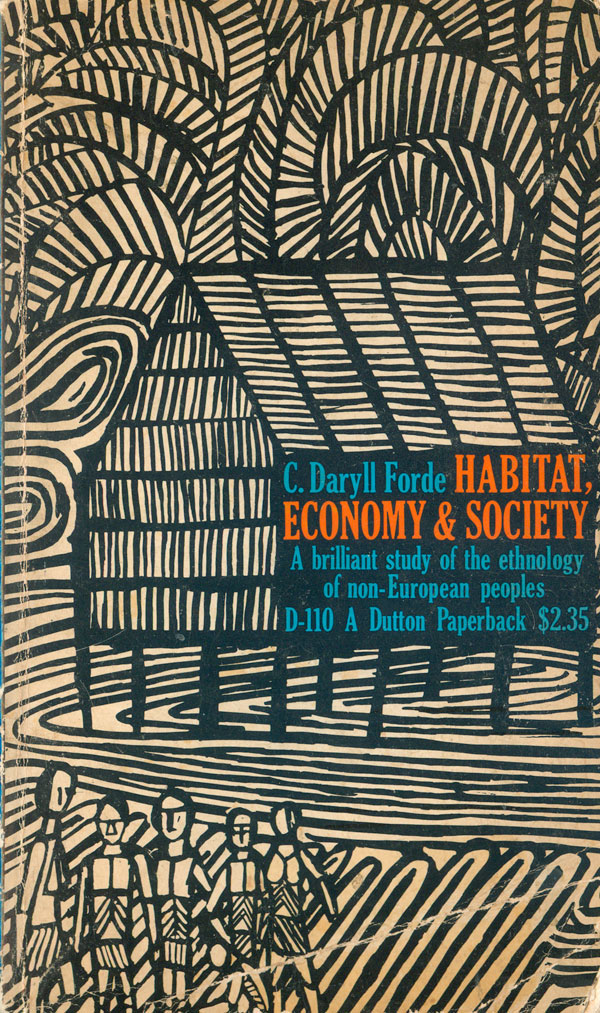 This weeks bibliography:
G.W. Kingsnorth, Africa: South of the Sahara (London: Cambridge University Press, 1962). Cover design by Dinkel.
Z.A. Marsh and G.W. Kingsnorth, An Introduction to the History of East Africa (Third Ed.)(London: Cambridge University Press, 1965). Cover design unattributed.
Amos Tutuola, The Brave African Huntress (New York: Grove Press, 1970). Cover design by Roy Kuhlman.
C. Daryll Forde, Habitat, Economy & Society (New York: E. P. Dutton, 1963). Cover design by Lawrence Ratzkin.