Over the past year I stumbled upon these two handsome books from the Philippines. Although they were published by different companies almost fifteen years apart, they both share a really strong hand-rendered design. F. Sionil Jose's The God Stealer and others stories (Quezon City, Philippines: R. P. Garcia Publishing Co., 1968) is a real gem. The expressionist line-drawing on the cover strikes a great balance between "naive" imagery and a strong Modernist/Cubist sense. The yellow background is subtle, but adds necessary depth. Although from 1968, the cover evokes contemporary street art imagery from artists like Doze Green, or even fellow-Justseeds artist Favianna Rodriguez.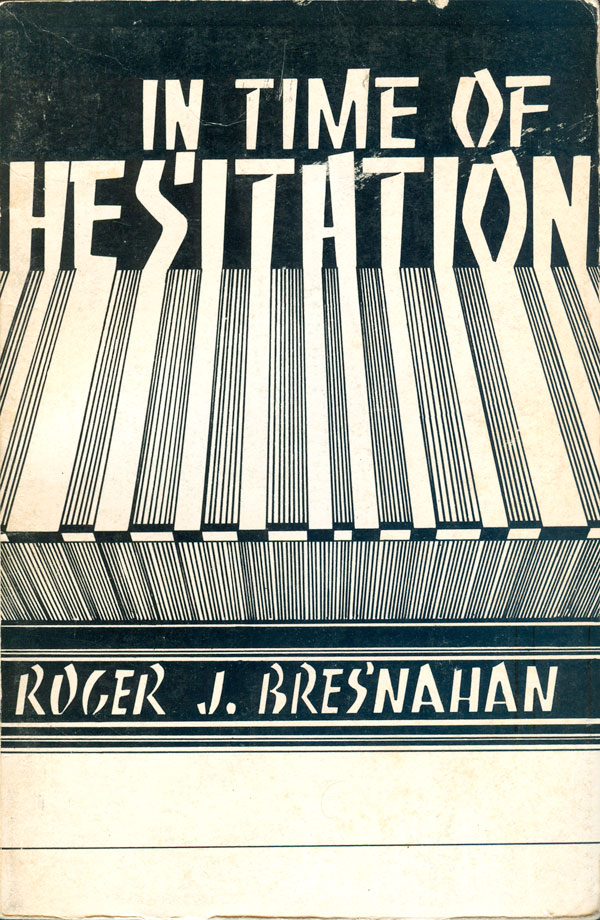 Roger J. Bresnahan's In Time of Hesitation (Quezon City, Philippines: New Day Publishers, 1981) has a very different cover, much more focused on line and typography than image. The simple black and white evokes a limited budget and a certain rawness, but also comes across as bold. The converging vertical lines create a horizon for the title to perch upon, and with further investigation the entire cover becomes a series of 3D planes, but I'm not entire sure what they are evoking or add up to.

I know very little about publishing in the Philippines (in other words: nothing!) but it seems interesting that both books were published in Quezon City, which borders Manilla to the north, but is technically a separate city. A quick Wikipedia read shows that much of Filipino media is concentrated in Quezon City, rather than Manilla proper. If anyone has any additional Filipino books, I'd love to see them!