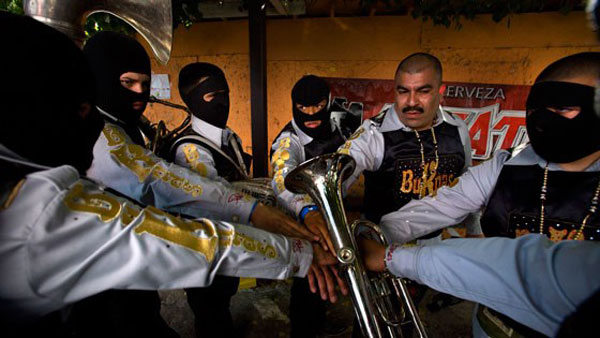 Justseeds is sponsoring a film at the Milwaukee Film Festival this year. It looks fantastic.
Narco Cultura – USA | 2012 | 106 min. Director: Shaul Schwarz
In Ciudad Juarez, thousands of homicide cases overtax the crime scene units as drug cartels slowly tilt the system's odds in their favor. Meanwhile, across the border, nestled in the safe embrace of El Paso, Texas, musicians work feverishly to meet growing demand for narco-corridos, waltz-like ballads that lionize the blood-soaked escapades of traffickers and kingpins (who play them over police radio channels in the wake of their violent acts) idolized for having escaped poverty and squalor. Cutting between these disparate scenes and showcasing a largely unknown counterculture taking hold across both borders, director Shaul Schwarz examines how a calamitous lifestyle remains so appealing as Narco Cultura continues to grow.

Screening Dates
Friday, Oct. 4th: 9:30 p.m. at Fox-Bay Cinema
Saturday, Oct. 5th: 10:15 p.m. at Fox-Bay Cinema
Thursday, Oct. 10th: 1 p.m. at Oriental Theatre
Check the Milwaukee Film Festival web site at mkefilm.org for the online guide and schedule!