I spent a few days last month in Barcelona, and had the opportunity to visit the impressive (formerly) squatted social and labor center Can Batlló, located in the city's Sants neighborhood. The complex is a huge, sprawling area, the site of a century-old textile factory which lay vacant for several decades before being appropriated by radicals and neighborhood residents to prevent it from being destroyed for redevelopment. After lengthy battles in the streets and city hall, the complex is now under control of the radicals, and home to a growing number of cooperative enterprises – a metalworking cooperative, a woodworking cooperative, a cooperative bar and social center, a circus school, a bike workshop, and a printmaking facility called La Impremta Colectiva (Barcelona is in the semi-autonomous province of Catalonia, so any Spanish looking words in this post that look misspelled are actually in the Catalan language!)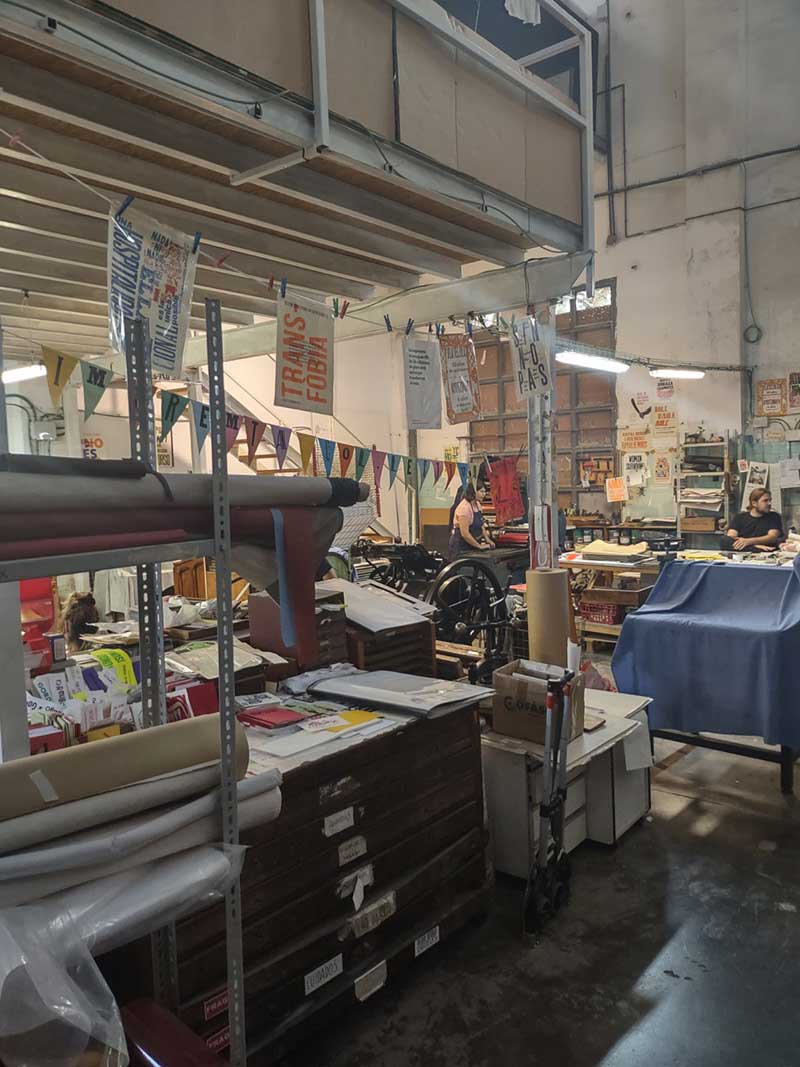 I and my partner Erica Thomas got a tour of the printshop from Carmela (seen at the letterpress, on the left), who described the collaborative method that they use to produced their prints, posters and graphics in association with social movements locally, regionally, and beyond. They work mostly on a big Vandercook flatbed letterpress, and have several large clamshell letterpresses as well. Upstairs in the big warehouse space is a screenprinting workshop.
We flipped through the archive of impressive print work from the past several years of workshops, campaigns, and collaborations with struggles in the city and across the world.
It's easy to be jealous of European cities where a city-wide force of radical actors can seize a building like this and force the city to relinquish control to them, for the purpose of creating these non-commercial spaces full of ideas and action. In fact, I am definitely jealous! It seems so difficult to imagine something like this in cities in the US, especially ones as completely captured by speculation and capital as the one the I live in (Portland, OR). What would it take for us to achieve something like this here?