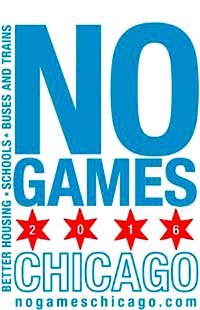 Hell Yes! Chicago lost its bid to host the Olympics. An estimated 84 percent of the city opposed bringing the Games to Chicago but this did not stop the Daley-machine, Obama, and Oprah from trying to sway the Olympic committee to their favor. The result was a first round elimination! Now that is funny.
The bad news is that Rio de Janeiro will be saddled with the games in 2016 and Vancouver is feeling the ill-effects of the upcoming winter games in 2010.
More info:
http://www.no2010.com/
Below: Sports writer Dave Zirin explains why the Olympics are a disaster for the host city.