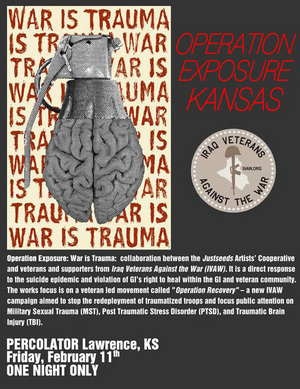 OPERATION EXPOSURE KANSAS
PERCOLATOR Lawrence, KS
Friday, February 11th 5-9PM (reception starts at 6PM)
ONE NIGHT ONLY
Operation Exposure: War is Trauma – a collaboration between the Justseeds Artists' Cooperative and veterans and supporters from Iraq Veterans Against the War (IVAW). It is a direct response to the suicide epidemic and violation of GI's right to heal within the active duty community. The work focus is on a veteran led movement called "Operation Recovery" – a new IVAW campaign aimed to stop the redeployment of traumatized troops and focus public attention on Military Sexual Trauma, Post Traumatic Stress Disorder, and Traumatic Brain Injury.