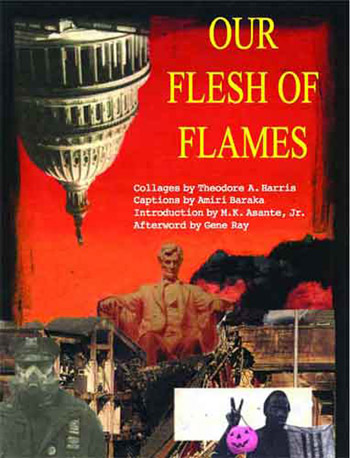 Philadelphia artist Theodore A. Harris, who has been creating some of best political collage work for the past decade, has a new book out that he collaborated on with Amiri Baraka. Check it out and encourage your local book store to order copies.
OUR FLESH OF FLAMES:
Collages by Theodore A. Harris
Captions by Amiri Baraka
Introduction by M. K. Asante, Jr.
Afterword by Gene Ray
Is now out and can be ordered from the publisher for $29.95
Anvil Arts Press
64 West Penn Street
Philadelphia, PA 19121
USA
215-849-2793
http://www.anvilartspress.cjb.net
Also check out the video interviews of LeRoy Johnson and Theodore A. Harris at their exhibit at the Penn State University HUB-Robeson Gallery ACRID DIALECTIC:The Visual Language of LeRoy Johnson and Theodore A. Harris
http://www.sa.psu.edu/usa/galleries/Videos.shtml