First things first, I've launched a small Spoonflower shop of some of my political fabric patterns. You can check it out and buy fabric HERE.
Because I don't have the capacity (or capital) to nicely screenprint yardage, and we don't have the capacity to even sell something like that here on Justseeds, this seems like the best way to make some of my fabric design work publicly available. My partner Monica and I have been making masks out of these designs throughout the pandemic (like the camera one below), and folks love them, but we haven't had the time to make them in large enough batches to sell. (Plus 95% of the initial 200+ masks Monica made went straight to frontline folks that needed PPE.)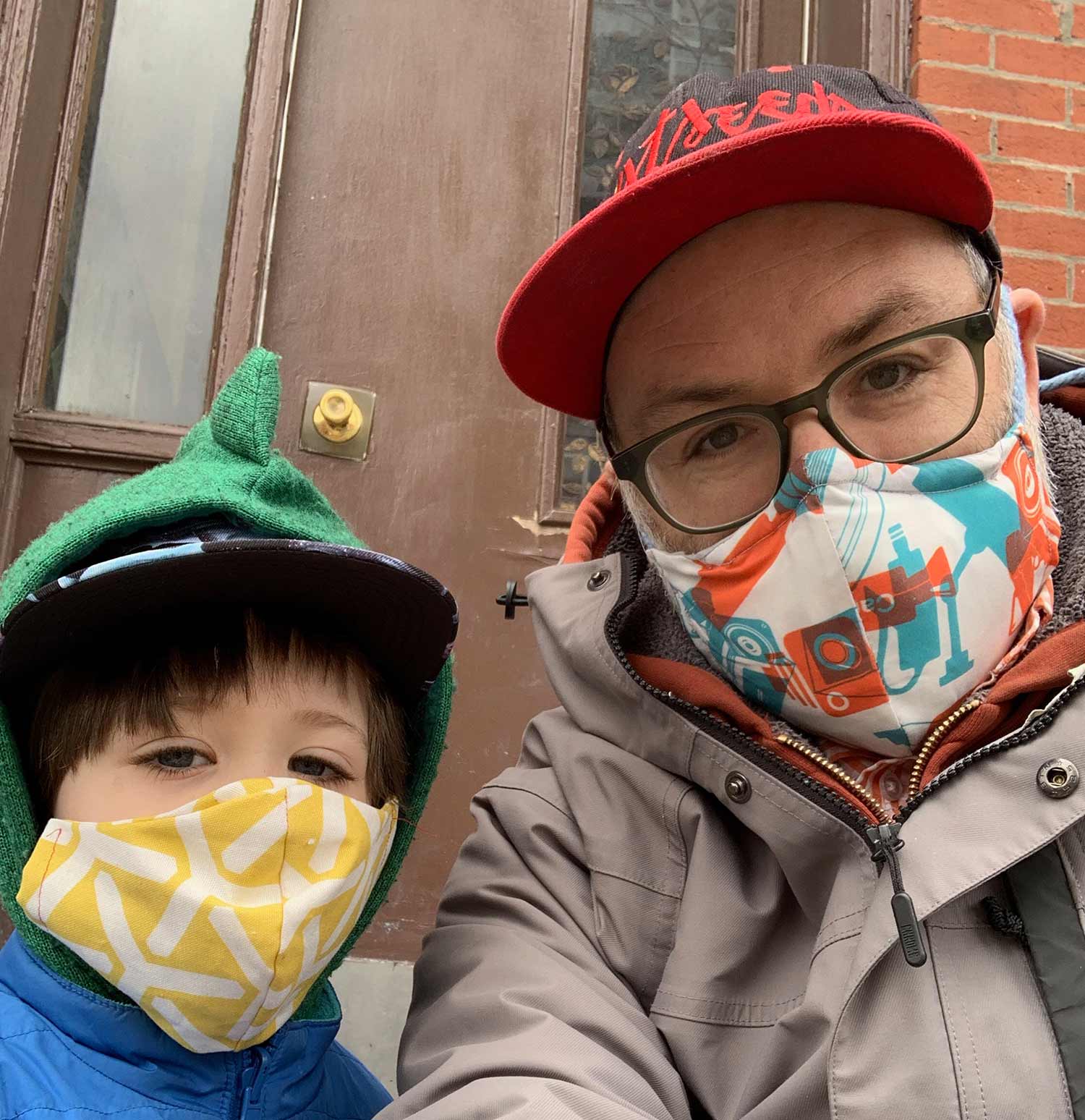 But while we get our production sorted out, anyone can go on to Spoonflower and order fabric and sew there own. I get a very small cut when my designs sell, which will go into making more masks.
Now for some background:
Like fellow Justseeds member Mary Tremonte, I've been interested in fabric patterning for a long time. For years I've been collecting books about the political and social uses of fabric, and have been inspired by both African commemorative fabrics and the early Soviet fabric patterns of artists such as Stepanova. On a trip to South Africa in 2014 I was able to collect some political patterned fabric, and friends have also passed on samples over the years.
I started experimenting with making repeat patterns of some of my images about a decade ago. I had an idea about proliferating the idea behind the Celebrate People's History posters out into clothing and fashion, starting with John Brown commemorative fabric. I mocked up some designs, and used the online digital fabric printing shop Spoonflower to print some test fabric.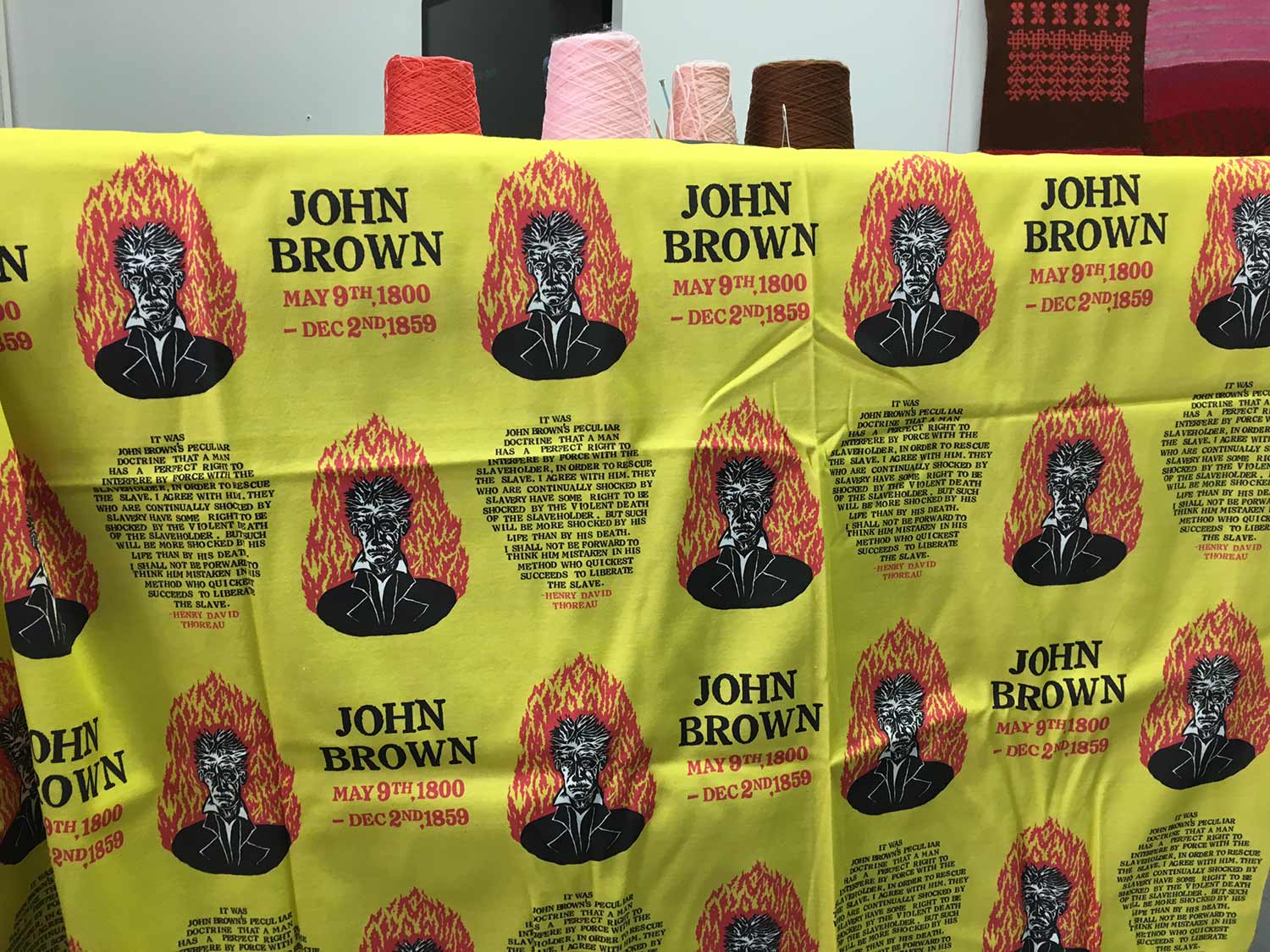 I had plans to use it to sew a shirt, which I then downgraded to making a tie. I found a pattern, cut the parts, and pinned them together, but got lost in the weeds and never did the sewing (I didn't have a great machine, and am not very confident in my skills, regardless). Even though I failed to launch myself as a fashion designer, I did fall in love with making patterns, and kept at it. I converted some other designs into fabric, including my popular No One Is Illegal prints and a creepy collection of surveillance cameras I turned into a bandana.
In 2017 I had the privilege of working with the Katal Center and the Close Rikers campaign to design Close Rikers commemorative fabric to document our victory and New York City's commitment to closing Rikers Island Jail Complex. We screenprinted 3-color fabric yardage with local Brooklyn printship Kingsland, and it turned out amazing. The campaign was also invited to be a featured part of that year's AfroPunk Festival in Brooklyn, so we tabled and gave out pieces of fabric for people to sew on clothes, make armbands, turn into headwraps, etc.
With the coming of the pandemic, I quickly converted my Healthcare for All! graphic into a repeatable pattern, and generated a couple different colorways. Then Monica started making masks.
Those worked so well, I started assembling repeat patterns out of a lot of my design work. Some worked better than others, but the best of the lot is now up in my Spoonflower shop. Below are two different Free Palestine related designs:
One of the funnest, and most difficult, parts is figuring out how to make a pattern repeat, and for it to look successfully patterned. Below is a step-by-step process for my rainbow flag design. (1) My original piece of artwork (a print which itself was a reworking of an illustration I did for the cover of Dissent Magazine in 2018); (2) The design restructured as a set of different colored flags, with the flags re-positioned to overlap the edge and continue back onto the opposite edge; (3) repeating the pattern over and over to figure out the correct sizing for the pattern before uploading; (4) the final printed fabric.
So, that's part of what I've been up to since COVID drove most of us inside. Most of these patterned fabric designs I've made are currently available in my Spoonflower shop, and they can print them on a dozen different types of material, all pretty inexpensively. A yard should be enough to make 3-6 masks, depending on the pattern you use. Let me know what you think, leave comments below!