While in Rome we took a couple trips to San Lorenzo, a working class neighborhood which is both the locus of current student activism, and the historical center of the Autonomia movement in Rome. We saw a lot of evidence of both. The graffiti seemed to call out from the past, with slogans from the height of the autonomous workers' movements in the 1970s: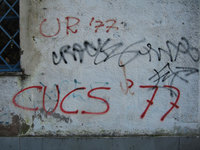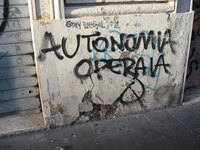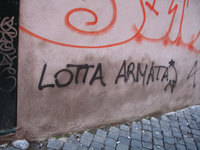 The neighborhood was also covered with posters announcing episodes in the recent student general strike: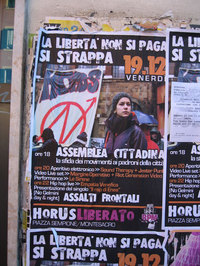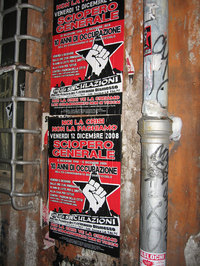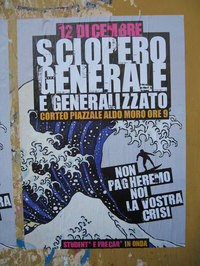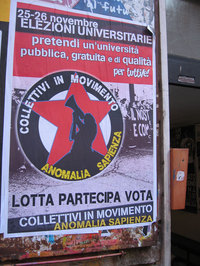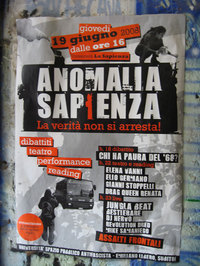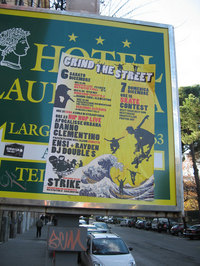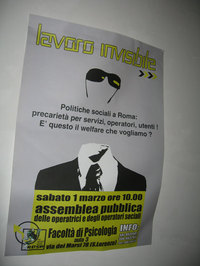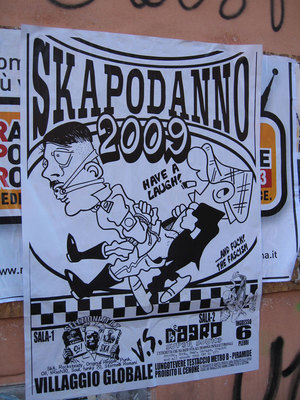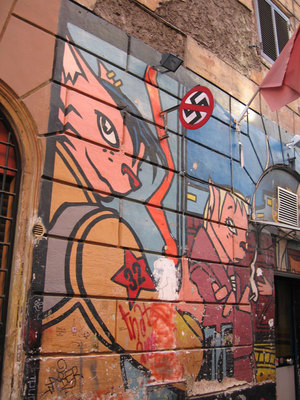 The dominant cultural markings were definitely anti-racist skinhead, which seems to always lead to very strange things. I'm not sure what was weirder, all the street paintings of the ancient Spartan was helmets arrived back in the Mediteranian via Jamaica (and the Trojan record label), or the posters plastered everywhere of Hitler bent over with a bondage ball gag in his month, being anally raped by Andy Cap, smoking away on that endless cigarette stub popping out his mouth? I'm not sure what it is about 1960s and 70s British working class fashion that is so engaging to kids all over the world? I mean, the Italian working class never wore shaved heads, Doc Martin boots and thin red suspenders in the 1960s, and they certainly don't today! I've never been able to wrap my head around it, but it obviously motivates tens of thousands of 15-35 year olds. That said, the skinheads had some nice murals and graffiti, and definitely knew how to mark territory.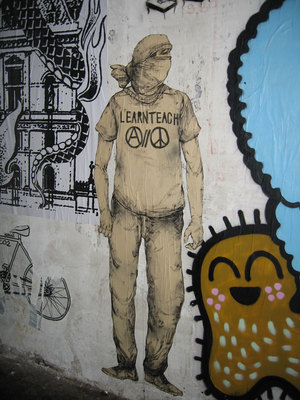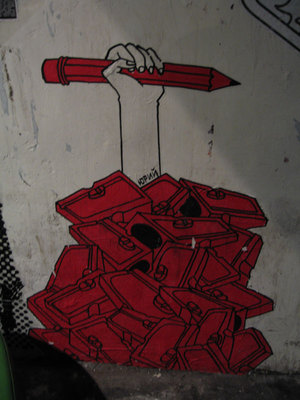 One of the first places we went was the ESC Atelier, a squatted social center used primarily by students from the local University of Rome. ESC is an old garage/machine shop that has been squatted for a couple of years. It's set up mostly for events, there's a video projector, bar, DJ booth, and couches and chairs to hang out on. While we were there they had an exhibition of photos of the recent student strike in the back room, and the whole space was also covered with an international collection of street artists work pasted directly on the walls. I guess they do an international street art show every year, I think always organized by Rome-based artists Sten, Lex and Lucamaleonte. There was a bunch of cool work up, a nice piece by Armsrock, and cool pieces by an Eastern European artist (whose name I never figured out) that draws lots of piles of books and pencils.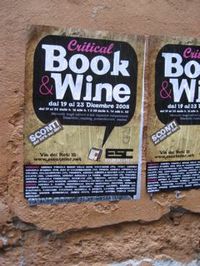 We went back to ESC again for what they were billing as a "Critical Book & Wine Fest." Beyond opening more than two hours late (which I guess is normal for Italian time…), it was a cool event, with a couple dozen Lefty publishers and a bunch of local wineries participating. Italy seems to have a tone of great small publishers, which I was in Rome I picked up great books put out by Derive Approdi, Stampa Alternativa, Odradek. There was also a great press (whose name I can't remember) that was putting out political graphic novels, some stuff that looked really cool. I couldn't read them, of course, but it seemed like they had comics about May 68, Hot Autumn in Italy, the Porto Marghera workers struggle, Chernobyl, the G8 in Genoa, and about a dozen others. Serious graphic novels too, think Palestine by Sacco, but by a dozen different artists about a couple dozen important political events over the past 50 years.
We also got to check out Libreria Anomalia, a long-running anarchist bookstore and archive. The bookstore was nice, small but crammed with books, all the anarchist classics in Italian, lots of books on recent struggles, and what seemed like a solid selection of books that would appeal beyond the core of the anarchist milieu. Interestingly, Anomolia was one the first places we went where there wasn't someone who spoke good English. I'm not sure why that is, except maybe a class issue, with old-school anarchists being of old-school working class stock with little need for English?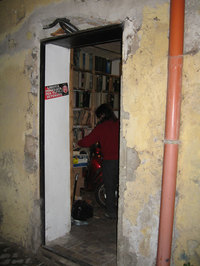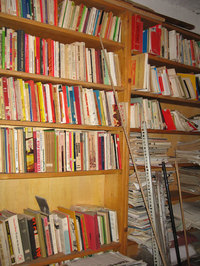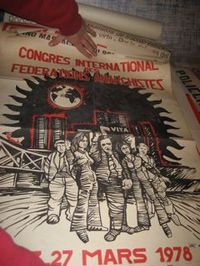 Anomalia is also an archive, and Fabrizio took us down to see it. He knew a little English and we pantomimed the rest. The archive was in a 2 room garage space underneath the bookstore, and was absolutely crammed with material. There were the usual books, but also boxes of periodicals from dozens of countries, and most interesting to me, what seemed like thousands and thousands of posters. Beyond the rolls upon rolls of posters piled in the middle of both rooms like giant discarded pencil shavings, there was a flat cardboard folder of large format posters that must have been a foot thick at least. 12-14 inches deep of posters, one piled on top of the next. Most seemed to be Italian, and many from the 1960s and 70s, from hand written posters of text, to silkscreened political statements to offset announcements for protests. It was a goldmine, if only I: (1) knew Italian, (2) had another week in Rome, and (3) had a good camera, tripod and lighting kit! These posters really should be documented and shared with anarchists and activists around the world. Unfortunately they just don't have the people power to completely upkeep and catalog the archive collection. It seemed like only a handful of people are currently working on the project, and they have very little cash flow to improve the conditions it is in or further protect any of the material. It was exciting and sad, to be surrounded by so much amazing work, but also to have it under a quarter inch of dust and mildewing around the edges.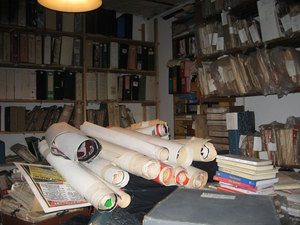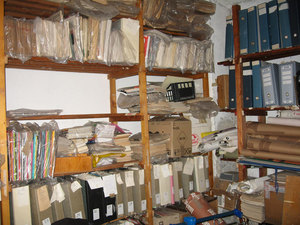 Although it seemed like Anomolia was a ship manned by a small crew, there was still plenty of visible evidence of anarchist presence in the area, if only in the graffiti: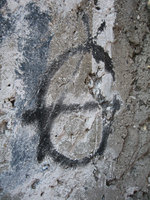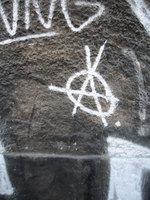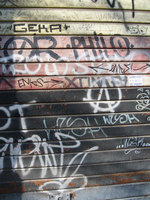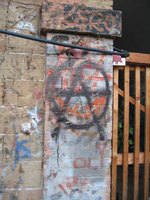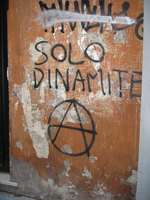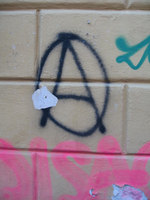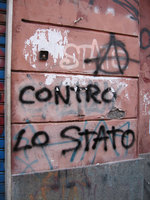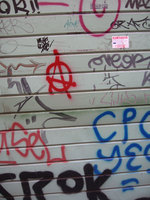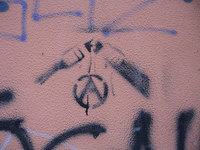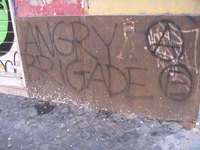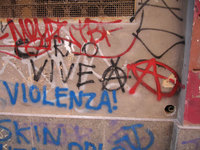 In general San Lorenzo was one of the areas in Rome we saw the most graffiti, and in many ways it was reminiscent of the classic international working class neighborhood cum bohemian borough cum bourgeois playland like the Lower East Side in NYC, Wicker Park in Chicago or Kreuzburg in Berlin. A location in transition, its thrust clearly aimed towards a capitalist homogeny, but small battles still raging for its soul.