Signal is journal of international political graphics and culture and is edited by Josh MacPhee and myself (Alec Dunn). We produce Signal because we believe that art and culture have a strong role within movements and we hope to engage in and contribute to a dialog about art and culture in political struggles.
Signal is pocket sized (5" x 7"), full color, and rich in images. We typically have about 6 features and try to cram in as many graphics and photos as possible in roughly 150+ pages. Josh and I look for stories about artists and art groups that are not well known in the United States (and have even nixed some ideas because it seems that they were 'too well known'- whatever that means!). We want smart writing but don't want things to read too academically or theoretically. We like to feature work by collectives and groups, we like to feature work that is challenging, and we like to feature work from countries with different design traditions. We are interested in both process and outcomes. All that is to say that Signal is an odd bird. It is a journal (not a magazine or a book) but one without any institutional support. We don't have advertisements. Book reviews won't accept it. Magazine racks won't sell it. Bookstores don't really know where to put it. And neither Josh nor I are masters (or even journeymen) of self-promotion on the internet. But I think that we fill a void, that these journals are useful for both artists and workers within social movements. We hope that they serve as both statements of solidarity and also as sourcebooks for ideas.
I'm re-introducing the idea of what Signal is because we have reached four issues which feels like a milestone. It's nice to see them together, they are bright, colorful, little things and it feels like with four of them down we have momentum and a strong document of what political art can mean. Over the past four issues I think we've shown a real diversity in styles, in tactics, in goals, in use, and in aesthetics. We have featured work from every continent. We have shown art both old and new. I am proud of our work and humbled by the strength of our contributions.
Signal:04 was a real pleasure to work on and lay out as we had beautiful and fascinating artwork and some really excellent contributors. Here then, without further ado, is an overview of Signal:04.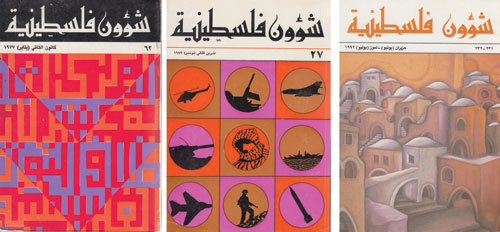 We begin the issue with an article about the cover artwork of Palestinian Affairs magazine. Palestinian Affairs was a cultural project associated with the PLO and published monthly issues from the 1970s to the 1990s. It typically featured work by Palestinian fine artists on the covers. Authors Rochelle Davis and Emma Murphy present a compelling case that Palestinian artists added depth to the Palestinian cause by focusing their work not only on the armed struggle but also on the history, culture, and identity of the Palestinian people. Rochelle is also the author of Palestinian Village Histories: Geographies of the Displaced.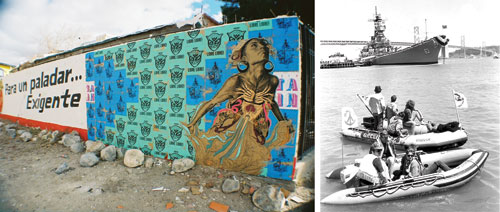 Lincoln Cushing wrote an article about a unique form of protest in the Bay Area, the small mobile Peace Navy that attempted to blockade military boats and shipments to the South African apartheid regime. The Peace Navy also created a counter-spectacle to military celebrations and the militarization and industrialization of the San Francisco Bay. Lincoln was an organizer in the Peace Navy and is also an author, artist, and archivist of political artwork. See more of Lincoln's work at http://www.docspopuli.org
Tennessee Watson documents a street art project in Juarez, Mexico that memorialized the ongoing femicides in that city. Included in this is documentation of the beautiful and elaborate Portrait of Silvia Elena created by the artist Swoon. Tennessee examines memorialization as a public, performative, and political act and touches on the work not only of street artists but also on the Juarez mothers of the disappeared. She rounds out the feature with a round table interview between her, Swoon, and Juarez based street artists Waka Waffles, Juan Carlos, and Christian Pardo Herrera that discusses feminism, violence, street art, and public protest. More of Tennessee's documentary work is available here.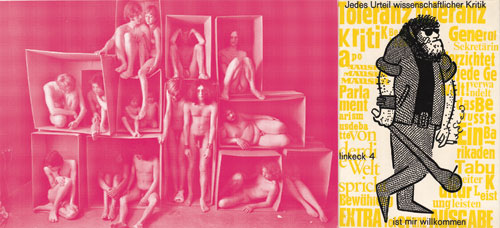 Kommune 1 was an art collective and commune active in Berlin's early New Left movements. They created protest spectacles (not dissimilar to the Yippies here) that drew on European traditions of political satire but heightened by a conflict-oriented counter cultural orientation. Michael McCanne writes a critical appraisal of the group, noting their boldness, creativity, and accomplishments without stepping away from the many problems that eventually caused the group to implode. Some of Michael's writing can be found here.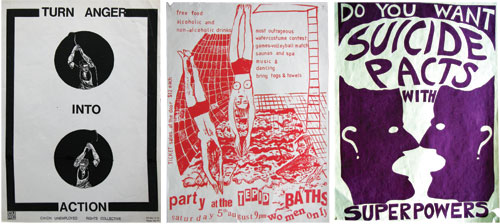 Jared Davidson (author of Sewing Freedom (AK Press) and editor of the Garage Collective blog) contributes an article about the Kotare Trust Poster Archive in New Zealand. This article is an examination of the role of archives, memory, and history in keeping political struggles alive. It also serves as a de facto highlight of some of the great posters to come from Aotearoa.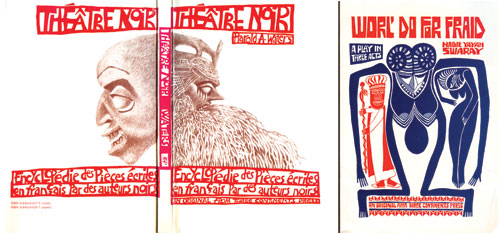 Josh MacPhee tracked down Max Karl Winkler, who illustrated and designed the many great covers of Three Continents Press. The interview uncovers Winkler's process and aesthetic decisions. He has a great use of color and a masterful skill at blending in hand drawn type into an overall design. I believe he also shows how to present international work in a way that embraces the country of origin without feeling kitchy or appropriative. Three Continents was a great small press and one of the first to publish international authors in the 1980s.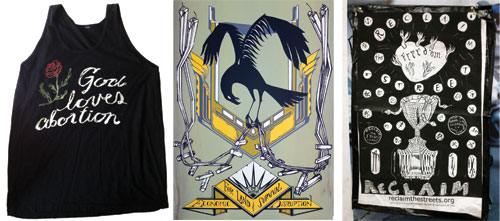 And finally Ryan Hayes (from Toronto's Radical Design School) conducts an oral history of the formative years of the Toronto's Punchclock Printing Collective, which was a group of politically motivated printers who collaborated and shared space and equipment through out the early 2000s. Ryan notes the influence of local politics on the artists, the way in which the group changed and morphed depending on external conditions, and the myriad ways in which artists can collaborate and embed themselves with social movements.
Signal:04 is available here.
All four copies of Signal are available here.
[This post reblogged from PM Press]