Over the last few years, life seems to have gotten the best of me. While I have been quite busy on artistic and community-based projects, as well as teaching and raising two teenage daughters with my partner, I have been unable to collaborate on the many exceptional projects emerging from within Justseeds and created by my wonderful collective-mates.
Beginning this summer, however, I hope to once again be better at contributing to Justseeds projects. One aspect of my recent practice has revolved around the integration of Indigenous knowledges with my own contemporary arts practice. I have also been busy writing and developing co-curricular programing for the American Indian Studies program at the university where I teach and direct the Indigenous studies program.
I have been traveling a bit doing community-based collaborations and have commenced an annual urban sugar bush in the local community. I've been harvesting wiigwaas (birchbark) and sharing tea and coffee with elders across Turtle Island. I've organized workshops with Maori carvers and Anishinaabe basketmakers, among others. Moreover, I've been immersed in an ongoing project entitled Michif – Michin (the people, the medicine) and have been learning about earth-based medicinal practices across this beautiful aki.
If you follow me on Instagram, you may have seen some of these projects come through as pictures. At the repeated suggestion of Roger Peet (who has also been doing some exciting work in art and ecology), I hope to write monthly (or possibly even bi-weekly) blog posts about these projects. If they are boring and not of interest to you as readers, ignore them and I will let the writing fade away with the fading of the summer sun. If they are intriguing, just let me know and I will continue investing energy and time into them. I have decided to call this new column 'Aniibiishaaboo Miinawaa Makade-mshkikiwaaboo (Tea and Coffee)'. I look forward to sharing metaphorical tea, coffee, and stories of these projects.
This summer, I will be engaged in a variety of projects that I hope to share. Each July, I harvest wiigwaas with an elder in Michigan's upper peninsula. This month, I am conducting a workshop for Anishinaabensag Biimskowebshkigewag (Native Kids Ride Bikes) and will make two trips to Regina, Saskatchewan to work with urban Native artists who are, in turn, working with youth to build bikes that engage with Treaty Four issues. In July and August, I will be in Vancouver working with elders, knowledge-keepers, and community members in the Downtown Eastside. This project is an expanded version of Michif – Michin (the people, the medicine).
I will also be traveling to Chile, where I will be co-facilitating a workshop entitled 'Body Territory and the Territory as Body: Communitarian Feminism and Indigenous Sovereignty.' I also hope to make it to Sapmi (Sami territory in Sweden), sometime in late-summer. Through all of these travels, as well as during local projects, I hope to upload some brief blog entries and pictures. If these are interesting, please let me know and I keep writing them.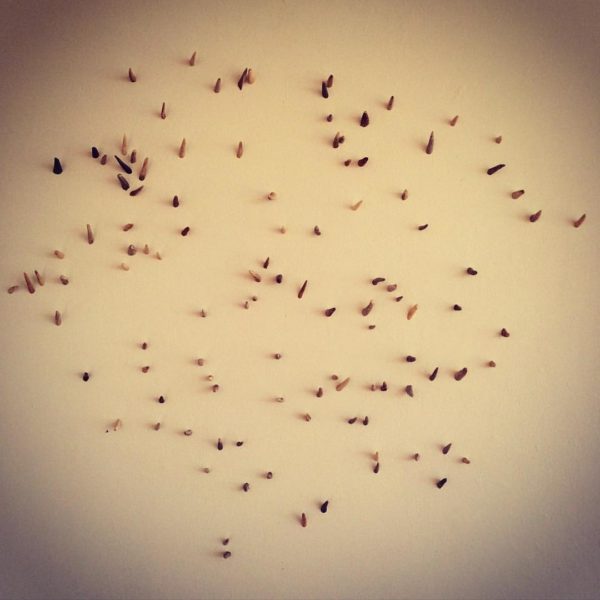 For my first post, which I will share next week, I will include images from my current exhibition at Artspace in Nogojiwanong – the place at the end of the Rapids (Peterborough, Ontario). This exhibition is called Waawaakeshiwi-wiiyaas and opened last Friday. The ongoing project, curated by Jon Lockyer, reflects upon as incident in 1906 when my grandfather's grandfather was arrested for hunting a deer out of season on his traditional trapline. As a Wiisaakodewinini (Métis) harvester, he was practicing subsistence hunting, but nonetheless was convicted by the Canadian nation-state of poaching. For this year-long project, currently in its first-phase, I have created a series of 13 starmaps, marked in deer antlers, as well as a limited-edition screenprint of the 'return of conviction,' which is printed in animal blood. The project will include a small artist' book and another exhibition next fall. Most importantly, I will return to the territory where my gichi-aanikoobijigan (grandfather's grandfather) harvested his deer and attempt to do the same.
Anyway, thanks for sharing your time with me. Baamaa pii miinawaa.