Protests against the G8 meeting are underway in Italy and the IMC is covering the events as they unfold.

http://g8.italy.indymedia.org/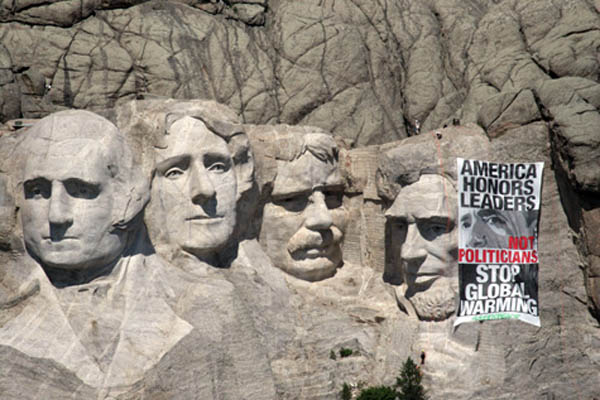 On the opening day of the G8 summit, Greenpeace activists occupied 4 coal fired-power stations across Italy, to demand stronger leadership on the climate. (As of today, it is being reported that the G8 failed to agree Wednesday on specific cuts in heat-trapping gases by 2050, undercutting an effort to build a global consensus to fight climate change.)
Here is a video of some of the actions:
Additionally, Greenpeace dropped a banner at Mount Rushmore-a tactic that has been done many times before, both by Greenpeace and more specifically by the American Indian Movement. The banner was taken down after a few minutes and ten people were arrested.
It is hard to argue against choosing symbolic locations for actions and Mount Rushmore obviously fits this bill, but my concern is: what if the media does not cover it? Although this story is just breaking, I have not seen a lot of mass media coverage, as of yet. Greenpeace has created their own media campaign about it but many of the major news outlets have yet to pick it up. This might change, but if it doesn't, does that throw a monkey wrench into the tactic of banner drops? This blog is at its best when we debate these issues and tactics, so please post away.
Are banner drops becoming an outdated tactic?
Do they get the media's attention?
If they don't, what does?
What does this all say about our reliance on mass media coverage for movements to be successful?