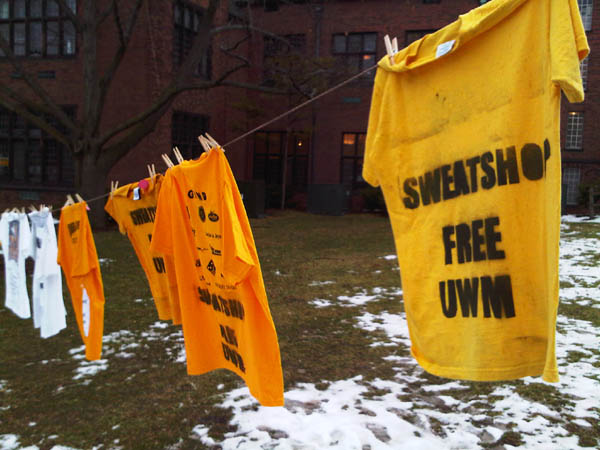 SDS Milwaukee
continues to amaze. Below is a post detailing a recent victory to make UWM clothing apparel sweatshop free and how creative resistance and perseverance aided the campaign.
"The University of Wisconsin Milwaukee recently signed on to the Worker Rights Consortium, pledging to participate in the Designated Suppliers Program, a set of standards which intends to guarantee living wages and the right to organize to the garment workers who make university apparel. The University's letter was the culmination of over two years of student organizing, and it made UWM the 46th university to sign such a pledge.
Getting UWM signed on to the program was one of the initial projects adopted by the
Milwaukee SDS
(Students for a Democratic Society) when it formed in Fall of 2006. Since then, SDS members have met with reluctant administrators, organized petition drives, held protest rallies, expanded membership, and chalked the sidewalks of the campus on an almost weekly basis – even in freezing weather.
In the week before the victory, SDS sponsored a traveling workers' tour, a sweat-free fashion show, a student/labor rally, and a sweatshop clothesline display outside the Chancellors office window.
The rally, held outside of the chancellor's office, was initially expected to be a protest. However, a few hours after the sweatshop clothesline was installed, the administration called group members promising to sign the DSP pledge, turning the protest into a celebration.
Members of labor rights groups, and local unions joined university administrators, and student activists in celebrating the victory, while also focusing on the many battles ahead, which include Milwaukee's Paid Sick Days initiative, the DREAM Act, and Employee Free Choice Act."