Recently IVAW member and field organizer Aaron Hughes sent a copy of the Justseeds-IVAW "War is Trauma" portfolio (plus copies of the 5 large silkscreen posters that Jesse Purcell produced) to a brand new GI Resistance cafe in Germany. The Clearing Barrel Bar and Café opened on Saturday, March 24, in Kaiserslautern, Germany, home to Ramstein Air Base and Landstuhl Regional Medical Center, among a constellation of U.S. bases, with 50,000 U.S. military and civilian personnel living in the area.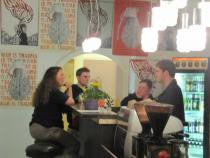 I couldn't imagine a better home for the prints than a GI resistance coffee house and much respect and admiration to Chris Capps-Schubert, an Iraq veteran and war resister, and his wife Meike, an organizer and member of Military Families Speak Out, for opening this important space for organizing and resistance.
Learn more about Clearing Barrel here.