I'm just returned from Birmingham, Alabama, upon completion of the fourth Endangered Species Mural, this one featuring the Watercress Darter. The darter is a very small, brightly colored fish that survives in five locations within Alabama's Jefferson County, including a couple within the city of Birmingham. The species is on its way to becoming a symbol of the city, with an annual festival and at least one variety of beer named in celebration of it.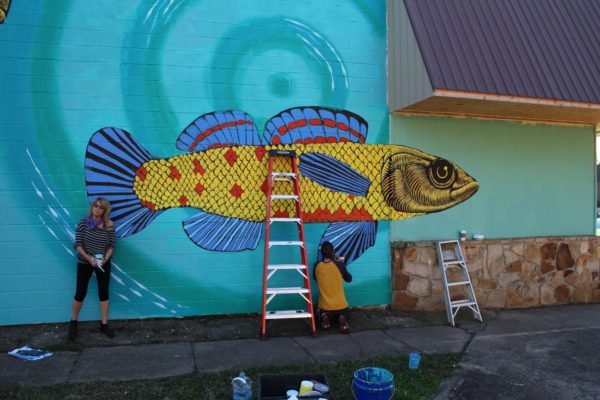 We painted the mural on  the side of Lake Cottage Books in Birmingham's East lake neighborhood. This small institution is run by Kimberly Jeanty, and provides a gathering space, cheap or free reading matter, and community support for youth and seniors of the neighborhood.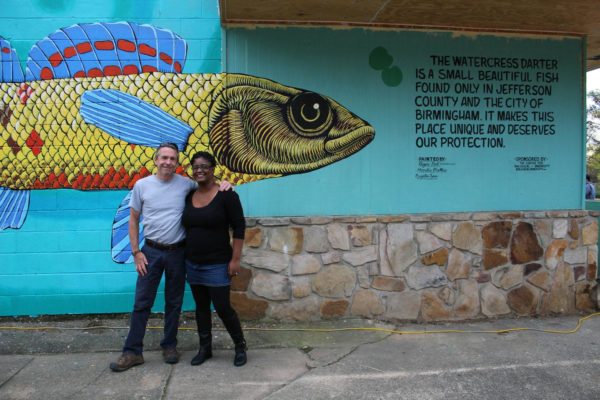 We were connected to Kimberly by Roald Hazelhoff of the Southern Environmental center at Birmingham's Southern College. I painted the mural with Birmingham artists Merrilee Challiss, renowned owner of the much-missed Bottletree venue, and Creighton Tynes. We had a rough start in the spring with a bit of a whatever-can-go-wrong-will-go-wrong situation, but this second time around proved to be the charm- we were warmly received by the people of East Lake, although it must be said that most people assumed that we were going to be opening up a fish restaurant.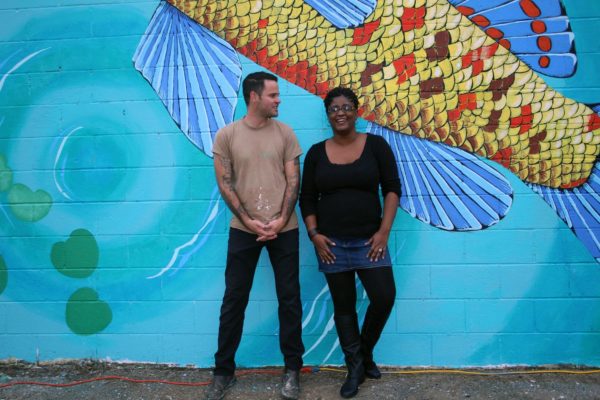 After the mural's official unveiling (which featured a face-painter doing pretty reasonable renditions of a darter on an assortment of scientists, activists, and community members) we drove the twenty blocks to Roebuck springs, one of the Darter's urban holdouts- a beautiful and hidden spring-fed lake, dammed up by beavers and hemmed in by a freeway, a youth "correctional institution", and a set of tennis courts- site of a terrible darter apocalypse in 2008, when the city drained the spring to stop the court from flooding. The city of Birmingham is currently being prosecuted under the EPA for that snafu, which almost eliminated the darter from spring pond.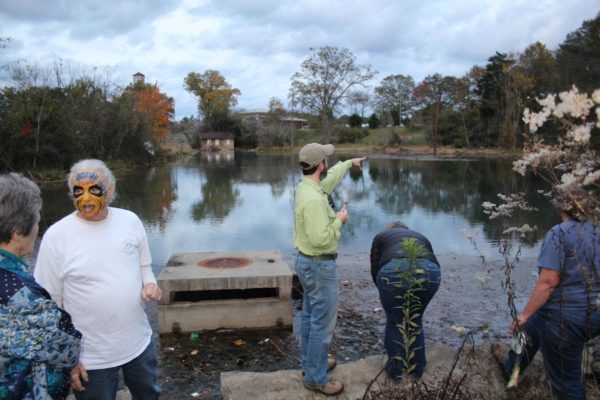 It's a resilient little fish! Much has been thrown at it but it just keeps on going, perched under the watercress in the cold water at the bottom of the spring, flitting from rock to rock in the rapid motion that gives it its name. A fitting symbol for a city full of people whose resilience in the face of adversity helped to change so much about the way this country sees itself.
And of course there is still so very much more to do.