I was recent commissioned by Abby Satinsky at the School of the Museum of Fine Arts at Tufts University in Boston to create a billboard design for the 2.5 story board that hangs above the entrance to the Barbara and Steve Grossman Gallery. An ongoing artist billboard project, each year the gallery commissions an artist to design a piece for it (last year Kameelah Janan Rasheed did the design), as well as an interior reading room space within the building.
Given that we're entering this shaky, semi-post-pandemic context (at least in large parts of the U.S.), and students are heading back to school, I wanted to create something that encourages thought, but also doesn't turn away from the dangers we face. A 30 foot tall sky of bricks raises as many questions as it answers: are they falling (on me?), were they thrown, is this a construction site? Both tool of construction and destruction, bricks evoke both development and demolition, gentrification and riots. And the title, We Carry A New World In Us, is drawn from Spanish anarchist Buenaventura Durruti, the entire quote being:
We are going to inherit the earth . There is not the slightest doubt about that. The bourgeoisie may blast and burn its own world before it finally leaves the stage of history. We Are not afraid of ruins. We who ploughed the prairies and built the cities can build again, only better next time. We carry a new world, here in our hearts. That world is growing this minute.
The image is so pop art that even after being installed, images look like mock-ups. The image field is so flat and cartoonish it appears almost fake.
For the reading room I kept the exact same bricks, but moved them underground (which the room is), and populated them with worms. A repeat pattern of this design is papered around the entire. In addition, a library of related books are on the tables, including: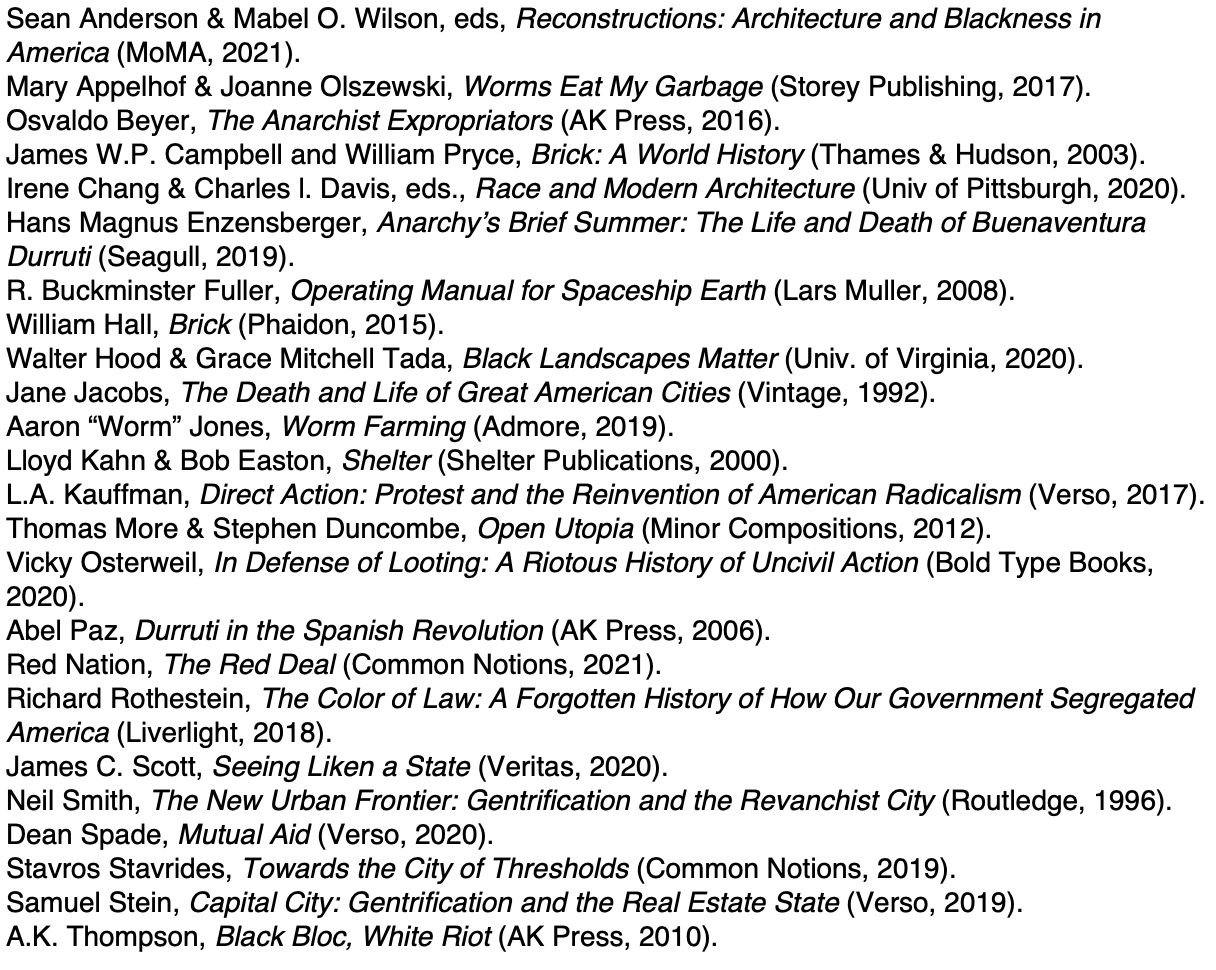 And here are the worms!:
The project will be installed for a year, so if you're in the Boston area, definitely check it out!