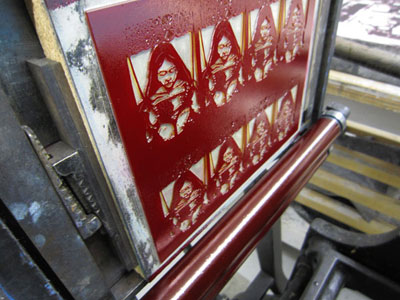 I recently reprinted "Deeper Than Mechanics Dare"
spoke cards
, and thought the process might be of interest. I started making the cards three years ago, in order to make the image, and message about group process, accessible and fun. Spoke cars are a celebration of the benefits of bicycles as much as they are a decoration of them, and their small and cheap nature lends toward sharing. Here's a breakdown of how I create them.
I start on the computer, shrinking down a high-res version of my original design, and laying it out in a grid. The rest of the process is much more hands-on…
With the digital file, I make a polymer plate from the image. In the past I've often made the plate myself, but this time I ordered it from Boxcar Press. I print the polymer plate on a Chandler press at Artists' Image Resource, where I volunteer. The press is over 100 years old and was made in Cleveland, Ohio. I like to tell little kids this press was like the 3D printer of 1905.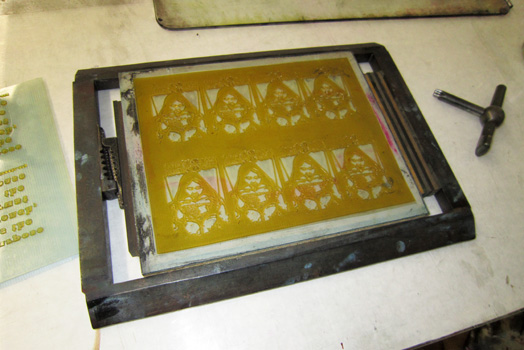 In order to print the image I mount it on a metal block which is a certain amount tall (in letterpress lingo,"type-high"), and lock in into the frame (the "chase"). Once I get going, turning the gigantic wheel on the press, the rollers ink thems
elves, and the plate, so in theory all I have to do is keep putting paper in. But in reality, printing on this press requires a lot of micro-adjustments. I'm constantly problem-solving while printing, adding more pressure ("packing") or adding more ink as necessary.
When the front is printed I need to wait until the oil-based ink is dry to print the back, repeating the process. Then, I cut all the cards on a paper-cutter, and laminate them one at a time on a business-card size lamination machine. Ta-da! It's a durable, hand-made object that's ready to ride wherever you do.