Within a weeks' time trending posts of 22 year old Halle Bailey having red locs in the upcoming new little mermaid movie and inspiring little black girls everywhere became overshadowed by the death of Mahsa Amini, a 22 year old Iranian-Kurdish woman who was killed for showing too much of her hair outside of her hijab in Iran.
On Friday, September 23rd, I shared out this image and message on my personal Instagram account:
"I'm starting to accept that things may get worse before they get better. Back in ancestral homelands I may never know, people are making change and lighting their own way because enough is enough. With the current government censorship in Iran it is important now more than ever that we share the story of #MahsaAmini who was arrested and killed by morality police. Killed by men who have been taught women should not have control of their bodily autonomy. Censorship is happening because authorities are too afraid of what they have become and cannot face themselves. As #NiloufarHamedi, the woman reporter who made Mahsa's story public has been arrested and is currently missing, and more people die in the streets for their rights, be grateful for what rights we have while we still have them. And stand with others across the ocean as well as your neighbors for there may be a time that you will need people marching with you. I want to blame a long line of power hungry men, coups, rise and falls in rulers. I want to blame myself for not doing enough. Yet remember, we still have power. We will always have power in our voice, through our art and in our collective numbers. Always. This chaos we are witnessing has sparked from many brooding embers. This is what love and grieving looks like in the streets. Make every moment count."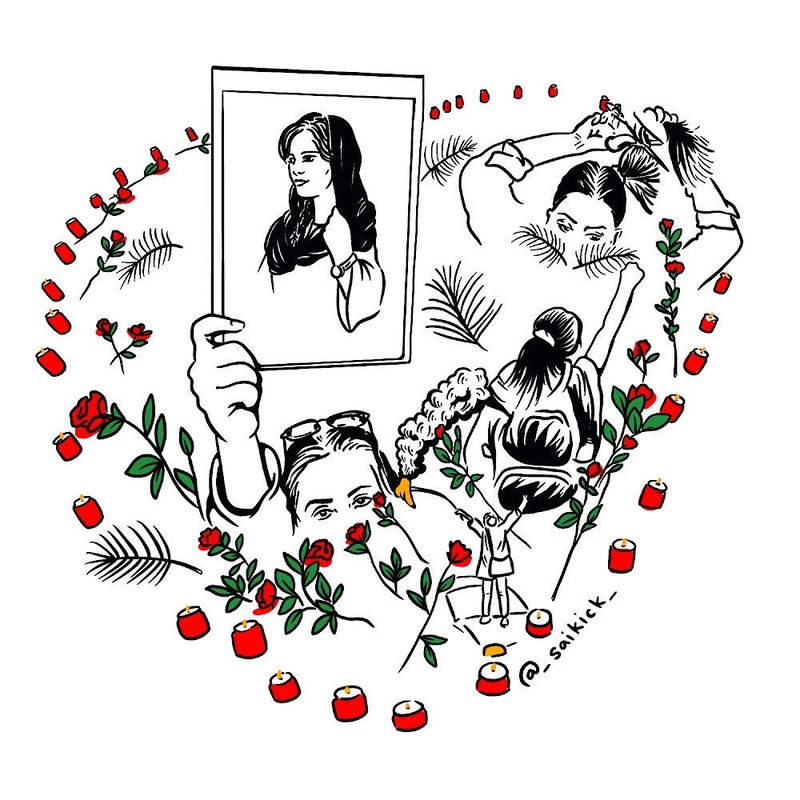 Just a couple days have passed and the number people dying in the streets is rising. As of this morning, a human rights organization based in Norway shared 50 people protesting have been killed so far in multiple cities with many arrests. One of the last times Iran inhibited internet service were during the protests in 2019-2020 known as Bloody November or Bloody Aban. During that time Iranians were protesting the 50-200% increase in fuel prices and calling for an overthrow of the government and Supreme Leader Ali Khamenei. Though it is uncertain the final number of deceased some record as many as 1,500 Iranian protesters were killed during the six-day black out.
It has been moving to see such an intergenerational rise of people taking over the streets, women without their headscarf's, cutting their hair in the streets and at the funerals of their loved ones. Openly queer women and inclusive pride flags waiving. (Identifying with the LGBTQIA+ community in Iran is still criminalized with the punishments including execution, imprisonment, lashings, fines, torture, honor killings and vigilante executions.) I fear for all their lives as they look fearless in the face of extensively armed riot police as they demand the end to these injustices and the end of Iran's Islamic dictatorship. They are fighting for their freedom.
"We are seeing defiant woman who are not scared. Many of them are young, teenagers, early twenties. … They are the bravest ones today. And they don't seem scared." – journalist Rana Rahimpour (in a BBC interview)
And as we watch these events unfold from afar the best thing, we can do is ensure our governments to not intervene. Iran does not need a repeat of the CIA backed Coup in 1953. Iranians do not want war. If anything, our power in the west is to push to end U.S. sanctions on Iran so they can have access to medical supplies and other needed imports. We can keep sharing what is going on and push for their own autonomy as much as we are pushing to maintain our rights to bodily autonomy, rights to love and free expression.
(Even if you don't speak Farsi, singer Arash will move you in this nostalgic ballad about the love for his home country.)
I have only had a brief correspondence with a family member in Iran who is hopefully that the Islamic dictatorship will end soon and they continue to have strength. Some family members have not been able to respond yet and may still not have internet connection. On social media, people are being encouraged to use the following hashtags as information and videos continue to be shared about what is happening on the ground in Iran: #MahsaAmini #JinaAmini #ZhinaAmini #IranProtests
Let's end the sanctions and send them strength.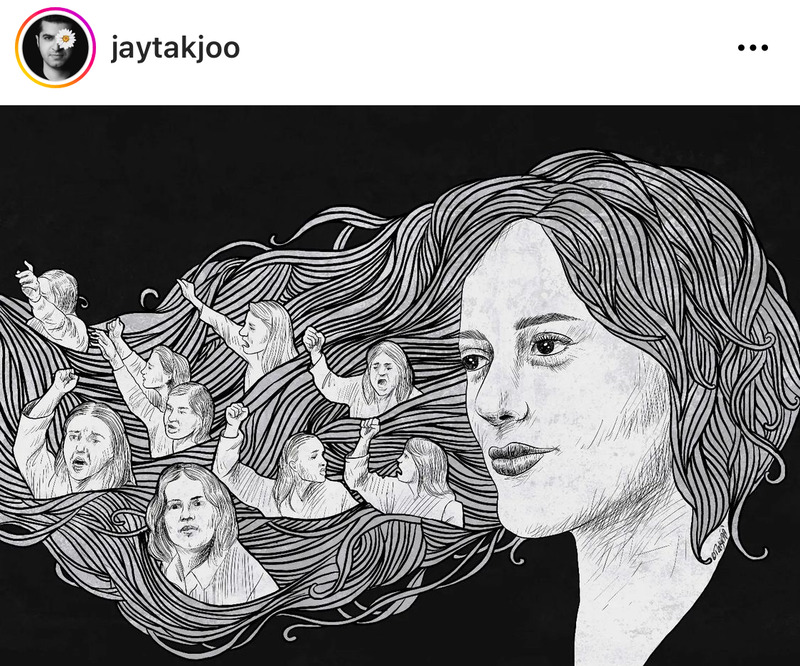 Just some of the incredible solidarity art being created and shared around the world.