Celebrate the launch of DE-MIL-I-TA-RISE, Justseeds' newest art portfolio and booklet in collaboration with the powerful movement organization Dissenters, by supporting their important anti-militarism organizing trainings and anti-militarist campaigns!
Contribute here to the Dissenters and get you hands on some amazing art from the DE-MIL-I-TA-RISE portfolio and booklet.
For the month of May only everyone that contributes $25 to the Dissenters and receive 3 stickers! Additionally, the first 40 people who contribute $50 will receive an original screen print from the portfolio, the first 30 people who donate $100 will receive three screen print from the portfolio, and the first 10 people who contribute $1,000 will receive the entire art portfolio (includes all 29 original screen prints)!
Make a contribution now before all the work is accounted for.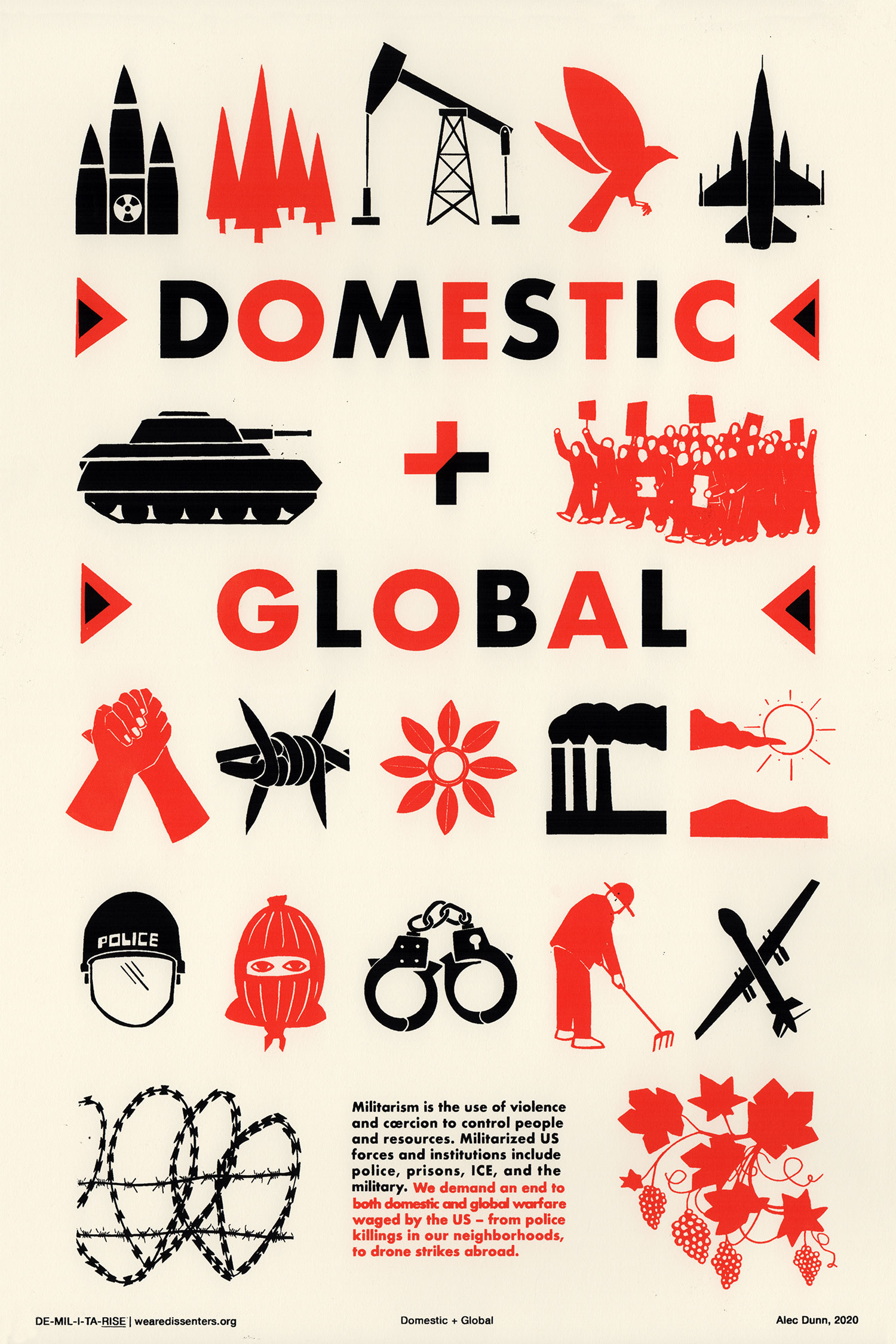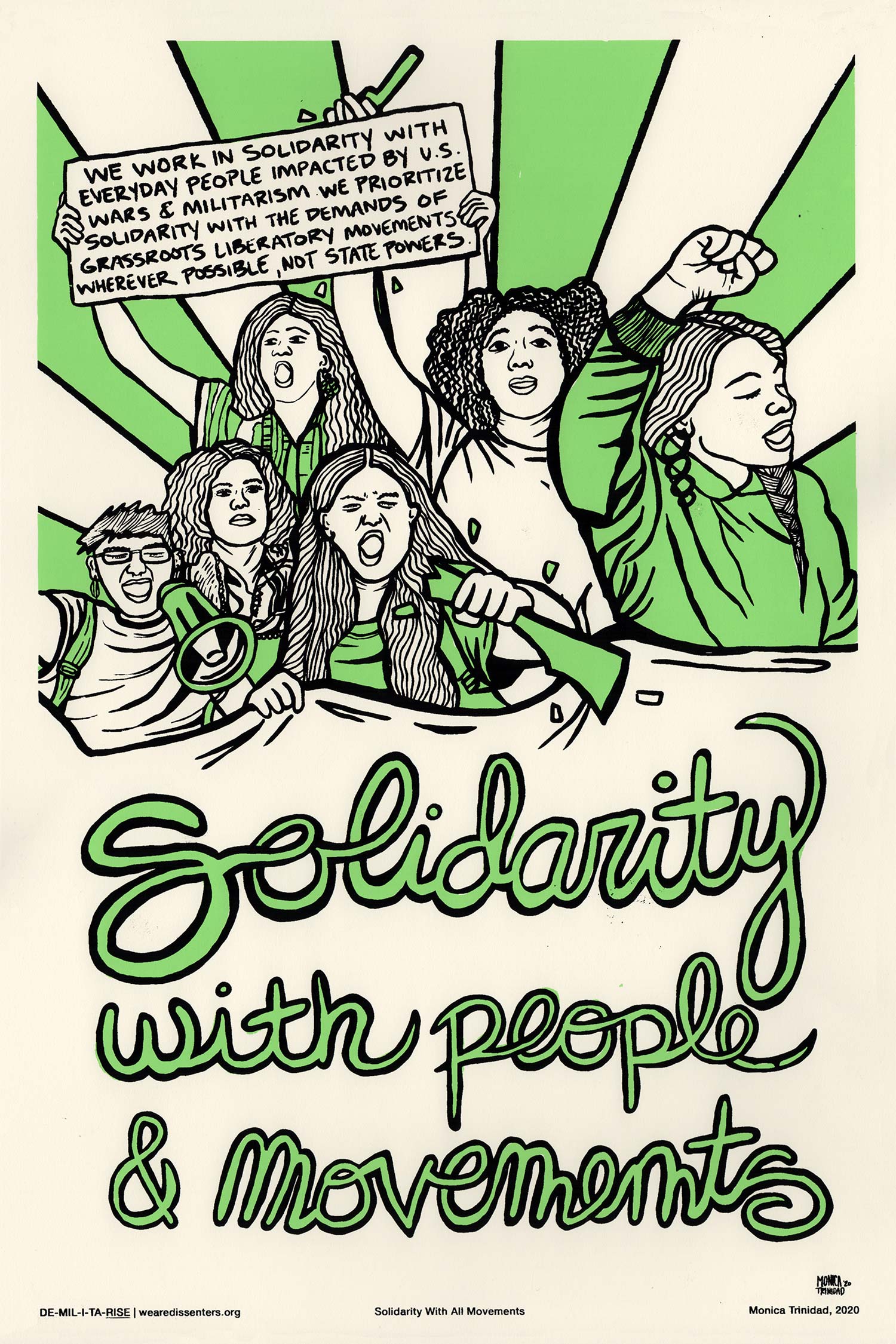 The portfolio features 30 screen prints by 25 artists including: Iván Arenas, Liz Born, Molly Costello, Alec Dunn, Asha A. Edwards, William Estrada, Sarah Farahat, Eric J. Garcia, Ryan Griffis, Amber Hoy, Aaron Hughes, Sanya Hyland, Paul Kjelland, Nicole Marroquin, Fernando Martí, Andrea Narno, Roger Ourthiague Jr., rishi, Roger Peet, Citlali Perez, Grae Rosa, Monica Trinidad, Mary Tremonte, Claudia Qi, and Melody Yang.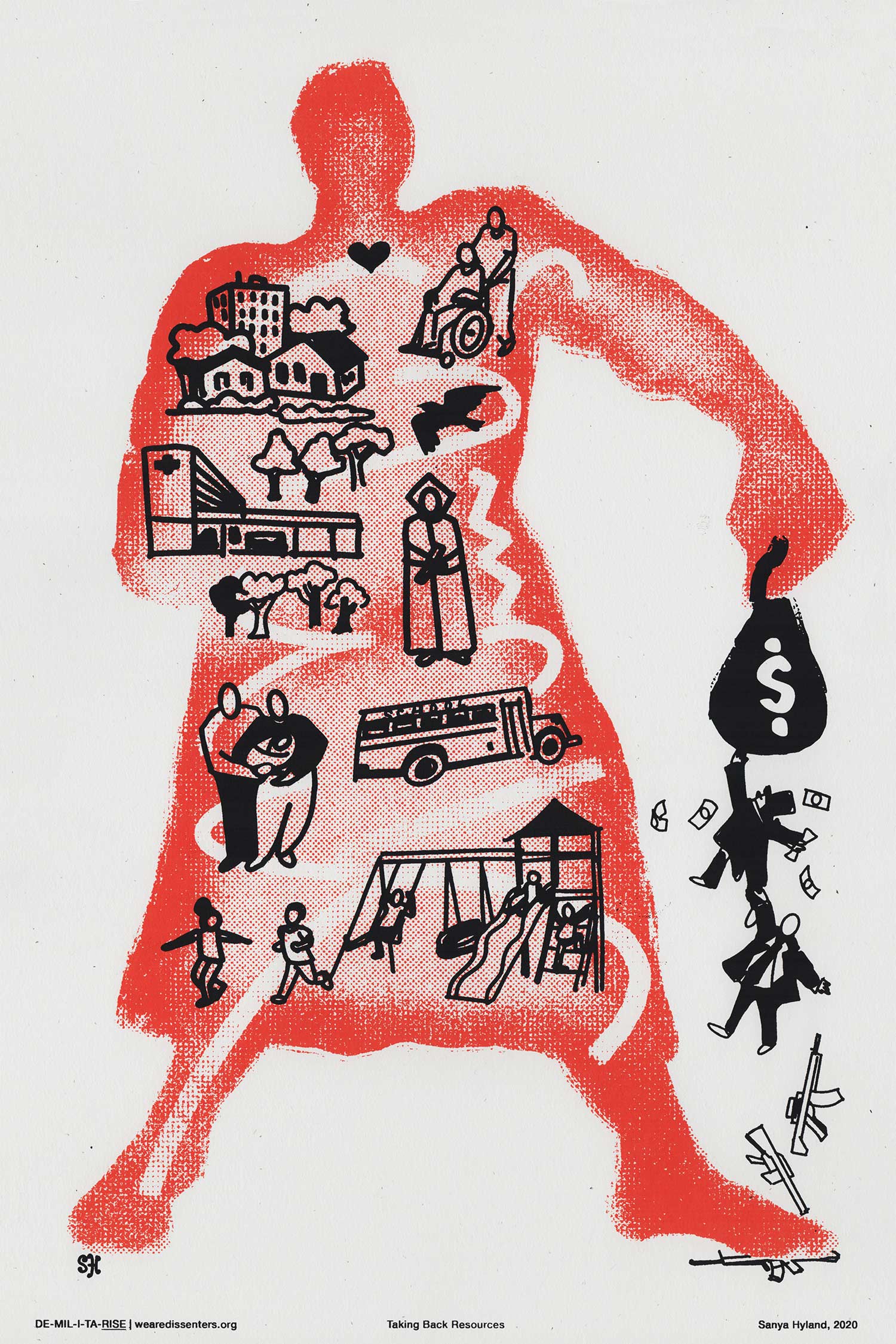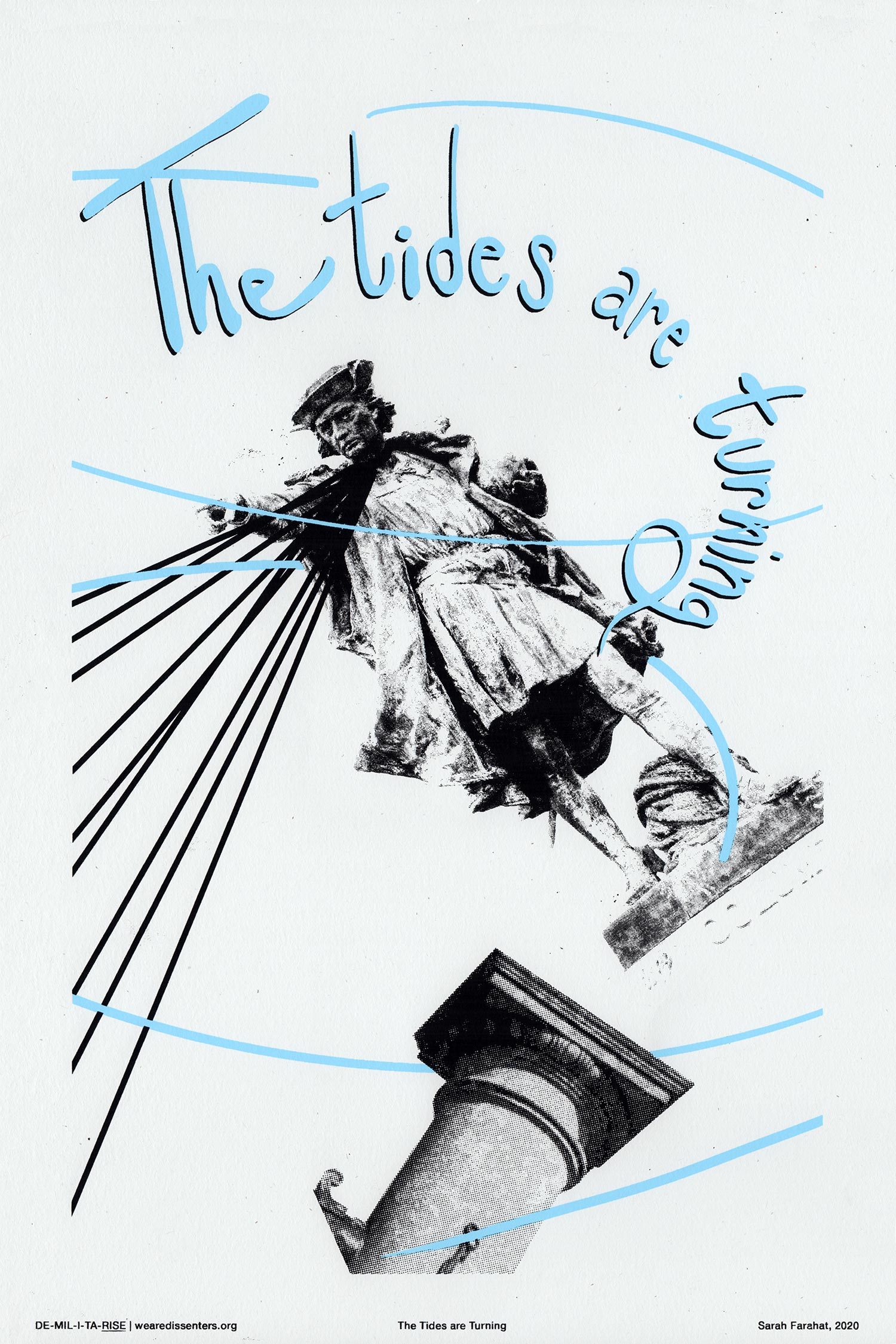 The booklet features the Dissenters' Vision, Principles, and Points of Unity along with 14 poets including Munira Alimire, Fatimah Asghar, Kevin Basl, TeQuila Chatmon, Tongo Eisen-Martin, Stephen Funk, Cean Gamalinda, Destiny Harris, Daniel King, Sejahari Saulter-Villegas, Carlos Sirah, Devon Terrell, Vanny V, and Jamila Woods.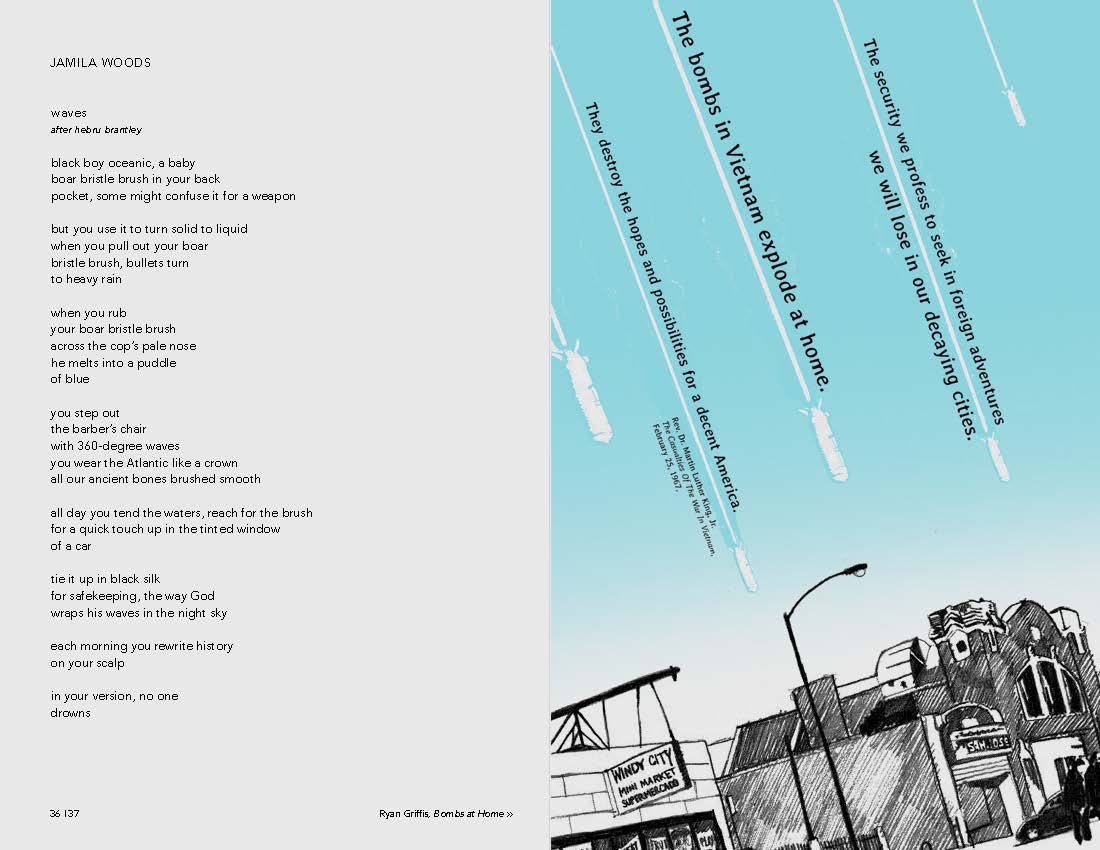 Anti-militarism organizing has gained so much momentum in the last year, and now is the time to win this next generation over to the freedom side.
Dissenters wants to be able to host numerous trainings next year to help hundreds of students start their own Dissenters chapters, and launch long-term strategic campaigns to get Cops Off Campus, Divest from Death, and get Recruiters Off Campus.
Dissenters movement is growing faster than we could have imagined, but we need your help to keep turning the tides against endless war! Will you chip in today?
---
Contribute to the Dissenters and get you hands on some amazing art, DE-MIL-I-TA-RISE prints or a DE-MIL-I-TA-RISE booklet, here.
Watch Art Against Empire the DE-MIL-I-TA-RISE portfolio and booklet launch event here.
Learn more about the portfolio here.
Download high resolution graphics from the portfolio here.
Download a digital and print PDF of the booklet here.