Portland hip-hop MC, organizer, radio wrangler and colleague Mic Crenshaw is currently on tour through multiple nations of Sub-Saharan Africa with the Afrikan Hip-Hop Caravan. The Caravan is a traveling collection of performers and activists bringing a politically charged version of Hip-Hop culture to cities in Tanzania, Zimbabwe, Uganda, South Africa and beyond, and features a shifting collective of performers, including Cape Town's Soundz of the South. I sent Mic a few questions that he generously responded to in transit.
Can you give a little bit of history of the Hip Hop Caravan and your involvement in it?
I initially heard about the Caravan as I was attending the Shoko Festival (as a performer) in Harare Zimbabwe in 2012.
I bumped into two of the founding organizers one of whom was familiar with my music and international activism regarding work co-founding a computer center in Burundi.
I overheard the comrades talking about the project and asked to be involved.
I've read that Sounds of the South, a hip-hop group that is one of the founding entities of the project, describe themselves as anarchists. What's the spectrum of political engagement that you've experienced during these caravan events?
We travel through different cities and countries and are connecting with a diverse group of artists, activists, audiences, supporters. It is clear that there are different priorities and levels of consciousness and approaches in each community. Everyone at least has a common understanding that Hip Hop is more than commercial entertainment and they are all involved in using it as an organizing tool and a means to develop critical analysis around root causes of oppression of African and indigenous people.
SOS is also strategically critical of centralized political power and strives to embody egalitarian practices in their own collective.
These brothers and sisters all come from communities where  promises of revolution have resulted in ruling parties who's policies do not improve the lives of the masses of poor people. They are wary of empty yet eloquent rhetoric.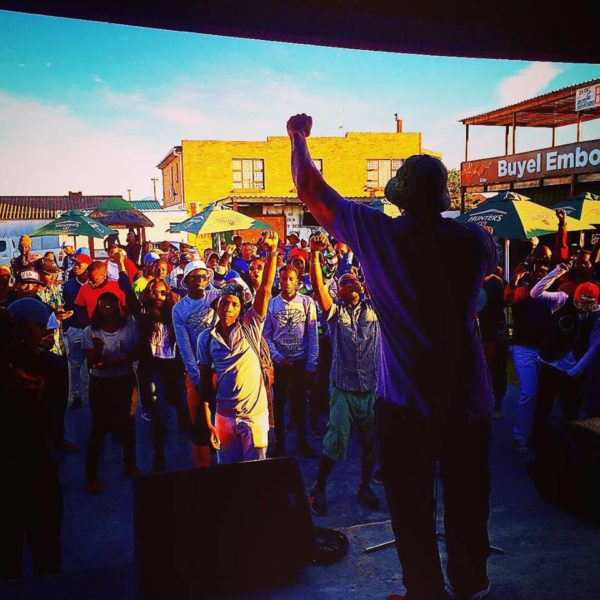 Is there a sense of common struggle and effort in the different locations you pass through? Are people in Arusha thinking about issues in Cape Town, and vice versa?
There are some of us who are more adept at connecting the dots. Often its a reflection of individuals' access to information and their history of involvement in local, regional and international movements. Some people have limited ability to travel outside of their communities. The over arching issues often intersect on many levels. Neoliberal capitalism and exploitation, industries based on extraction with little or no benefit to local communities is a constant issue, historically, currently.
Has the caravan experienced any repression during the years its been operating?
The Angola collective is currently incarcerated.
What's a typical show like? Are there typical shows?
High energy, packed, young audience, young artists, artists above 30 are welcome and honored, most are under 30 and mostly male. Women are encouraged to varying degrees to participate as artists depending on local customs and efforts by organizers. South Africa has strong representation from women artists and organizers.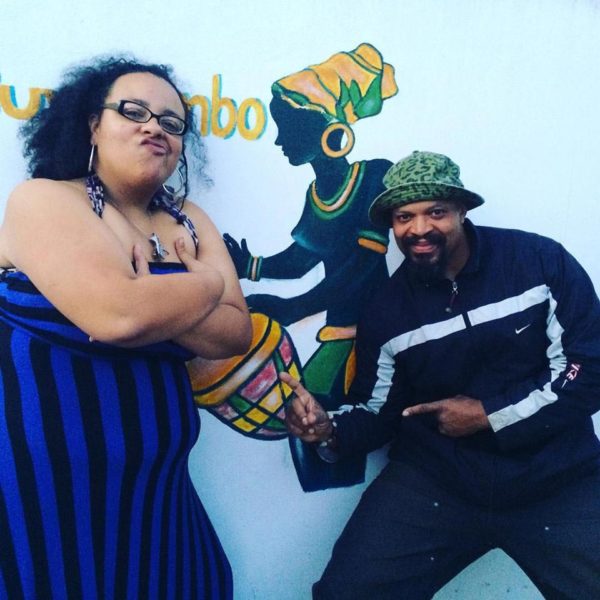 What would you offer as an example of the power or effectiveness of what the caravan is trying to do?
We've been going 3 years strong, growing every year, more countries and cities want to be on board.
Any favorite moments?
Too many to name. The camaraderie, the scenery, the differences between each city and community, the food, the music! Performing for attentive captive audiences who love and appreciate real Hip Hop is a treat!
Photos by M'Afrika Anele and Mic. Check out #afrikanhiphopcaravan2015 on FB.