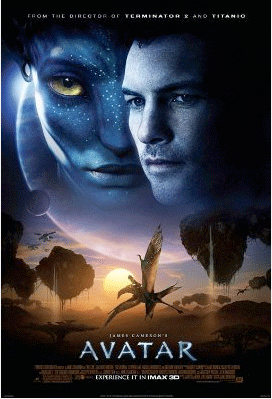 Just saw Avatar tonight. I appreciated the anti-capitalist, pro-environment message, its too bad it comes in the tired narrative of whitey coming to save the natives. It was exciting, the CGI was entertaining and helped numb the brain enough to deal with the bad dialogue.
The movie represents the characters relationship to Capitalism as a permeating factor in life's choices and lays bare its systemic view towards nature-resources to be extracted, to make objects for consumption, leading to profits/wealth for a few (late night simplicity for ya).
So what should one do about it? Well, the conscientious objection of one character during a "battle" scene still leads to the incredible devastation of the indigenous characters homeland. The real resolution portrayed in the film is-direct action and armed resistance.
From this portrayal I wonder if this film is capable of encouraging civil society and our governing institutions to expand the definitions of "resistance", reducing those of "terrorism". Because identifying with the films protagonists aligns one to many of the animal & environmental activists, and political prisoners incarcerated in the United States today. But that's a lot to expect from art, isn't it?
I also question "if a gabillion dollars was given to make a film from a perspective other than the white male hero, what would it look like?"
I guess we'll find out when that story can sell over a billion dollars in cinema tickets, worldwide!