2009 was a dreadful year for foreclosures. In my home state of Wisconsin alone, there were 30,624 foreclosure filings (up 20% from 2008.) In Milwaukee, an average of 600 foreclosures took place per month in 2009. Vacant and boarded up houses are becoming common place.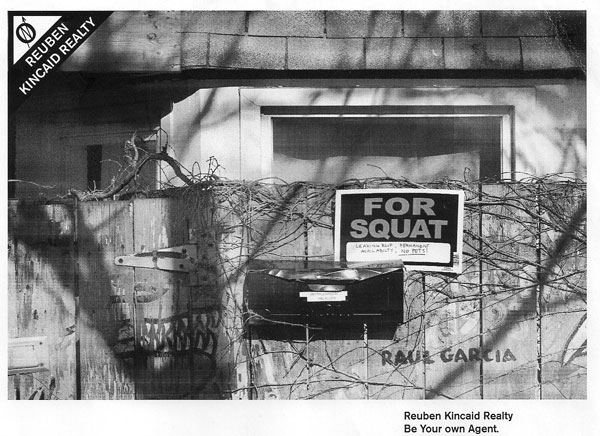 One solution is to squat these buildings. An activist project that inspires me is "
Reuben Kincaid Realty
". The project is based out of Chicago and their
website
encourages people to locate empty properties, place a "For Squat" sign on it (the sign is available through RKR), take a photo, and email it to Reuben Kincaid Reality who will make the address of the empty house visible for people to seek out and move in. More so, the RKR site has numerous resources for those facing foreclosures and homelessness. Text from their
website
reads:
"Reuben Kincaid Realty is investigating solutions to the housing crisis in America. We have selected resources and online articles that can teach you more about the re-housing movement and alternatives to homelessness.
In many countries squatting is not illegal. In fact there are many programs that match vacant properties to those seeking shelter to provide low cost and very affordable options to home ownership .
As foreclosures, evictions and homelessness increases in the US, Reuben Kincaid Realty is highlighting potential re-housing policies and practices with the hope that it receives more critical attention and praxis.
In the coming months we will release a How to Squat guidebook and a first time Just Squatted Home Welcoming Kit."
In the meantime you can help us research and update our database of available properties to share with potential property seekers."