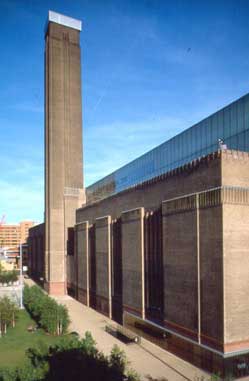 Not what you think, or maybe exactly. The
Tate Museum
, a world renowned contemporary art museum, is
looking for some new muralists
. Graffiti can stake its claim on museums and galleries again. This time institutions have gotten smarter, they are keeping street art outside. Instead of giving the newest generation of street artists canvas' to paint on the Tate museum will be sanctioning a 35 meter (approx 115′) mural on its facade, spokesman stress that the building
will not be harmed
.
Banksy
, English stencil artist, hasn't been mentioned in the press as participating in the exhibit. Yet he was able to
sneak his own work
into the museum a
few years back
!
looking at his site
lately it appears that he has been influenced by
Kara Walker
.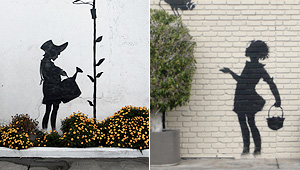 Artists that have been invited to submit proposals include
Os Gemeos
,
Faile
,
Blu
, Never, JR, and Sixart.
It will be a curious thing, street art has been a passing trend in many cities around the world. Its been adapted to market and sell products and has commodified itself. Is this just another marker of its assimilation into consumer society and bourgeois culture? Will it encourage a new generation of artists to challenge the constraints of public space?