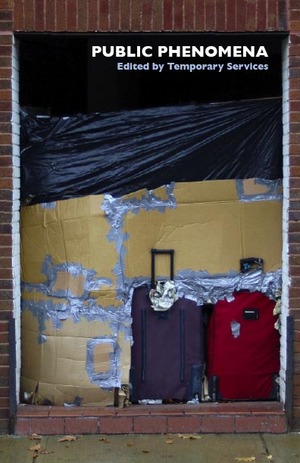 The Chicago-based art collective Temporary Services have just launched a new publishing outfit, Half Letter Press, and a new book, Public Phenomena. Here's the blurb on the book:
It is titled Public Phenomena and let us tell ya, it looks beautiful! 152
glossy full color pages. We can't wait for you to see it.
This book is the result of over ten years of photographic documentation and
research on the variety of modifications and inventions people make in public.
From roadside memorials to makeshift barriers, people consistently alter shared
common spaces to suit their needs, or let both man-made and natural aberrations
run wild. The result is a new kind of public space – with creative and
inspiring moments that push past the original planned design of cities.
Images and text by: Temporary Services, Polonca Lovšin, Joseph Heathcott &
Damon Rich, Boštjan Bugaric, Ana Celigoj, Maša Cvetko, Marko Horvat, Meta
Kos, Darjan Mihajlović, Danijel Modrej, Maja Modrijan, and Sonja Zlobko.