Our friend Imminent Disaster is back with her second installment of her travels in South America. Thanks to her and continue to have great experiences.
Mujeres Creando is a feminist organization in La Paz, Bolivia. Unlike other social projects in Bolivia, it is not run by an NGO nor affiliated with a church. It's run by a core group of Bolivian women and set up to be autogestionable– they have a free day-care that´s supported by a restaurant, Internet café and hostel. They run classes at night on a variety of subjects including women in society and feminist law. They run a radio station in La Paz (Deseo 103.3 FM). They have a legal consultation office for women who have experienced physical or sexual abuse. They have published a few books: one, called Ninguna mujer nace para puta (No woman is born to be a whore) is based on a conversation between an Argentinean prostitute and one of the members of the organization, and calls out for readers to question a society that subjects thousands of women to exploitation through prostitution, and what this kind of exploitation means for the treatment of all women within society. They have done a few exhibitions in Bolivia and Argentina displaying powerful photos of women killed by domestic violence and images of prostitutes from the turn of the century police register in La Paz (a time where every prostitute had to have their photo on file in the police station with a record of personal information, activity with clients and results of compulsory vaginal exams.) They have organized protests in Bolivia and Argentina and provided support to women who were imprisoned for over a year after a protest in Buenos Aires. And they take to the streets with their actions and their graffiti.
In Ninguna mujer nace para puta they explain their belief that the streets are the single most transformative political space because it is the only place where you can establish a relationship "flesh-to-flesh" with society. For women, who have historically only been given domestic and private spaces for their own, they believe that taking over the street is the ideal forum for women's acts of rebellion to be shown and seen. At the core, their key word is rebellion: to destroy the role of a woman as silent and dependent in a society deeply entrenched with machismo. And the women of Mujeres Creando are doing it with the gut-wrenching frankness that probably hasn't been seen in the United States since the 1970´s.
Below are a few shots of the Mujeres Creando graffiti in La Paz. Some have links to more information when they refer to specific political events or figures.

"if
Evo
had a uterus, abortion would be legalized and
nationalized
"
"
I baptize my abortion as redemption, the nun
" "
We give birth, we decide
"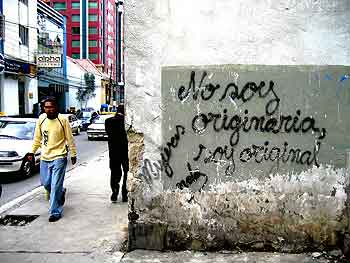 "
I´m not an originator, i am an original
"
Blanca Liliana was sexually assaulted in the bathroom of a bar in La Paz while celebrating her birthday. Because it happened so suddenly, her friends almost didn't believe it happened and the bartender´s response was to tell the group to leave the bar. Blanca went to the police station to file a report, but it quickly became clear that because she had been drinking the courts would try to call the assault an act of consensual sex. After battling the Bolivian justice system for some time, Blanca finally had a "fair" trial, and the rapist was found and convicted.
Full story in spanish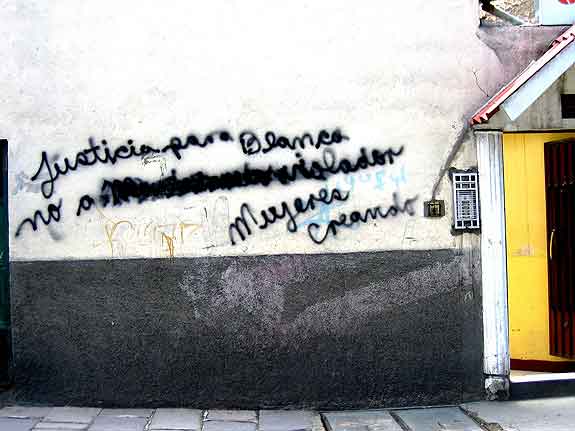 "
Justice for Blanca, not for the rapist
"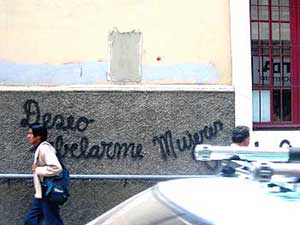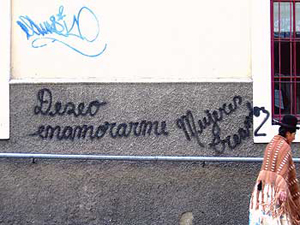 "
i want to rebel
" "
i want to fall in love
"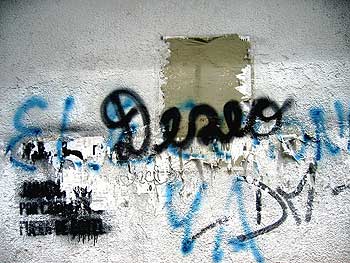 "
i desire
"
A few others that are worth reading:
"Un pene, cualquier pene, es siempre una miniatura."
A penis, any penis, is always a miniature.
"De Gennaro: Si la prostitucion es una trabajo, sindicalice tu pija y tu ano"
De Gennaro (founder of Central de Trabajadores Argentinos union in Buenos Aires): If prostitution was a job, I would have unionized your penis and your anus.
"Las putas aclaramos que ni Sanchez de Lozada, ni Sanchez Berzain, son hijos nuestros."
The whores (bitches) would like to clarify that neither Sanchez de Lozada (president of Bolivia ´93-´97 & ´02-´03, resigned, fled to U.S., wanted for genocide and other crimes) nor Sanchez Berzain (ex minister of government under Sanchez de Lozada), are sons of ours.