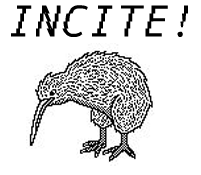 My friend Brett Kashmere has recently released the first online issue of
Incite! journal of experimental media & radical aesthetics
. The theme of the first issue is "
Manifest
," and there's a ton of material in the first issue online, and they are hoping to release a print edition. There something in here for lots of different interests but it is heavily bent towards experimental film and video. Here's how Brett describes the contents:
In this issue:
* Legendary collage filmmaker and programmer Craig Baldwin talks with Steve Polta about the 70s avant-garde, Baldwin's college years, political activism, and midnight screenings: all of which lead him to filmmaking and to his unique curatorial aesthetic.
* In a strong diatribe against capital-driven mainstream cinema, the famed American independent film impresario Jonas Mekas celebrates the pioneering avant-garde and its connections to the heavenly.
* Trailblazing Escarpment School teacher and experimental documentarist Rick Hancox considers the meaning of film in relation both to celluloid decline and to digital ascent.
* Experimental film scholar Gerda Cammaer reflects on the various deaths of film and how each death can subsequently signal greater rebirth.
* Renowned film alchemist Carl Brown explains his experimental methods of developing film stocks and their effect on his artistic practice.
* Former Winnipeg cineaste Solomon Nagler examines his landlocked hometown, its postmodern cinematic history, and its influence on the city's emergent "nouvelle vague," the Atelier national du Manitoba.
* L'Atelier national du Manitoba distinguishes and distances itself from other Canadian filmmakers, positing a new direction for Canadian cinema.
* Dumba, a queer collective living and performance space, espouses inclusion, anarchy, and pleasure, while filmmaker, arts administrator, and Dumba founding member Scott Berry describes the necessity and ethos of Dumba's monthly screening series, Brooklyn Babylon Cinema.
* Brett Kashmere interviews the Montreal film artist Karl Lemieux about his passage from hand-crafted cinema to film performance. In part two, Lemieux is joined by his fellow Double Negative co-founder Daïchi Saïto to discuss the collective's founding and its future.
* Scamming sources from Nietzsche, Baudrillard, Irigaray, and Benjamin, Regina Muff brings a feminist perspective to bear on the histories and convergence of film and video as art forms.
* A collaborative manifesto by Michael Betancourt brings the ideas of the writer and the reader together to create fusion despite the distance created by publishing.
* The influential Canadian filmmaker and educator Richard Kerr reveals the most potent artistic revelations of his life, often found in powerful screening/projections, and contemplates the future of cinema.
* Georgette Nicolaides takes a look at the now-defunct Good/Bad Art Collective's revolutionary interventionist tactics.
* INCITE! art director Peter Nowogrodzki provides a recipe for making pesto… and changing culture.
* Ryan Tebo offers a manifesto for the "RAM Generation": today's revolutionaries who have grown up with digital computers and the Web 2.0.
* Plus MORE MANIFESTOS from the Association for Film Art, Double Negative Collective, The League, and Syracuse Experimental, artist projects by Clint Enns, Leslie Supnet, and Kenneth White, and films, excerpts and video diaries courtesy of Philip Hoffman and the Independent Imaging Retreat.