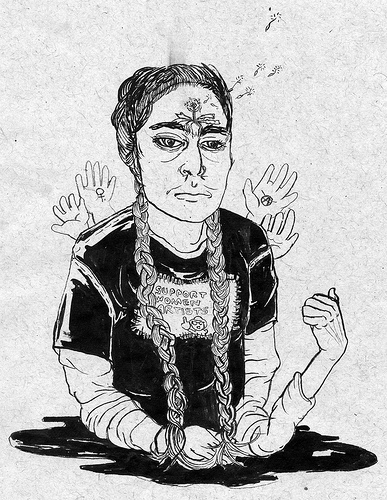 I have worked with Katie Kaplan since she was 15 and she and her bandmates came to a zinemaking workshop that I was hosting at the library. She participated in the F-Word, TTYL (Totally Teens Youth Lounge), RUST, and Youth Invasion at the Warhol, and was one of our first Youth Open Studio shop assistants at AIR. She is now a junior at Pratt and is accompanying Heather White and myself to Brazil at the end of March to do some silkscreen printing projects. We are self-fundraising for this trip with Brazilian dinners at my house and prints on paper and T-shirts. (you can buy Katie's print,
Work Pants
,
HERE
). I thought her having her first print for sale on Justseeds would be a nice opportunity to ask her some questions about her work. Here we go!

Tell me a bit about your background and artistic process. What influences and inspires you in your work? How do you go about creating your prints?
I was really lucky as a teenager. I was exposed to so many different art forms through different public programs, working at Artist Image Resource and the Warhol museum, and going to an arts high school. I was surrounded by really supportive and inspiring people at these places. My artistic process is really all over the place, which I guess my work reflects. People, places, materials, processes, events, history- I draw all the time, and always have many projects going at once. I usually start from a place of personal experience, and then that very naturally flows into my larger worldview.

How has living in New York versus Pittsburgh affected your work?
I can sum that up in an analogy: In Pittsburgh I travel by walking everywhere, and in Brooklyn I'm constantly rushing around on my bike or taking the subway. The pace is just so different. I'm also in my studio alone a lot, whereas in Pittsburgh I have more time to collaborate and do street work. Pittsburgh nurtured me, and Brooklyn pushes me.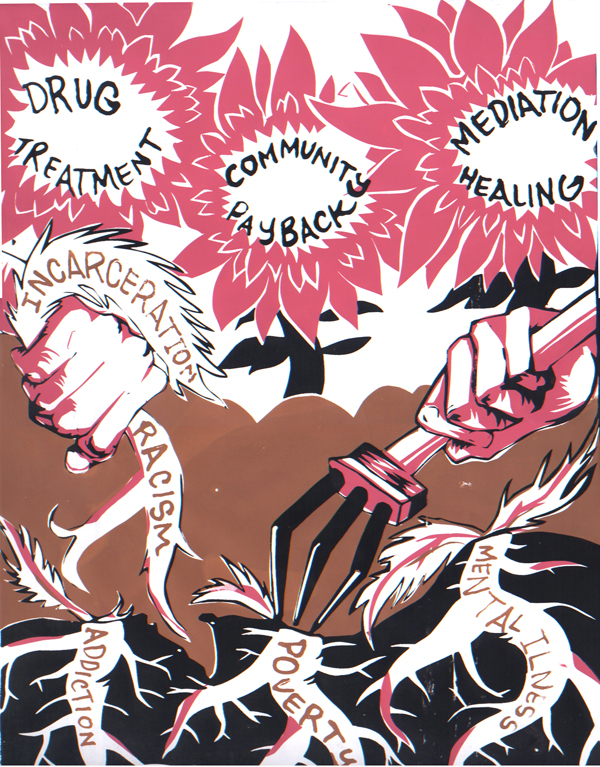 from RUST 2008: Alternatives to Prisons

Do you see yourself as an artist-activist? what role does social justice play in your artwork and life?
I do see myself this way, and although I'm usually not making political posters (unless there is a specific cause or event), social justice and activism are always a part of my work in some way. My political concerns and beliefs inform the way I live my life, making them inseparable from the art that I make. For example, in my sculpture I salvage all my materials, and I also get food this way.

How do feminism and queerness inform your work?
This also deals with the lack of separation between art and life for me. I'm a queer, feminist anti-capitalist and all these aspects naturally flow into what I'm doing at a given time, because those are things I'm always thinking about.
I know you have many mediums and interests – silkscreening of course, zines, books, clothing, street art…are one of these areas standing out more for you, or do you see yourself combining these different forms?
I just love doing everything. Video, animation, printmaking, fiber, welding, performance, photography, public work, collaboration, music, drawing, painting. It just comes down to choosing which medium best fits my overall intention.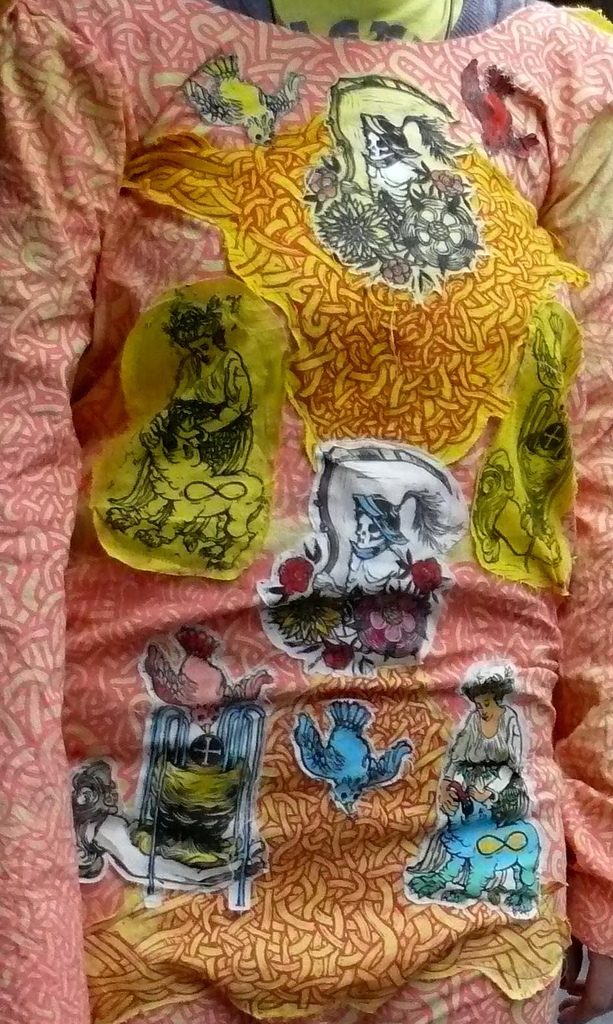 new work: Spiritual Protection Jumpsuit

I love the work you have been doing recently, combining printing and clothing. what led you to do this, and what are you searching for in this process?
Working in fiber as a woman is totally loaded. My mother grew up making all her own clothing, and there's a long lineage of that kind of work on her side. For me, working with fabric is a feminist, DIY re-appropriation of this history. I was also searching for a way to expand from traditional printmaking, and the transition from paper to fabric was an easy way for me to bring new layers into the pieces. The meticulous nature of combing these two processes also suits me.

What goals do you have for yourself in the next 5 years?
Get married and start a family…haha just kidding. Work as hard as I possibly can on my art until my brain explodes. I'd also like to step away from the solo stuff a bit and work on some sort of collaborative activism project. I'm not really the organizing type, but I want to be able to offer my skills to something that would promote some sort of positive change. Also, I want to travel for a while, become a master herbalist and vegan cook, have a garden, learn a few more languages, play in a band again, and meet as many amazing people as I can.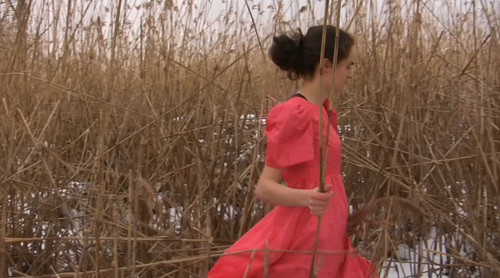 still from an in progress video, on location at the flushing airport
Thank you, Katie!
We will be sure to post updates on our silkscreen power trip on this here blog.
top image:
recent work: Frida