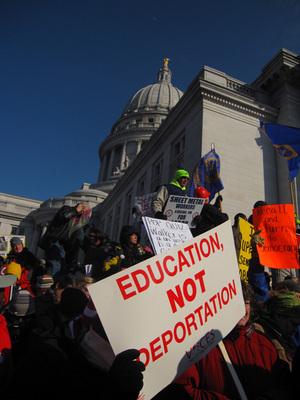 Unfortunately yes.
Worse, Republicans want to model Wisconsin after Arizona. Voces de la Frontera, a large immigrant rights organization in Milwaukee held its first emergency meetings last Sunday to inform the public that Representative Pridemore (WI Assembly Republican from Hartford) is now circulating his Arizona-style immigration enforcement bill for co-sponsors in Madison. Over 500 concerned members of the community showed up (in Milwaukee and Racine) to stratigize on how to defeat this bill, which would be devastating for the Latino community and others, as it would legalize racial profiling and lead to more deportations.
In other not-so-enlightening news, the Legislative Reference Bureau has published Walker's anti-union bill despite a court order preventing publication on grounds that the bill's passage likely violated Open Meetings laws.
How this will play out is anyone's guess. Already the Walker administration and the State have been sued multiple times, so I expect a drawn-out court battle.
To learn more: click here
In more inspiring news, the activist spirit in Wisconsin has not dimmed. Protests, rallies, organizing, recall drives, etc are taking place all over the state. One question to the union leaders: How far do the Republicans have to go in destroying public unions and the working class before you call a strike?