I'm trying to decide what feature this week while riding out this hurricane hitting the east coast. Hopefully I'll get this up and posted before the power goes out (if it goes out, seems unlikely at this point).
Given the strange circumstances, I was thinking I was just going to post a handful of cool pamphlets I've picked up over the years, starting with this issue of the Irish political journal The Ripening of Time. This is issue #12 and the only one I've ever seen in person. I assumed that it was one of the dozens and dozens of issues of random political journals I've collected over the years that seem completely lost to history, but it turns out this one was important to people, and a number of different sites have been archiving different issues, and an Irish TV show even produced an episode about it! (you can watch it HERE).
I picked this one up because of the great cover (of course) and the focus on Italian Autonomous activity in the late 70s. The cover has cool black and white offset printing on a red stock, the white of the title barely visible on the paper. The issue is from 1979—the journal ran for 14 issues from 1976-1982. Turns out there is a whole sectarian back-story to the journal, and the collective that produced it, in relation to other Irish Marxist tendencies, but I'm not going to get into all that! Issue #12 is also unique in that it is one of the only ones that actually doesn't deal with Ireland.
Below are other issues I've found images of online, many are poorly scanned, which isn't surprising since the people that scanned them were more interested in the insides. I can't find any mention of a specific designer on the issue I have or in my cursory online research. One thing that is nice about most of the covers is that they either feature a wrap-around cover, or have nice backpage illustrations as well.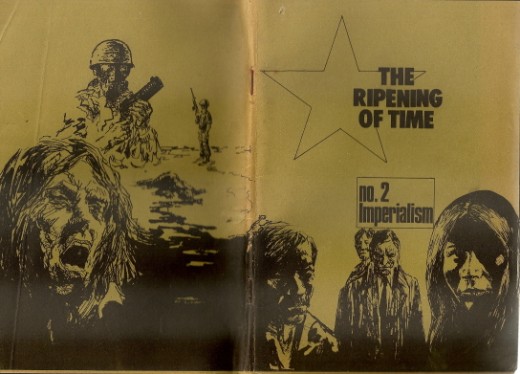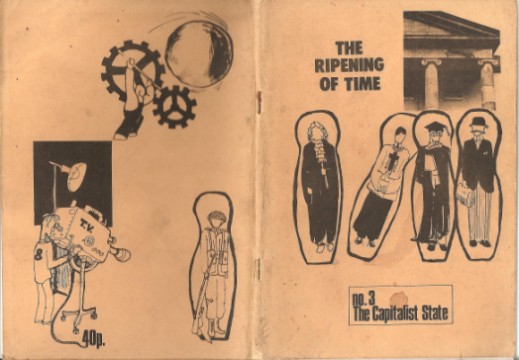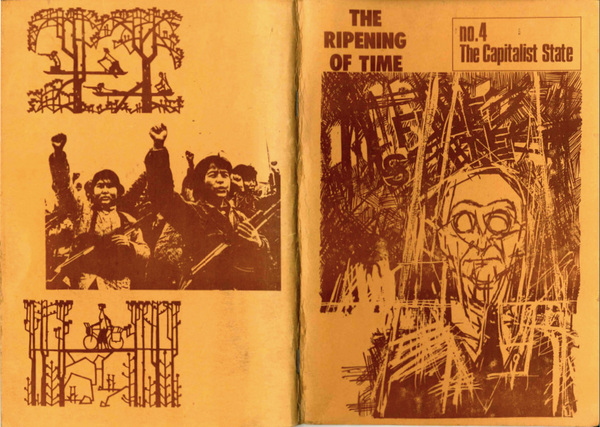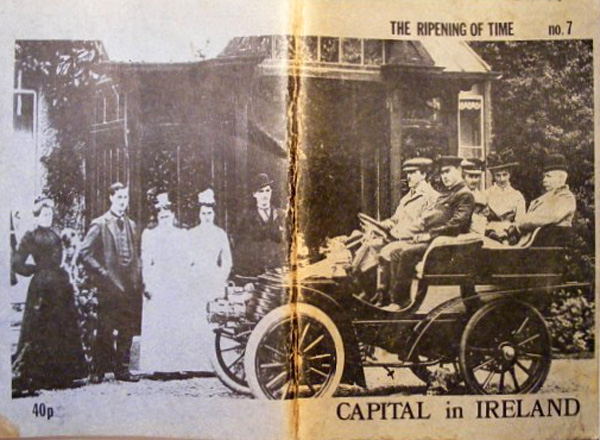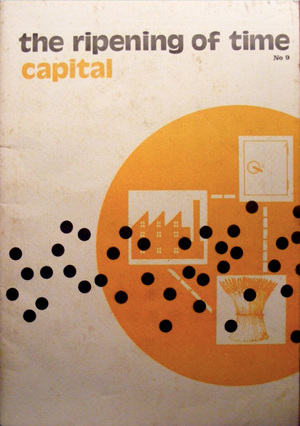 Issues #1-4 all appear to be designed by the same person, but with possibly different illustrators. Each one has the same type and design treatment on the title and the issue number, but issues #1 & 3 have simple and somewhat naive illustrations, while #2 & 4 are much more complexly rendered. Then #7 breaks with both design and illustration standards with a new typeface and a photograph (although retains the wrap-around cover. #9, to the left here, was clearly designed by someone with experience, and is much slicker and more professional looking, and attempts to illustrate the contents much more graphically rather than illustratively. #11 returns to a rough illustrative style, but it is wielded with a string design sense, with the faux pasteboard on the cover, and the Gerd Arntz-like image on the back.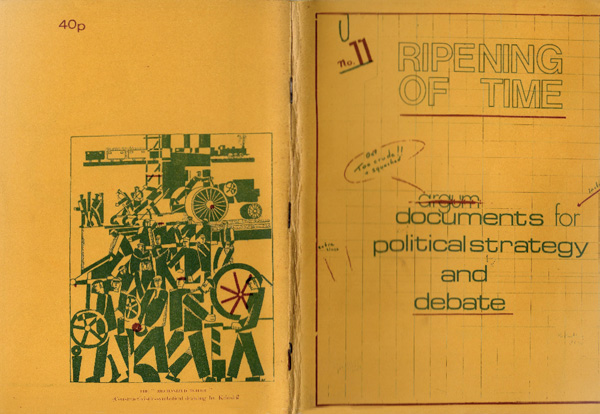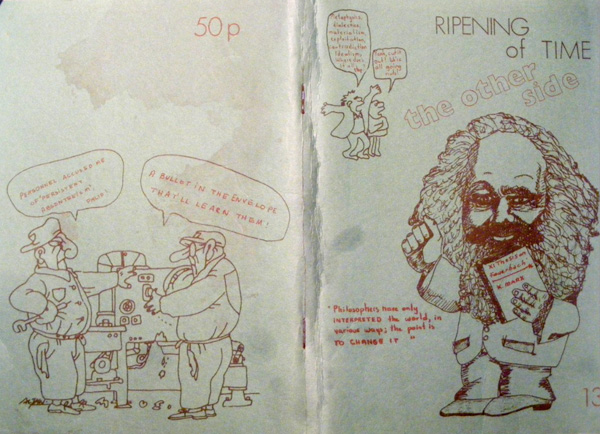 Does anyone have images of issues #5, 6, 8, 10, or 14? I'd love to add those to this little collection.