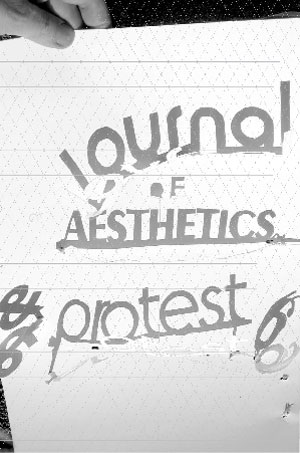 Issue #6 of the
Journal of Aesthetics & Protest
just released!
I've been reading the Journal from the get go, and always find something interesting in each issue. This one's got contributions by Gregory Sholette, Dorit Cypis, smartMeme studios, Rebecca Zorach, Kelly Marie Martin, Amy Franchesini, Lisa Ann Auerbach, Code Pink, Andrew Boyd, Iraqi Veterans for Peace, John Carr of Yo! What Happened to Peace and many more.
Here's a blurb about it:
Crafted & collected for 7 months, this sober eyed jumbo sized brick of a book explores 3 distinct premises in contemporary life: Sustainable Culture, Antiwar Activism, Contemporary Critical Theory. The book comes with in depth analysis of activist and art projects as well as resolute analysis of cultural conditions by people we want you to read.
"One could see the level of frustration in your eyes. There were ways to avoid it; staring to the internets, listening to radio, cursing, cursing news, attending protests, trying at little "political projects." But generally, it was all around, this horrible stasis. There were wars, the loss of a city, the disappearance of beloved bookstores, magazines, community centers , and the cruel inability for networks to amount to anything real. It appeared that nothing good could be generated out from under this era. And you were getting older." This issue finds a way forward.