Juneteenth is a holiday that commemorates the announcement of the abolition of slavery in Texas in June 1865, now celebrated, more generally as the emancipation of African American slaves, on June 19th nationwide.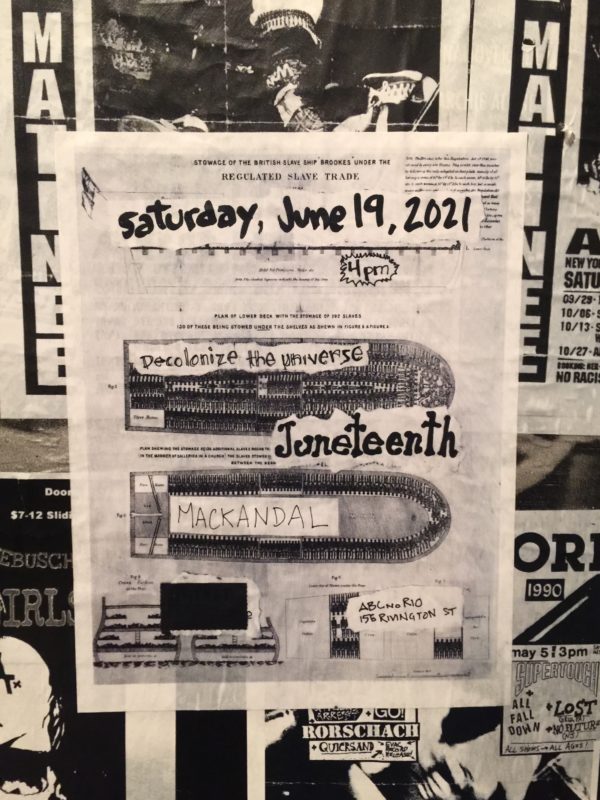 The above flyer was produced for a collaborative installation I made with a friend, Alexander Dwinell, for Infinite Futures, at ABC No Rio.
Infinite Futures
Artists participating in Infinite Futures, the last exhibition in the current building, were asked to imagine the cultural center 5, 10, 50 or even 500 years into the future. Since our introduction to ABC No Rio was thru hardcore punk Matinees, Alexander and I decided to create the "Future Booking Collective" and make up Saturday Matinee shows of the future.
The next Saturday holiday it the 156th anniversary, in the year 2021. Decolonize the Universe, Juneteenth and Mackandal will play some form of distortion to a crowd of politicized punks in the "new" ABC.
Generally there are abolitionist readings and reenactments in honor of Juneteenth. Maybe your fortunate enough to live in a place that holds them.
Infinite Futures is on view until June 24th at ABC No Rio. 156 Rivington St, NY, NY.