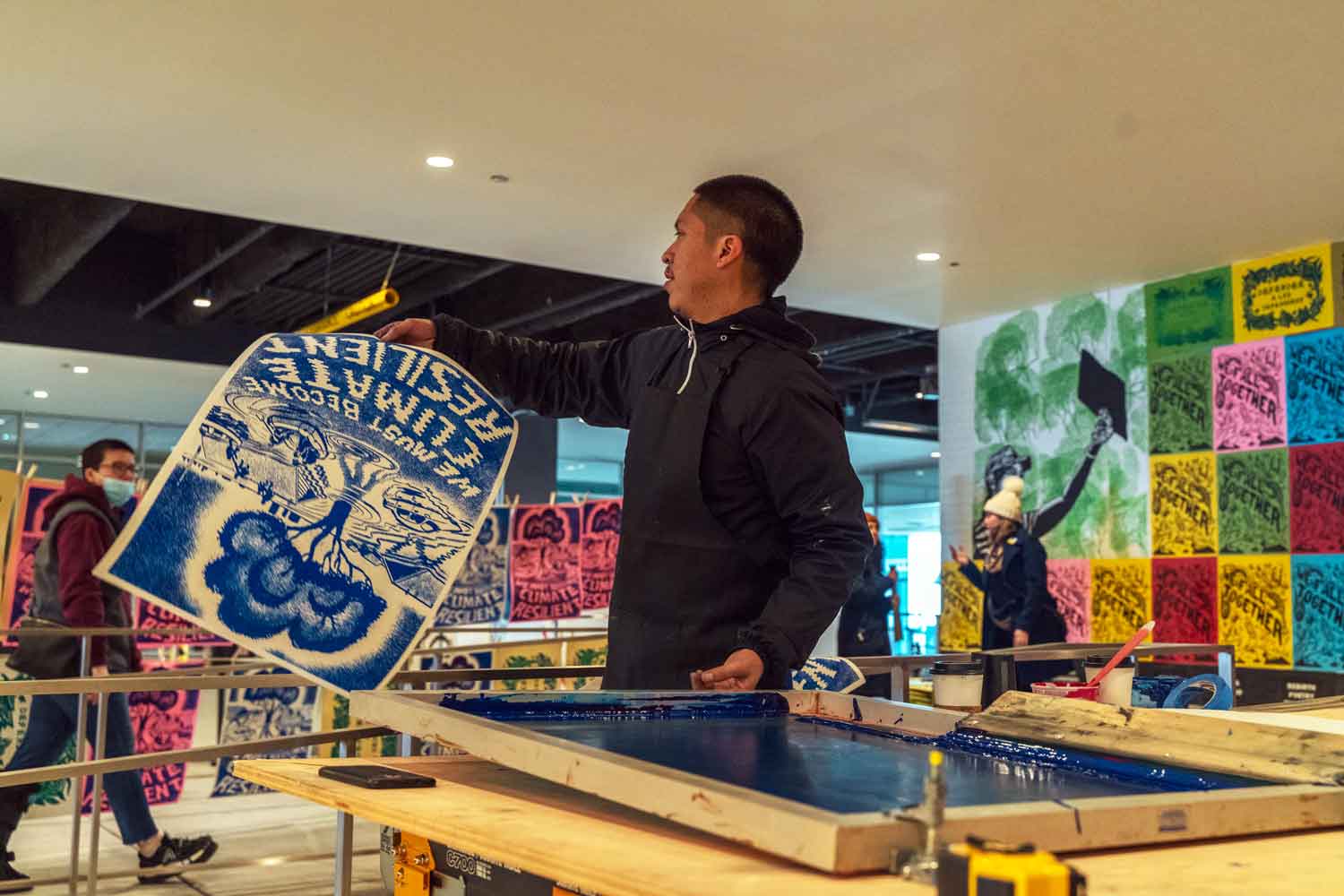 Justseeds collaborated with the NRDC (Natural Resources Defense Council) to create a site specific installation and pop-up print shop at the primary entrance to the 2022's EXPO CHICAGO, (the International Exposition of Contemporary & Modern Art), outside of Navy Pier's Festival Hall. We highlighted local work by collaborating with activists from Chicago's Stop General Iron campaign (fb: https://www.facebook.com/StopGeneralIron).
This installation showcased the work of over 30 artists in an outdoor mural installation with live screen-printing. This partnership harnessed the power of art to spotlight key environmental issues facing communities, including: climate change, biodiversity, fossil fuels, safe drinking water, and environmental justice. By partnering with a justice-based, worker-owned artist cooperative at Chicago's largest commercial art fair, the collaboration will ask visitors to think critically about the role that art plays in disrupting normative systems that perpetuate injustice, and inequality.
"We're excited to work with this incredible group of socially, politically and environmentally engaged artists," said Elizabeth Corr, Associate Director of Arts & Cultural Partnerships at NRDC. "EXPO takes place during Earth Month this year and we hope our collaboration will motivate viewers to think critically about the impacts of climate change and to recognize the vital role artists and culture makers play in creating lasting social change."
"Art allows us to connect with crucial struggles happening in our communities and around the world, while also illuminating collective future possibilities," said Andrea Narno, a member of Justseeds Artists' Cooperative. "We are hoping that the variety of artists' visions showcased in this collaboration will help encourage EXPO visitors to view our fast changing world with a critical eye and motivate them to take action."
The dynamic installation evolved daily, featuring new works, as well as selections from Justseeds Artists' Cooperative robust archive of protest prints and ephemera.
Contributing artists included Aaron Hughes, Andrea Narno, Erik Ruin, Molly Fair, Monica Trinidad, Nicole Marroquin, Pete Railand, Roger Peet, Sanya Hyland, Sarah Farahat, and William Estrada from Justseeds along with friends of Justseeds Carlos Barberena, Kahari Black, and Grae Rosa. As well as ARTISTS COMMIT, THE ERA FOOTWORK CREW, EXPERIMENTAL SOUND STUDIO (Olula Negre, Julian Terrell Otis and Torstein Johansen), SOUTHEAST ENVIRONMENTAL TASK FORCE (Gina Ramirez and Oscar Sanchez), and REBIRTH POETRY ENSEMBLE. With support from Hugo Ivan Juarez, Christian Gutierrez, Julie Yost, and Elizabeth Corr.