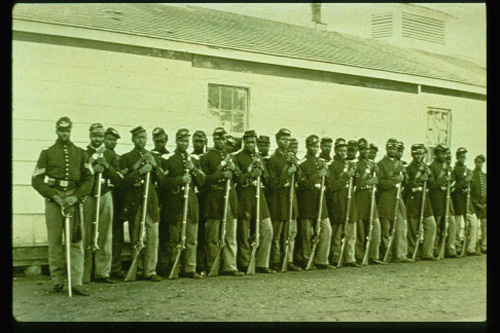 I was surprised to learn that Memorial Day was formerly called Decoration Day and was first observed on May 1, 1865 by recently freed slaves in Charleston, South Carolina who were honoring those fallen in the battle to end slavery. This puts a social justice spin on a holiday that has morphed into flag waving, sales, barbecues, and the kick-off to summer.
Historian David W. Blight writes that in the immediate aftermath of the Civil War and the ruins of Charleston "Thousands of black Charlestonians, most former slaves, remained in the city and conducted a series of commemorations to declare their sense of the meaning of the war…The largest of these events…took place on May 1, 1865. During the final year of the war, the Confederates had converted the planters' horse track, the Washington Race Course and Jockey Club, into an outdoor prison. Union soldiers were kept in horrible conditions in the interior of the track; at least 257 died of exposure and disease and were hastily buried in a mass grave behind the grandstand. Some twenty-eight black workmen went to the site, re-buried the Union dead properly, and built a high fence around the cemetery. They whitewashed the fence and built an archway over an entrance on which they inscribed the words, "Martyrs of the Race Course."

Then, black Charlestonians in cooperation with white missionaries and teachers, staged an unforgettable parade of 10,000 people on the slaveholders' race course. The symbolic power of the low-country planter aristocracy's horse track (where they had displayed their wealth, leisure, and influence) was not lost on the freed people. A New York Tribune correspondent witnessed the event, describing "a procession of friends and mourners as South Carolina and the United States never saw before."
At 9 am on May 1, the procession stepped off led by three thousand black schoolchildren carrying arm loads of roses and singing "John Brown's Body." The children were followed by several hundred black women with baskets of flowers, wreaths and crosses. Then came black men marching in cadence, followed by contingents of Union infantry and other black and white citizens."
Fascinating history and not surprising that Blight is the one to bring it to light. His book "Race and Reunion: The Civil War in American Memory" (2004) is a classic study on race relations, historical memory and how a nation submerged the social justice meaning of the Civil War (a fight against slavery) to that of celebrating the "Lost Cause" (justify secession and slavery) all of which kept racism firmly in place and doomed Reconstruction to failure.