I've been trying to work through some visual ideas around the Wisconsin struggle, and have come up with some beta designs I figure I might as well test here on the site…below are 3 different designs in progress. They all are based on the same idea, the general strike, but the first is the most developed, trying to clarify that we don't need a strike to maintain the status quo (losing benefits, pay, and "rights" while maintaining a legalistic definition of collective bargaining), but to exercise the on the ground power of workers and communities. Please feel free to leave feedback, and I can put up high-res versions of these if people are interested: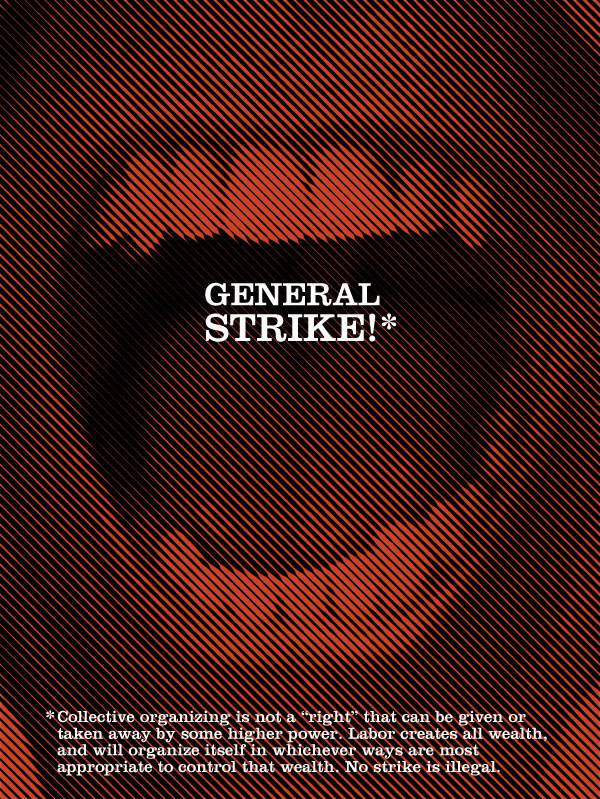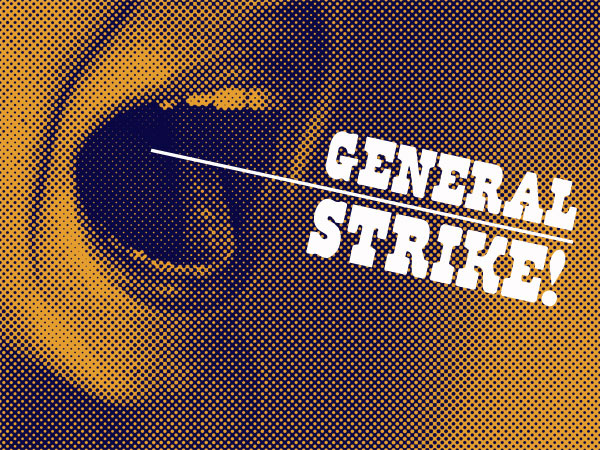 These posters definitely reference Rodchenko and Soviet Constructivism, and the classic images of his used to advertise for a Soviet publishing company. These graphics have a woman holding her hands to her mouth and shouting large-scale words. (These same images have been reworked dozens of times, by rock bands like the Ex and Franz Ferdinand, and also by many, many advertisers). But by cropping the hands and the focusing on the mouths, I like to think that something
else
is going on in my designs as well. The mouths are saying "General Strike" as an announcement, but the intense close-ups of the mouths and teeth (particularly in the first image) are an implicit threat, We Can Bite You. The text is also understated, it is not being SCREAMED, but spoken, with control and precision.
I started the designs with a classic half-tone, but moved towards the angled line toning because there is something about the half-tone dots that references the past, old newspaper images, and this is a very contemporary struggle. The same for font. Although in the abstract the font in the 3rd poster has more character, it also references a time past, and maybe instead we need a bit of a break from that, and the more "modern" serif-ed font in the first 2 posters is more appropriate to this particular struggle?
And finally, in the 3rd poster I like the possible double meaning of the underline that comes from the mouth. The General Strike is being projected out, but it also could be read as a possible tool poking back in, threatening to choke the person. This reads as politically appropriate right now. There is something very dangerous about bringing out the big guns, major strike actions, to settle what so far has largely been a struggle around very reformist demands. It could very well backfire. At the same time, I think a strike action could be very powerful, both as an self-educational tool for all those involved, but also as a way to keep the struggle on the streets, and out of the courts and election boxes, where the union officials and politicians desperately want to move it so they can control it.
I would love to hear other people's opinions…